There's a fall-ish chill in the air and a delectable thrill inside Everyman Theatre, where they are opening their 25th season with a slam-bang, conscience-prickling production of that old chestnut An Inspector Calls by J.B. Priestley, written in 1945 but set in pre-WWI England.
Director Noah Himmselstein gives the play cunning psychological nuances that make it—despite a period-perfect, end-of-an-era aura that clings to the production like a velvet cloak—unexpectedly edgy and contemporary. The play's message that everyone is responsible for everyone else (yes, all you 1 percenters and other privileged folk out there) especially rings true in this time of deepening and seemingly insurmountable racial, social and economic divides.
This elegant Upstairs/Downstairs-style mystery is not so much a "whodunit" as a "wedunit." The well-heeled, mercantile-class Birling family is discreetly whooping it up in the candle-lit splendor of their dining room—celebrating the engagement of daughter Sheila (Sophie Hinderberger) to gentry Gerald Croft (Jamison Foreman).
All assembled are feeling quite plumped and pleased with themselves—starting with the happy couple, and Sheila's Edwardian-proper parents Arthur (Bruce Randolph Nelson) and Sybil (Deborah Hazlett), who put on airs with gale force. Even the tippling and troubled son Eric (Josh Adams) seems rather cheered by his sister's news.
Their merriment quickly dissolves with the arrival of police Inspector Goole (Chris Genebach), who is making inquiries about the recent death of a working-class young woman who committed suicide by drinking disinfectant. To make matters grimmer, she was pregnant.
There's something different about Inspector Goole and it's not just his lower-class accent and brusque manner. He doesn't care a whit about the Birling's' social standing and interrogates them with the precision and economy of a master chef fileting a Dover sole.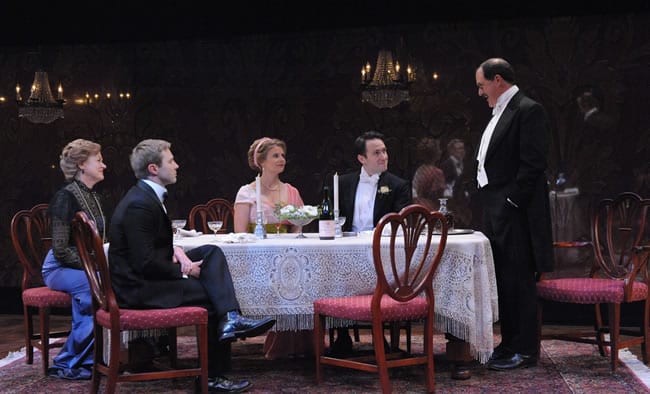 Goole's a man on a mission and he cracks the haughty veneer of the dinner party one-by-one—forcing them into confessing secrets and making them realize the hard truth that our actions large and seemingly trifling have repercussions that we may not comprehend until it is too late. For mankind to survive, we must be careful and kind with one another.
Priestley delivers this moral imperative though the sturdiest of devices—the British drawing room mystery.  Yet, even the most posh and exclusive settings do not give you immunity from personal responsibility and sharing guilt.
Himmelstein shows the splendid isolation of the Birling family (and fiancée) by placing them in a gilded cage of a set by Timothy R. Mackabee. Tapestry panels enclose the stage and extend past the wings—wrapping the characters and the audience in a rich embrace. The well-appointed setting is heightened by crystal chandeliers, a handsome dining room table and chairs and other furnishings in burgundy, russet, gold and ruby hues.
The jewel-box quality of the Birlings is carried through to Jay A. Herzog's opulent lighting and David Burdick's costumes, in particular the shades of rose and peach on young Sheila's flowing frocks to the steely peacock blues on Sybil's more tightly constructed fashions.

AN INSPECTOR CALLS



September 9 – October 11, 2015
Everyman Theatre
315 West Fayette Street
Baltimore, MD 21201
2 hours with 1 intermission
Tuesdays thru Sundays
Tickets: $42 – $60
Details and Tickets

———————
Although it's tense fun to watch Inspector Goole grill everyone, you cannot help but feel tinges of sympathy for this precious, cosseted family getting dragged into the harsh realizations of the modern era.
That we do feel anything other than delight in comeuppance has much to do with the mastery of the acting. Himmelstein and company seem to have mined the play for all sorts of insights into the characters' psyches, deepening the plumminess of the experience.
Complete disclosure: all I remember about the celebrated Stephen Daldry production of 1994 was the steeply raked set and dollhouse setting and the fact it poured rain onstage. Amazing visuals but emotionally distant.
Everyman's staging has the best of both. It looks beautiful but provokes you to think and feel. Adams' sensitive portrayal of Eric Birling leads you to wonder if he drinks so much to hide sexual confusion or some other secret. And if Hinderberger's striking Sheila is the embodiment of the modern, cause-driven woman, interested in something other than clothes and jewelry.
Nelson's pish-poshing about this and that and his proclivities for delivering windy pronouncements bring lightness to the play, but in his capable hands you also detect Arthur's fears and insecurities about not being able to keep up in an increasingly hectic world. Similarly, Hazlett's Sybil is not just a Gibson Girl turned battleax, but someone tragically resolute on seeing the world through her privileged lens.
And what of Inspector Goole—coolly and crisply played by Genebach? Is he an avenging angel or the utterly British personification of a Dostoevsky-like conscience? That is a matter of debate, judging by the lively murmurs of the audience after the final blackout.
His provenance may be mysterious, but his message is not—all lives matter.
—————————
An Inspector Calls by J.B. Priestley . Directed by Noah Himmelstein . Featuring Josh Adams, Olivia Ercolano, Jamison FOreman, Chris Genebach, Deborah Hazlett, Sophie Hinderberger and Bruce Randolph Nelson . Scenie Design: Timothy Machabee . Lighting Design: Jay A. Herzog . Costume Design: David Burddick . Sound Design: Elisheba Ittoop . Props Master: Jillian Matthews . Produced by Everyman Theatre . Reviewed by Jayne Blanchard.
September 9-October 11 at Everyman Theatre
5 stars