It's a old wives' tale that comics are at odds with the audience- the heckler at a comedy show these days is more far likely to be shouted down by the audience than by the comic. That's because, as an audience, we want to have a good time- we've driven to the gig, paid for parking, baby or dogsitting and our tickets- we wanna laugh after shelling out all that dough.
And occasionally, if there are enough friends'n'relations of the people on stage, despite an otherwise less-than-perfect show, you do have a good time. But there are no guarantees with improv- it can be funny one night and dead as a doornail the next. In other words, it's a gamble.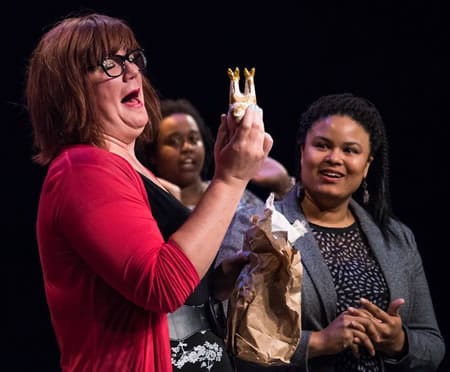 The evening I attended Washington Improv Theater's presentation of The October Issue at Source Theatre, that gamble didn't quite pay off. WIT has been around a good long time; the troupe routinely performs around town, and in celebration of the Women's Voices Festival, they have crafted a comedic take on womens' magazines. The premise of the show is that we are the focus group; and with questionnaires handed out beforehand, the mostly female troupe then riffs on what the audience has written.
It's a fun idea- skewering Vogue, Marie Claire and the like- one which most women do anyway even as we are perusing the latest fashions and makeup. There's a lot of material to be gleaned from such a rich subject, but WIT doesn't seem to have done much of its homework.
For improv to work- and really work, not just be smile-funny but belly-laugh-funny, it can't all be dreamt up slambam at the moment. There have to be at least a few surefire bits and lines in the back pockets of performers, to be brought out when the audience's attention is flagging. But there wasn't a lot of that there that evening- there didn't seem to be fallback bits at all, and the result was a show which sagged in a lot of places, with the audience, filled with wellwishers and pals helping out by laughing at things that weren't actually all that funny.

THE OCTOBER ISSUE


Part of the Women's Voices Theater Festival
September 17 – October 10, 2015
Washington Improv Theater
at Source
1835 14th St. NW
Washington, DC 20009
Fridays thru Sundays
Tickets: $15 – $20
Details and Tickets
———————
One segment of the show features a local "cover girl". On September 17th it was Ward One DC Councilmember Brianne Nadeau, being interviewed by a host. Nice though she was, the lady was no comedian, and the energy loss of the show during this piece was palpable. The host didn't seem to want to interrupt- but you have to interrupt if there are no punch lines and the audience's attention is drifting. Frankly, it didn't seem quite fair to the interviewee to put her in such a spot without any help from the host.
It's hard to keep up good improv- you need a moderator who can read the crowd and performers alike, and who can cut to the chase when things go on too long. Even in the best improv, this happens intermittently, but I found myself wishing for more of these skills from the troupe and its leaders.
There was a funny bit with a purse from a volunteer in the audience- first done by Sandra Bernhard in the early 1980s, it's become a standard of improv, but the lineup of members did nothing new with the exercise until something actually funny in and of itself was pulled from the purse. Can't hope that will happen every evening, though.
And even for improv, costumes were nonexistent. The show was billed as improv theater, but most of the players were attired as though they were meeting for a mom's kaffeeklatsch rather than portraying cutting-edge fashion consultants. If comedy is the juxtaposition of exaggeration and reality, seeing this better visually would have helped sell the concept, and garnered a few visual laughs in the process. As for tech, well.. the lights were on. Even standup gets a crummy followspot or some pink gels sometime, and if you're going to go ahead and be in a nice little theatre like Source, why not use at least some of its resources if you can?
All that being said, there were a couple of performers to watch- both Lura Barber and Nikki Stowers delivered the goods more often than most, and with a more professional flair.
Oh, and there's a cash bar, which always makes things a bit funnier if you use it correctly. As they say, dying is easy, comedy's hard.
——————–