If opera is meant to be a true synthesis, bringing together the many art forms of music, singing, dance, acting, and the visual arts, then Washington National Opera's Carmen has created a smashing "top drawer" example. For their sixtieth season opener, the company has rolled out the ever popular Georges Bizet opera but made the new-to-Washington production feel truly like a fresh take with stunning contemporary design elements that integrate with the rich musical palette of pleasing tunes, a taut spoken-based text that keeps the show moving, and the inclusion of flamenco dancing that is as first class as the singing.
Let's start with Clémentine Margaine, who doesn't just "play" Carmen, but rightfully judging from her creds in this role in multiple productions, she owns it. She's beautiful, sensual, and so comfortable in her expressive body, you believe she lives and breathes as the powerful and voluptuous gypsy woman.
I'll confess I have not been as fond of this opera or this role as others are, because I usually find the singer-actress working so hard at acting sexy. Margaine just has it – with a grounded sensuality that reminds me of Juliette Binoche. She uses her body in other ways to show how she cares not a fig what others think: how on certain high notes, she drops down into something between a wide balletic plié and a peasant woman on a birthing chair. Then there's that skip step off the ball of her high heel as if she might just hop and fly away, demanding freedom in the skies.
The woman is fearless. In the second scene at her friend Lilas Pastia's bar joint, when the flamenco dancers look as if they might rule the stage, Margaine steps out and dances not just for Officer Zuniga but takes a turn with flamenco star, Timo Nuñez. She holds her own and seems to fling down the gauntlet to singers and dancers alike, "I may not be the best dancer but I will be the best dancer you can get here tonight, so you better try me."
Best of all, I love what this French mezzo brings vocally to the role. She displayed an effortlessness throughout opening night, and seems to live comfortably up and down the registers of this score. I found that she managed especially – in that tricky middle place where the role sits for so much of the beginning of the work and that so often gets a dark and hooded sound or veers into braying – to maintain a warm and accessible sound.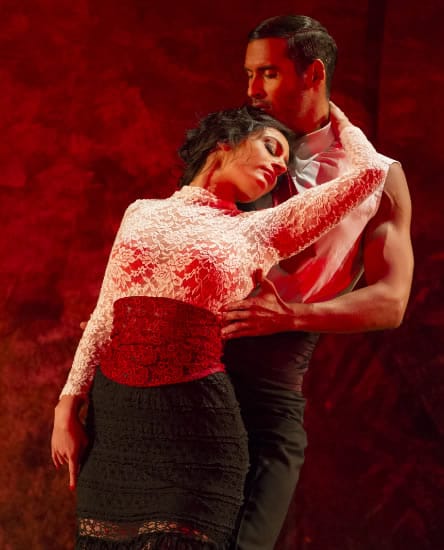 The story is a perennial favorite. "Carmencita," as she is known by her pals, has a reputation for throwing herself in and out of affairs. She is a contemporary woman in the sense she takes what she wants, including sex. When you see her flirt equally with the officer of the garrison, the soldier Don Jose, and the local "star" toreador Escamillo, you pretty much can tell things will not go well for anyone who wants to clip the wings of this bird. But Don Jose is heedless and loses his head to the seductress and abandons not just his hometown sweetheart, but goes AWOL to join a ragtag anarchist group in the mountains that deal in contraband.
Director E. Loren Meeker defines the main story very clearly and at the same time populates the stage so that there is a rich and crowded world that supports it. Meeker shares Artistic Director Zambello's knack for creating a depth of stage pictures and incorporating specific actions of individuals in the chorus to weave in multiple little vignettes.
With the setting re-configured to represent some Latin American town with a barracks of randy soldiers stationed next to a factory of cigarette-sucking girls, things get messy pretty quickly. In addition to the singing chorus there is a whole flamenco troupe, led by Fanny Ara and Timo Nuñez, and are they ever stunning! I also liked the inclusion of the generous children's chorus, which has becoming a staple at WNO, lining up to fill the stage from one side to the other. The kids not only add much to the singing but run in and out of the crowds, filling the world with appropriate colorful cameo moments and chaos.
It's a darn fine cast. The show starts off with some nice singing from American baritone Hunter Enoch as Morales, one of the soldiers, and Janai Brugger as Don Jose's girlfriend from back home, who has come to find him. (Brugger's lovely soprano voice is shown to even greater advantage in the mountain scene when she makes a second pilgrimage to save her love Jose and sings, "Je dis que rien ne m'épouvante.")
Kenneth Kellogg as Officer Zuniga displays his rich bass-baritone and powerful stage presence and easily convinces that he is someone potentially lethal and yet weak and easily succumbing to Carmen's charms. Like Kellogg, Michael Todd Simpson seems to be getting to be something like a regular in the line up of WNO productions. Simpson carries off with panache the crowd pleasing ego of this rock-star toreador. He has great fun singing the "Toreador Song."
Opening night Bryan Hymel sang Don Jose, the soldier who tries so to resist Carmen but who falls for her hard to bring about a tragic fate. Hymel is a fast-rising star on opera's best international stages, and his voice just kept getting better and better throughout the evening. The tenor packs a wallop of reserve, which he unleashed in his arias in the last act of the show to stunning effect, "C'est toi! C'est moi!" and the wrenching finale, with Jose singing over the body of his damnable beloved.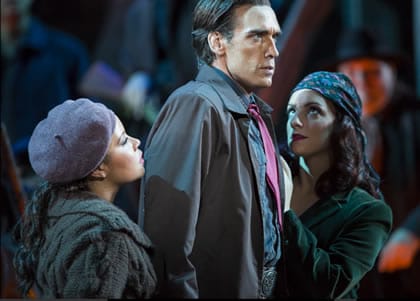 Christian Bowers is one of the most intelligent singer-actors I have heard at WNO, and his work has always delighted me. His brooding portrayal of Le Dancaire added dramatic strength to the production. Ariana Wehr and Aleksandra Romano as Carmen's two sidekick pals traipse through the events, throw themselves into their roles, borrowing each other's body language and mocking stances to convince us of how "bad girls rule." With Carmen, these chicas created lovely vocal trios, and their quartet with Bowers and Rexford Tester was superbly delivered.
I have to go back to the flamenco dancing and especially Ara and Nuñez. The two lead dancers start the show, dancing to the third theme of the overture in gorgeous evocations of passion. They return integrated into the tavern scene but also at the top of the second act. Their style of flamenco is rife with modern dance to beautiful effect. For this show they wisely have chosen to accentuate the arms and upper body choreography not to step too heavily on the toes of Bizet. It is as if they have channeled all the sensual longing of Carmen, and even the gypsy's powers of sorcery. Like Circe, Ara's drops low in her legs and completes full Martha Grahamesque contractions, as if pulling Nuñez into her, then later rising into high-centered gravitational turns, arms encircle arms as they twirl close in synchronicity. Kudos not only to these exceptional dancers but to the choreographic work of Sara Erde in the opera.
The creative designers proved themselves a dream team with this production, starting with the set by Michael Yeargan and his unforgettable bold, abstract painted "fresca" panels, that reminded me of the chiascuro effect of walls where layers of history bleeds through. Robert Wierzel's lighting of these panels was sensational, at times turning the entire wall of panels blood red and at other times "bleeding out" the strong colors slowly as if "underscoring" an entire orchestral passage so that we were transported through meditation to some deeply mysterious Paleolithic cave art.
The costume designs by François St-Aubin in his WNO debut were colorful, and the stage was so filled that additional costume design by Timm Burrow leant an able hand to clad the ample cast.
/ezcol_1fifth]
CARMEN


September 19 – October 3, 2015

Washington National Opera
at The Kennedy Center
2700 F Street, NW
Washington, DC
3 hours, 10 minutes with 1 intermission
Wednesdays thru Sundays
Tickets: $25 – $315
Details
Tickets
———————
There was a curious choice of designing the final scene to feature bleachers but seen as a cutaway from the side. They proved a bit of a noisy distraction as the chorus members clambered up them opening night. But finally the scene made sense, creating a strange and powerful tension between the crowd-and sunlight-filled excitement of onlookers above watching a bullfight taking place offstage and the shadowy isolation and desperate, private violence below.
The opera has everything, and the fight choreography by Robb Hunter proved exciting stuff, particularly in the hair-raising knife fight by Carmen and a fellow factory girl.
Conductor Evan Rogister earned the great cheers he received for giving the audience a stirring ride through Bizet's music so that people around me were tapping their feet in the "up tempo" numbers.
Best of all, you don't have to go to Paris or New York to see this fabulous Carmen, we got her right here on the banks of the Potomac. Sorry you won't get the opening night stirring rendition of the national anthem sung by the whole line up of Domingo-Cafritz Young Artists. But it made me yell with gusto at its conclusion, "Play opera!"
———————
Carmen . Composed by Georges Bizet . Libretto by Henri Meilhac and Ludovic Halévy . Conducted by Evan Rogister . Stage Direction by E. Loren Meeker . Featuring Clémentine Margaine, Géraldine Chauvet, Bryan Hymel, Rafael Davila, Michael Brandenburg, Michael Todd Simpson, Aleksey Bogdanov, Janai Brugger, Jacqueline Echols, Kenneth Kellogg, Christian Bowers, Rexford Tester, Hunter Enoch, Ariana Wehr, Aleksandra Romano, Fanny Ara, and Timo Nunez.
Set Design: Michael Yeargan . Costume Design: François St-Aubin with Timm Burrow . Lighting Design: Sara Erde . Choreography: Robb Hunter . Fight Choreographer: Anne Ford-Coates . Hair and Makeup: Elsen Associates . Chorus Master: Steven Gathman . Children's Chorus Master: Will Breytspraak . Producted by Washington National Opera . Reviewed by Susan Galbraith.