Learning to let go, whether of a friend or a traumatic experience, is one of life's greatest challenges. In Now Comes the Night playwright E.M. Lewis explores both in the story of a journalist recently returned from a lengthy hostage experience in Iraq. It is a gripping story receiving its world premiere at 1st Stage as part of the Women's Voice's Theater Festival.
Michael (Dylan Myers) is a television journalist who left his comfy position of co-anchor of the 11 o'clock news in Hartford, Connecticut in November 2004 to gain first-hand knowledge of the war in Iraq. After being captured by Islamic insurgents shortly after arriving in country, he was kept hostage in brutal conditions for 18 months.
As the play opens, Michael is back home in his triple-locked and dimly-lit apartment both physically and mentally crippled by the experience. He is haunted by the memory of fellow hostages, particularly freelance photo journalist Jack (Sun King Davis).
The motivating conflict of the story comes from the fact that Michael has given an interview to Brad, his friend and former co-anchor for ten years. In the interview Michael made a number of inflammatory, potentially career-ending statements criticizing American involvement in the Middle East. Brad (Jaysen Wright) suspects those statements are lies.
Now Comes the Night is a sequel to an earlier E.M. Lewis play, Heads, which tells the story of Michael, Jack, and two other hostages in cramped cells.   That backstory is skillfully revealed as we are introduced to Michael, who can't sleep despite a combination of pain pills and alcohol. He gradually discloses details and small truths when confronted by Jack and Brad.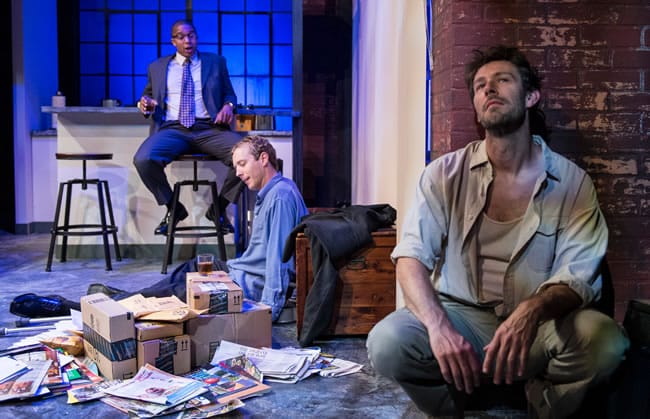 E.M. Lewis is an award-winning playwright interested in exploring the experiences of characters that are three-dimensional and occasionally frustrating (as real people often are). While she makes the occasional reference to the worlds of politics and journalism in Now Comes the Night, her focus is on their emotional conflicts. Those emotions will occupy most audience members despite some implausibilities in the Iraq backstory and broadcast journalism technology, and the contrivance of a mysterious package.


NOW COMES THE NIGHT



Part of the Women's Voices Theater Festival
September 18 – October 18, 2015
1st Stage
1524 Spring Hill Road
Tysons, VA 22102
1 hour, 55 minutes with 1 intermission
Fridays thru Sundays
Tickets: $30
Details
Tickets
———————
Dylan Myers gives a powerful and captivating central performance as the damaged former hostage. Jack and Brad, are provocative part friends and part antagonists determined to make Michael address the truth and his emotional issues. The dialogue often crackles, and the well-crafted lines are punctuated with some of the most meaningful silences this side of Harold Pinter.
Despite the power of the conflict and the performances, the play is not fully satisfying. Certain behaviors feel glossed over (example: Brad doesn't give at least cursory consideration to Michael's motivations). This play seems to assume the audience understands the strong ties Michael has to former prisoners Jack and to Caroline, a British embassy employee, rather than recapping more vividly the connections revealed in Heads. Finally, while Michael is justifiably overwrought from the start, the play does not provide much room to build to an emotional climax which also occurs a little quickly.
"The play I've been wanting to write for a long time." Interview with playwright E. M. Lewis
At an audience talkback playwright E.M. Lewis expressed justifiable appreciation for the fine first production of Now Comes the Night. Alex Levy aids the story with a finely paced and well-tuned direction. Kathryn Kawecki's set design of Michael's apartment is outstanding in every detail.
1st Stage's production of Now Comes the Night is a thoughtful exploration of the challenges of a former hostage attempting to at least partially let go and move on. Lewis has hinted at the possibility of a trilogy that finishes the story of the hostages. It is a prospect this reviewer will eagerly await.
——————-
Now Comes the Night by E.M. Lewis . Directed by Alex Levy . Featuring Dylan Myers, Jaysen Wright and Sun King Davis . Scenic and Costume Design: Kathryn Kawecki . Lighting Design: G. Ryan Smith . Sound Design: Rachel Barlaam . Stage Manager: Laurel VanLandingham . Produced by 1st Stage . Reviewed by Steven McKnight.