Sunday night I stepped into a theatre filled with a diverse group of people: young, old, black, white, and brown. The faces surrounding me had one thing in common, a smile; a smile that seemed to be filled with anticipation for the world premiere of playwright Gabrielle Fulton's new work, Uprising.
There were certain facts about this show that I knew to be true. I knew the play was inspired by Ms. Fulton's great grandmother. I also knew that the action took place, for the most part on a cotton plantation in Pennsylvania where rather than slaves, freed African Americans worked the fields from dawn till dusk. I was not at all prepared to embark on a larger-than-life adventure, complete with elaborate choreography, and jubilant jazzy tunes executed so flawlessly that it rivaled a Broadway show.
An exuberant burst of melodies incited the action. With careful coordination, director Thomas W. Jones II and musical Director William Knowles created a show-stopping opening number. 'Chains' was a great ensemble effort that showcased each actor's musical and dance abilities in an exemplary fashion. The depicted plantation workers were so pleased to be free and no longer chained to the masters who once determined their success. Now, each individual had a trade, picking cotton offered steady pay.
With joyous inflection, workers Bo-Jack and Sal enjoyed a healthy competition to see who could bring in the biggest haul. The amount of pride the characters portrayed in their work allowed the audience to connect to the simple pleasures characteristic of the period.
Sal emerges as our heroine: sweet, smart, hardworking, independent, and focused on caregiving for a precocious young boy named Freddie. Her desire to provide a better life by paying for Freddie's education motivates her efforts in the cotton field. Despite the separation from their biological families, Sal, young Freddie, Bo-Jack, a gentleman longing for Sal's affections, Lottie, a woman working to pay for her daughter's freedom, and Charlie Pick, an honest hard worker who has an unquenchable desire to be treated fairly in the eyes of society, enjoy a peaceful existence as a community within Jamison's Cotton Plantation.
Under the throbbing light of lanterns and a campfire, stories of troubled pasts, romantic desires, and moonlit serenades are shared. A sequence including Bo-Jack's hilarious courting song written for Sal complete with a harmonica accompaniment still has me laughing. As Charlie Pick and Lottie attempted to assist Bo-Jack with an adaptation to his romantic serenade, the quirky gestures, ridiculously funny lyrics, and even a seductive yet silly dance reflected the amazing comic talents of Enoch King (Bo-Jack), Doug Brown(Charlie Pick), and Roz White (Lottie).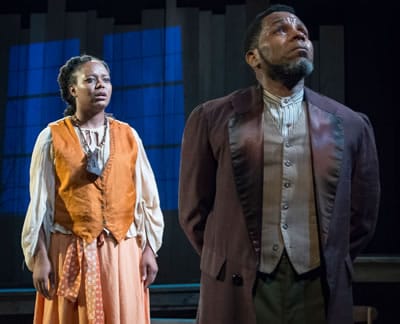 One fair day, the plantation foundation is shaken to its core by the arrival of Ossie, a well-educated, charming, politically charged, fugitive, the sole survivor of the John Brown-led raid on Harper's Ferry. Plantation manager Whistle tells the workers that there is a bounty for his capture. The workers must choose between assisting Ossie on his quest for social justice or helping capture him and receiving a hefty bounty. Ossie turns on his considerable charm to appeal to Sal's innocent yet romantic nature. However, Sal has no desire to compromise the peaceful life she has created for young Freddie. The characters' natural chemistry offered such sweetly comedic moments.
Cynthia D. Barker's depiction of Sal and Anthony Manough's portrayal of Ossie captured the essence of a woman unwilling to compromise and a man determined to win her over. It was beautiful to watch them interact. Even small gestures were filled with electric emotions, like the way she cared for his wounds. Will a single interaction with Sal's sweet young Freddie alter the state of her budding friendship with Ossie forever?

UPRISING



Part of the Women's Voices Theater Festival
September 17 – October 25, 2015
MetroStage
1201 North Royal Street
Alexandria VA 22314
2 hours, 15 minutes with 1 intermission
Tickets: $55 – $60
Details
Tickets
———————
Musical interludes offered an upbeat change of pace from the mounting tensions. Talented guitarist David Cole as Tuneman, accompanied each song from that rousing opening number to one with coordinating rhythms to a Morris code message, to my favorite, the emotionally riveting 'I Wanna Be Ready,' which made my heart skip a beat. His bluesy stylings breathed an air of inspiration into Uprising's many intense moments.
The set (Robbie Hayes) was simple, several wooden platforms on a traditional stage. Projected historical images of plantation slaves in chains served as blunt reminders that 1859 was a tough time when freedom didn't mean being free. Alexander Keen executed creative lighting concepts, my favorite among them, the glow of the campfire light, amber and soft while a projection of a night sky loomed in the background.
Ms. Fulton, assisted by Thomas W. Jones II and William Knowles, has created iconic characters and the amazingly talented ensemble made the characters leap out of the history into real life. The story of heroic women like Sal should be told. It was exciting to see the 1850s from her perspective. The powerful closing image of the show left me wanting to witness the trials and tribulations of this story again and again. Uprising is a great addition to the Women's Voices Theater Festival
———————-
Uprising by Gabrielle Fulton . Directed by Thomas W. Jones II . Musical Direction By William Knowles . Featuring Cynthia D. Barker, Peter Boyer, Doug Brown, Jeremiah Hasty, Enoch King, Anthony Manough, Roz White, and David Cole . Set/Projection: Robbie Hayes . Lighting Design: Alexander Keen . Costume Design: Janine Sunday . Sound Design: Roni Lancaster and Thom Jenkins . Stage Manager: David Elias . Assistant Stage Manager: Ariel Magno . Technical Director: William Woodard . Master Electrician: Alexander Keen . Produced by MetroStage . Reviewed by Britt Oliver.