"I still can't wear shoes," Kate Eastwood Norris said to me as she indicated her flip-flops during our elevator trip up to one of the higher floors at Studio Theatre, where she is rehearsing Animal. She was telling me about her particularly rough summer. After a moonlight boat-ride the evening she had arrived at a vacation destination, she slipped on a rock and sliced open her pinky toe.
The resulting injury involved four trips to the ER, Norris told me, as her foot ballooned in response to antibiotics prescribed to guard against the effects of the polluted water. She couldn't go out in the sun, so her vacation involved a lot of time in bed: "I lay there and read."
Norris celebrated her eventual recovery with a walk in the mountains, thinking to herself, "Yah, I'm back!" The next day, running to take a conference call over Skype, she slammed her foot on the side of her bed and broke her pinky toe on the other foot.
This Fall can't help but improve on that Summer, right? It didn't take long to get Norris speaking excitedly about her current project. "It's so psychologically interesting." It turns out that Animal is a perfect match for an actor who has just completed work towards a Master's Degree in Depth Psychology. "The Jungian themes screamed out at me. There are so many archetypes manifesting themselves, so many parallels to Jung's thought and imagery.
"Also, it's a great part."
When Clare Lizzimore, the playwright, was in town over the Summer for a workshop of the play, Norris learned that any allusion to Jung's work was unintentional. "She didn't even know, was not fully aware" of the parallels. "That's extra great. It suggests to me that Jung had a handle on something. Someone who doesn't necessarily know anything about it has manifested [Jungian theory] in this play. The theory and creative practice worked together independent of each other."
Norris admires the play on other terms as well: "She's written that rare gem of a play that has so much tragedy in it, but also manages to contain a lot of comedy. That's the kind of play I look for because, to me, that's what life is like. When I get a chance to do one of those, I don't want to miss it."
Our profile of playwright Clare Lizzimore
Lizzimore's trip here and that workshop were key to the play's development, Norris explained: "We received an incredible re-write about two weeks before rehearsal began. It had the same plot, the same characters, but it was so fleshed out. It was a huge leap forward. That shows how helpful readings and workshops are, to give [a new play] a chance to move around and develop over time. Fantastic."
Lizzimore was "here for the first week of rehearsal. There have been more changes, but little ones. We aren't in for any huge surprises; not like plays I've done with 20 new pages of text on the day of the first preview."
Animal is Studio's contribution to the city-wide Women's Voices Theater Festival. Playwright Lizzimore, who is known in her native Britain better as a theatre director than as a playwright, is married to Mike Bartlett, whose play Cock was seen at Studio recently. It was through his relationship with Bartlett that Studio Artistic Director David Muse connected with Lizzimore and Animal.
And how did Norris connect with the project? "I was really interested in the festival, and wasn't necessarily searching for anything, but I got an email from Serge [Seiden, Studio's Producing Director at the time] asking if I'd be interested in talking to the director. I read the play, called G.T. [the director, Gaye Taylor Upchurch] over Skype, we talked, and she asked if I'd put something on tape for the playwright. They liked my audition and I got the part."
The blurb on Studio's website indicates that the play, while not a solo piece, focuses primarily on Norris' character, Rachel. Does that mean she's on-stage pretty much throughout? If she's not on-stage, "it's to change clothes in the back and come back in really quickly. We're staging it in the round, as though people see into my brain, and people come in from everywhere. The play is from my point-of-view, so you don't understand her situation until she does. It's confusing in an interesting way — on purpose. It's a mystery. A puzzle."
Director Upchurch, Norris told me, "is from New York and she's awesome. She's got quite a career going for herself." The New York Times recently profiled several women directors and "she was one of them, standing there, all cool, in the picture. She has an incredible relationship with Clare, who is so open to changes, to suggestions, and G.T.'s agenda is to help Clare make the best play she can. She wants nothing but a good play. It's a really easy, collaborative relationship."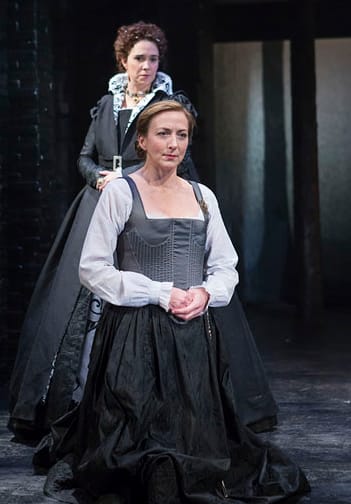 Norris is an actor who first came to many D.C. theatre-goers' attention during gender-bending turns as Richard III (for Shenandoah Shakespeare Express) and Petruchio (for WSC). "I'm an actress who thinks that humanity is more important than gender. I'm interested in inclusive rather than exclusive thought when it comes to theater." In that context, does Norris think it is important that Animal is not only written by, but also is being directed by, a woman? "I do. I think there's no reason that a man couldn't direct this and do a fine job. But, at the play's inception — it deals with gender-specific themes — it's smart to have a woman direct it."
Norris is in talks to continue her exploration of historically male roles by playing Hamlet at Shakespeare Santa Cruz later this season. (D.C. audiences might remember when she shared that role — along with Holly Twyford, Cam Magee, and Steven Carpenter — in Joe Banno's production at the Folger, which split the part of The Dane among four actors.)
That will follow taking Aaron Posner's play Stupid Fucking Bird on tour to Syracuse and Portland. After two runs of it here in town (and a terrific review in The New York Times), Woolly Mammoth "is touring it, sending it out."
Norris, in fact, has an extremely diverse resume, in regional terms, and we talked about that. "I used to live here, but that was so long ago," she quipped. "People think I still live here, and they think, 'Poor Kate, she only has one show a year.' But I'm doing four to five in other cities. I have more opportunities in different cities. Each city sees me differently."
So where is home base? "We built a house, a cabin, in the Blue Ridge Mountains in North Carolina. It's nice when you build a house. You don't have to pay rent. It's nice to have space. After being in cities, with windowless rooms, and people looking at you; we get the occasional deer. We're in the middle of nowhere. You know the gravel roads that go off the parkway? One is to our house."
The other part of that "our" is Norris' husband, actor Cody Nickell, who is also in the Animal cast, the Stupid Fucking Bird cast, and may well (it's not a for-sure done-deal yet) also be in the Shakespeare Santa Cruz cast. "We've had a good run — we've been in so many plays together. We could have this whole season together."
Going back to the play at hand, I asked Norris to whom it would appeal. "Anyone who's interested in the way the psyche works, who is intrigued with the mechanics of the imagination and the mind. Anyone who has ever been a carer of someone: a parent caring for a child, or a child caring for a parent. Anyone responsible for sustaining a life. It speaks in a really honest, intimate way, and the difficulties are laid bare in a way that is helpful. Quite often, the care-giver doesn't get credit for having as difficult a job as they do.
"And this character, too…something else I love about it, it's focused on a human being with an incredible amount of faults, a complex person. There isn't a single stereotype in this show.
"It's not a celebration of how great women are. I was worried that this festival would be a chance to be stridently feminist, as opposed to a portrayal of actual people, and by that I mean, faults are allowed and you can be confused by a character. I don't know if the other plays are like this, but here's a chance for all these women playwrights to be heard, and at least our play has gone beyond political statements to be, 'Here's a complex, amazing character at the center of a play who can be as unlikable as a male.'"

ANIMAL
Part of the Women's Voices Theater Festival
September 30 – October 25, 2015
Studio Theatre
1501 14th St. NW
Washington 20005
Tickets: $20 – $40
Wednesdays thru Sundays
Details
Tickets


———————
I asked Norris about the play's title. "This woman goes through a primal state of being. She's undergoing a psychotic episode. The trappings of humanness, the social things we worry about, and the personas we put on to make us look civilized, this woman doesn't have quite as good a grasp as someone more centered."
As many places in town and around the country as Norris has worked, this marks her debut at Studio. "I'm very glad to make Studio part of my D.C. family." It surprised me that she hadn't worked before at Studio, so I asked her to talk about how she feels that our city views her, as opposed to some of the other places she has worked.
"Certainly my start was with Shakespeare, entering town having done two years with Shenandoah Shakespeare Express, and working at Folger so much. Once the ingenues in classical plays were out of reach, I found Woolly Mammoth and did new plays. So I did classical plays and world premieres. I have both extremes on my resume. In between — I don't seem to get those parts."
That said, Norris confided that, in D.C., she felt less pigeonholed as a classical actor than as a comedic one. Interestingly, after playing the title role last season in Mary Stuart at Folger, "which had not a single laugh, I got more phone calls from D.C. theaters than I ever had." She added, "Folger's always believed I can do anything, as did Woolly."
I also asked about that recently-achieved Master's Degree. "I went in hoping to learn about anything but theatre. I wanted to expand beyond theatre, to open up my experience. I had become so entranced with theatre that I felt as if I was missing whole other sections of life. But I found theatre in all that I learned."
Norris' studies in psychology "sort of explained how I work and my way of going about things. I have a vocabulary now for what I experience every night. And I was always interested in teaching. It's the only thing other than theatre that gives me satisfaction. Professional satisfaction," she quickly added.
When I interviewed Norris (along with colleague Holly Twyford) during Mary Stuart, I asked about dream roles, and the two focused on the classical repertoire. What about more contemporary parts?
"I'd love to get in on August: Osage County. I'd like to do God of Carnage. I love Lillian Hellman. And O'Neill, of course. There are many Tennessee Williams parts I'm looking forward to growing into now. Any Southern Gothic play, I'd go crazy about."
Turning toward more contemporary plays, Norris cited playwright Will Eno. "I got to do his play Gnit at Humana [Festival of New American Plays] and, anything he has to say, I'd love to be a part of it.
"I'm a fan of playwrights. I've done so many new play festivals, and I've learned to be helpful in that room and help develop something, rather than to fulfill [existing] expectations. My bucket list is more 'what is to come.'
"I'd want to do Who's Afraid of Virginia Woolf? with Ian Merrill Peakes one day.
"And anything with Cody. Of course."