The Deaf West production of Spring Awakening at the Brooks Atkinson tangibly enhances an acclaimed musical about rebellious and repressed adolescents. By cleverly pairing deaf actors who are signing with hearing actors who are singing, Deaf West has made the show the most accessible on Broadway, but also forged it into something theatrically exceptional.
The original 2006 Broadway production stayed faithful to playwright Frank Wedekind's dark 1891 German play about the tragic consequences of a society intent on keeping its young ignorant and inhibited. But composer Duncan Sheik, lyricist and book writer Steven Sater, and a creative team that included director Michael Mayer and choreographer Bill T. Jones  added another layer to the cautionary tale — a full-out celebration of adolescent energy and sexuality set to an alt rock beat.
Spring Awakening ran for more than two years, won eight Tony Awards, including for Best Musical, and made stars out of three of the exciting cast members then in their early 20's, John Gallagher Jr. (who won a Tony for portraying Moritz), Lea Michele (as Wendla), and Jonathan Groff (as Melchior; now portraying King George in Hamilton.)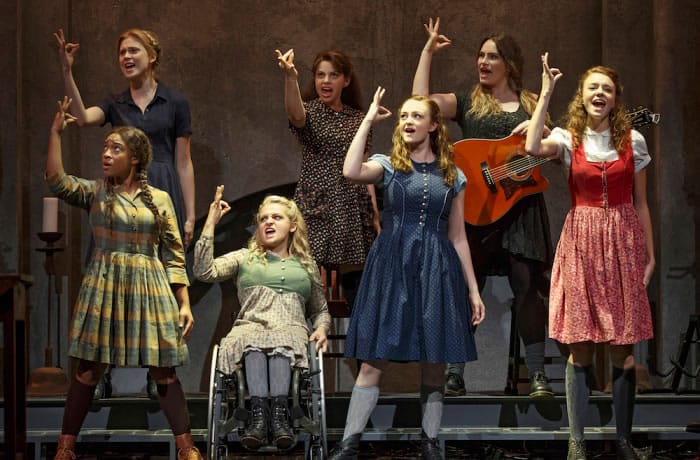 More production photos on NewYorkTheater.me
The revival captures the same spirit, offering some of the same thrills, with choreography by Spencer Liff in the style of Bill T. Jones – and it adds yet another layer. Deaf West long has incorporated both hearing and deaf actors, both American Sign Language and English, into its productions, including in the theater's only other foray onto Broadway, its 2003 adaptation of the musical Big River, about  Huckleberry Finn. 'I think most people who are watching lose sight of who's hearing and who's not," cast member Phyllis Frehlich told me at the time.  "Signing becomes like choreography."
The actor Michael Arden portrayed Tom Sawyer in that production of Big River. Now he is the director of Deaf West's Spring Awakening, which originated on the West Coast, and he has taken the theater's central innovation a few steps further.
For the Broadway transfer, some California cast members have been replaced with already-established names  – Marlee Matlin (Oscar winner for Children Of A Lesser God; The West Wing; Switched at Birth), Patrick Page (The Lion King; stand-out as the Green Goblin in Spider-Man Turn Off The Dark; Casa Valentina), Camryn Manheim (The Practice; and her wonderful long-ago solo stage show Wake Up, I'm Fat), and Russell Harvard, who was so great as the alienated deaf son in the Off-Broadway hit Tribes. The four of them portray all the adult characters – 14 total, by my count – almost all of whom are interchangeably mean, stupid, or at best ignorant, which makes them the least interesting for the audience, and not much of a challenge for these terrific performers. (Broadway veterans and current cast members Krysta Rodriguez as outcast Ilse and Andy Mientus as gay Hanschen were in the West Coast production as well.)
While it's worth pointing out that Manheim, Harvard and, shockingly, even Matlin are making their Broadway debuts, the excitement is largely generated by the virtual unknowns in the large and electric cast, 15 of whom are also making their Broadway debuts.
Before the show even begins, most of these attractive young performers are on stage, in their bright, white underwear – simultaneously innocent and sexy – getting dressed into too-prim dresses or too-itchy suit jackets, ties, and shorts. (The spot-on costume design is by Dane Laffrey, who also designed the jumble of a set.)
In the first moments of the musical, Wendla looks at herself in the mirror.  But there are two Wendlas, looking at the mirror from opposite sides – facing one another.  Sandra Mae Frank reaches through the looking glass to give a guitar to Katie Boeck.  In return, Boeck hands Frank a dress.  Frank then uses American Sign Language to sign "Mama Who Bore Me" while Boeck sings the song and plays it on guitar.  (In the credits, Frank is listed as "Wendla," while Boeck as "Voice of Wendla.")
"Mama Who Bore Me," Broadway in Bryant Park recorded by NewYorkTheater
There are six such pairings in the show (plus the actors portraying the adults often perform in pairs.)    The pairs function as much more than just interpreters for the two segments of the audience, the hearing and the deaf.  They are an apt metaphor for the fractured identity that accompanies puberty. That the two people use two different languages is another metaphor, for the difficulty of communication between young people and adults – and between the deaf and the hearing.
Another terrific pairing are the two performers who do Moritz, a failing student. Daniel N. Durant signs, while Alex Boniello sings and plays the guitar. In the early scenes, Boniello has long, slick hair and a hip black jacket while Durant is neatly coiffed and dressed in a suit and tie. It's almost as if Boniello is Moritz's id, speaking from inside him. Later, in a splendid touch, Durant as Moritz dismisses Boniello as Moritz, and goes it alone;   it's a sign that Moritz has given in to the pressure at school and given up hope.
Not all the performers work in pairs – Mientus and Rodriguez sign and sing and speak on their own, as does Austin P McKenzie in the central role of the studious and rebellious Melchior, likely to be a star-making performance. But the duality not just of the performances but of the languages open up the show to an extraordinary range of compelling and clever moments.
Another example occurs in the crucial early scene between Wendla and her mother, Frau Bergman: Wendla insists that her mother finally explain the birds and the bees to her. Pressured by this persistence, Wendla's mother agrees to do so, but stumbles and stutters, and finally says: For a woman to bear a child, she must love her husband, only him, "with her whole….heart." End of lesson. This gets an enormous laugh, and not just because she's chickened out. Camryn Manheim, who plays the mother (the one stand-out adult performance), is both speaking and signing her part. After she says "whole,"  she puts her hands together near her waist to form the ASL sign for "vagina," but then quickly moves it up to her heart and says the word "heart" instead. (The reason why everybody in the audience can get this joke, even those who know not a single ASL sign, is that the sign for vagina – the outstretched thumb and forefinger of both hands touching one another  — looks unmistakably like a vagina. That took forever just now to describe in print, but it happens in a split second on stage.)
Frau Bergman's timidity may be comic, but her refusal to educate her daughter about the facts of life has heartbreaking consequences, just one of the many sad ends in a show that deals frankly with child abuse, teen pregnancy, abortion, suicide.  That such a show should be so joyful and so beautiful — from the evocative lighting of Ben Stanton to the hand ballet of sign language by the entire cast — is itself a sign: Deaf West has done it right.
—————-
Spring Awakening is on stage at the Brooks Atkinson Theater (256 W. 47th St., New York, NY, 10036, east of Eighth Avenue) through January 24, 2016. Tickets and details