"It's not where you start – it's where you finish."
So goes the opening number to Just Between Us: a piano, a mic, and a memory, a delightful one-woman cabaret performance featuring DC theater mainstay Marilyn Hausfeld.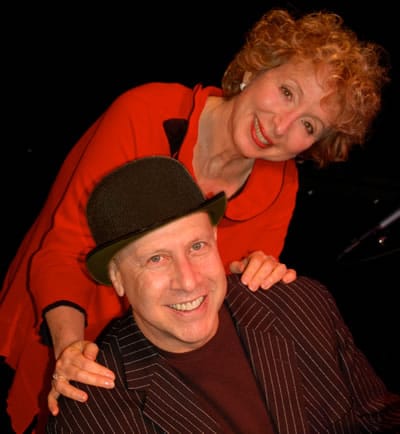 The tune is a pretty good description of Marilyn's closely intertwined personal and professional journeys, which she recounts in endearing vignettes, interspersed with a litany of musical standards demonstrating her versatile range.
On Source theatre's intimate stage, Hausfeld recounts the odyssey that brought her from growing up with her parents in a cramped railroad apartment in Brooklyn to gracing the lights of DC in Stella, Broadway Bound, among many, and most fondly remembered, Golde in Fiddler on the Roof (with a simple shawl, we got a glimpse of how affecting she must have been in the role when she sang for us "Do You Love Me?")
She has portrayed, she tells her audience, an alcoholic, a nymphomaniac, and God – but she has never before had the chance to appear on stage before as herself. She was first urged to bring her story to the stage by a longtime friend, Shirley Grossman, who also wrote "Seven Year Old", one of the songs featured in the performance. As a tribute to Shirley's memory, Marilyn took her up on her advice to write her own show.
Marilyn Hausfeld talks about Just Between Us
Hausfeld spins a musical web covering her trajectory from auditioning for the Broadway production of Sound of Music on a lark as a ten year old girl to her decision decades later to return to the stage, successfully competing for the lead in Fiddler while raising three children. She pokes fun at the challenges of family and marriage, while paying loving tribute to her husband of 32 years, "who always lets me put my icy feet on his warm ones, and always holds me through the night" with the song "Bless Your Heart."

JUST BETWEEN US


Part of the Women's Voices Theater Festival
October 1 – 4, 2015

Washington Women in Theatre
at Source
1835 14th St. NW
Washington, D.C. 20009
Tickets: $22


Details and

Tickets

———————
"It's never too late to do what you love," Marilyn advises the audience – wisely but perhaps needlessly, as we watch someone embodying that mantra fully in her mastery of her craft and comfort with her own gifts.
All along in the background is musical director and accomplished pianist Alex Rybeck at the keys, accompanying her superbly without seizing the spotlight away. Theirs is a delightful partnership. Sponsored in conjunction with the Women's Voices Theater Festival, Just Between Us was performed at Source Theater on Washington's 14th Street corridor on October 1st – 4th.
————-
Just Between Us: a piano, a mic, a memory . Written and performed by Marilyn Hausfeld . Musical Director/Accompanist Alex Rybeck . Lights and Sound: Louis E. David . Stage Manager: Cade Beck . Produced by Washington Women in Theatre . Part of the Women's Voices Theater Festival . Reviewed by Daron Christopher.