One of the gifts of Carroll's Wonderland is that its world of illogical situations and creatures both provides the structure of a narrative while allowing plenty of space to imagine and interpret the absurdity in whatever way one may choose.
Synetic's production – a new adaptation by Lloyd Rose – breaks into the smoldering, darker bits of Wonderland, looking to it not as a children's book but a space for dark imaginings.
Director Paata Tsikurishvili confesses in his director's note that the Alice stories were not present in his upbringing, which has granted him a "fresh eye" in approaching this work—free of the nostalgia or playfulness often tied to Carroll's stories.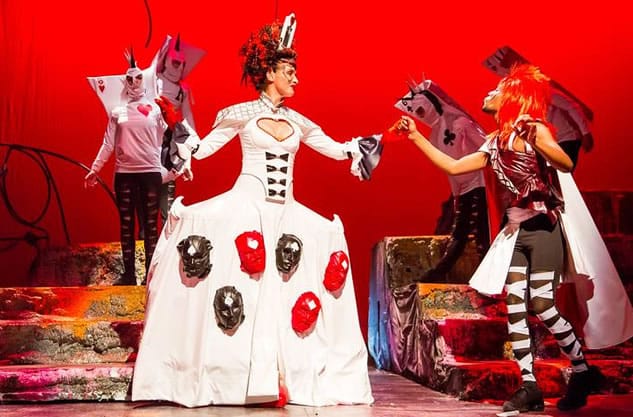 Here, the Wonderland that Alice falls into plays out like a drug-induced nightmare, rife with characters more sinister than surreal, and a truly frightening queen (who not only beheads her citizens, but adorns her skirt with her victims' faces). The Tweedles (Augustin Beall and Thomas Beheler), often portrayed as childlike and affable, are instead menacing teenagers, punked out in red plaid and chains, made up with the face paint and mohawks one might expect from extras in a Slipknot video. For those steeped in the Alice in Wonderlands of recent decades and their respective creepiness quotient, this is somewhere between Tim Burton's 2010 adaptation and Jan Švankmajer's haunting 1988 stop-motion animation rendition.
This adaptation is a part of the Women's Voices Festival, and is an interesting addition to the festival lineup, as one of very few adapted works. Between the highly choreographed sequences and the source material, it may be tricky to discern exactly which ideas for the production were scripted and which were brought to life by the design team. One notable difference between the plot of the source text (or other Wonderlands) and the Synetic production is the addition of a character, an evil governess who steals Alice's dolls and their afternoon tea. It is, otherwise, a fairly faithful adaptation, taking some liberties with the contents of specific scenes and the "Jabberwocky" poem.
Alice (Kathy Gordon) is a solid portrayal of the classic wide-eyed, rational girl we've come to expect. Her experience is much like the audience's, trying to sort out what is happening around her and move forward from the immediate strangeness into the next unknown.
The Cheshire Cat (Alex Mills) has a sizable role in moving things along. More S&M-club in his purples and leathers than fluffy impish beast, this cat takes a Puckish role in maneuvering those around him (often literally) and incorporating the well-honed acrobatics that we know Mills can pull off. His counterpart, the White Rabbit (Tori Bertocci) is still anxious and running late, but decidedly female, carrot-obsessed, and not explicitly a minion of the Queen so much as the Cheshire Cat's partner in crime.
It is an elegant, if dark, rendering of Wonderland. The pas de deux between Dodo and Lobster (Eliza Smith and Zana Gankhuyag) was especially lovely, and the staging and choreography throughout is as diverse as it is innovative. The set, a snarling surrealist ladder woven through with leaves and lights and any number of other things, transforms easily from scene to scene, and two small stations expand the playing area into the house while giving way for an assemblage of what can only be described as truly creepy dolls to have a tea party as the audience trickles in. Background music, seemingly culled from a demented carnival, completes the haunted effect.


ALICE IN WONDERLAND



Part of the Women's Voices Theater Festival
September 30 – November 8
Synetic Theater
1800 S. Bell Street
Arlington, VA 22202
1 hour, 30 minutes, no intermission
Tickets: $20 – $70
Wednesdays thru Sundays
Details
Tickets
———————
Indeed, the only place where it seemed the creative team had no twist to offer was with the character of Humpty Dumpty (Vato Tsikurishvili), who stood out as fairly traditional in contrast to the others. (But then, what can one do to darken an egg?)
A fittingly Halloweenish romp through Carroll's darker landscapes, Alice in Wonderland is a choreographed haunted house, or the acid trip you never had. But if the children are easily spooked, you may want to leave them at home.
—————–
Alice in Wonderland by Lewis Carroll . Adapted by Lloyd Rose . Directed by Paata Tsikurishvili. Choreographed by Irina Tsikurishvili . Featuring Kathy Gordon, Alex Mills, Tori Bertocci, Dallas Tolentino, Justin J. Bell, Zana Gankhuyag, Vato Tsikurishvili, Eliza Smith, Renata Veberyete Loman, Augustin Beall, Thomas Beheler, and Janine Baumgardner . Set Design: Daniel Pinha . Lighting Design: Colin K. Bills . Sound Design: Thomas Sowers . Props Master: Jason Alpern . Sound Editor and Resident Composer: Konstantine Lortkipanidze . Stage Manager: Marley Giggey . Fight Choreographer: Vato Tsikurishvili . Produced by Synetic Theater . Reviewed by Jennifer Clements.