Pulsing music from a string quartet becomes a cinematic soundtrack to footage of green water swiftly flowing. The images change to handlebars while on stage a seated man pedals the air, the baritone singing ecstatically "Like every other boy, I have a paper route!" Music shifts, and the lyric becomes "… a blouse underneath feels so right." The opening scene of the opera As One, produced by UrbanArias, beautifully establishes a work that is both universal and timely in its experience and a metaphor for the fluidity of identity of a male and female in one body.
As One has already received that rare thing for a new work – a handful of productions around the country. But it still seems spanking new and a worthwhile risk, both in artistry and theme, for Artistic Director Robert Wood and his taut production team.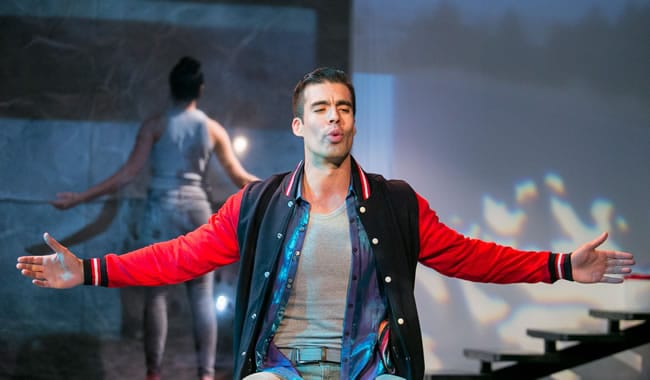 There is much to recommend in the creative team's tackling of the sensitive issue of gender identity leading to transition. Composer Laura Kaminsky, along with multi-award winning librettist Mark Campbell and filmmaker Kimberly Reed, who also helped with the libretto, have brought their strong skill sets and deep personal insights to the subject. It was gratifying to see that their approach celebrated many moments of joy and universal experiences in the scenes from Hannah's life. Like the opening scene I described, the strongest moments throughout were ones that reveled in giving voice to shared human experiences rather than driven by what has been recently exploited in tabloid sensationalism of gender transitioning.
Director Octavio Cardenas has supported the intention of the work well and made the most of this "final draft" of the work that has paired the story down to two performers sharing the role of Hannah. Cardenas prepares the audience early on with a central metaphor for the story by having the singers perform mirror imaging. He has created some lovely stage pictures in the episodic "glimpses" into Hannah's life as in one of my favorite scenes, where Hannah, presenting as a boy, is seen in early elementary school learning cursive writing and struggling to stifle impulses of producing round and flowing lettering. Hannah instead must "muscle" his way to present a "masculine" stiff wrist and taut style of cursive writing. The girl, his "other," keeps teasing him, almost flirtatiously, to follow his own impulses and commit to a penmanship  she knows is her personal creative expression.
The opera, at its best, remains an interior monologue and is performed beautifully by Luis Alejandro Orozco and Ashley Cutright as the two sides of Hannah. Both singers possess powerful voices and sing and move with extraordinary expression and poetic interactions. Opera has come a long way, baby, and these two performers might well have been taken as dancers in their fluidity. They are endlessly watchable, even as they switch briefly into other characters to tell Hannah's story.
There are moments of beautiful conjoining where we in the audience can experience the dual life of someone living in a body that doesn't feel one's own. When Orozco sings in his powerful baritone voice "I must be the perfect body," Cutright sits in the background, isolated and lonely, while behind her on the screen a frosty lake laps quietly, intensifying the experience of an outlier. The complexity of human experience is powerfully evoked in a way only opera can with the dense layering of music, words, stage pictures and, in this case, film.
So it is somewhat jarring when others are brought into the mix. In one such moment, conductor Robert Wood raps his baton on the music stand and enters the playing area to "school" the audience into repeating after him John Donne's famous poem, "No man is an island." It takes the audience out of the story. Most often, forced "audience participation" feels awkward and serves as an unwanted interruption in a theatrical experience, and this was no exception. How much more graceful this might have been handled – possibly as an aria in the vein of the standout moment in John Adam's lengthy and ambitious opera Dr. Atomic where the central character of Oppenheimer, sings "Batter my Heart," also (curiously) a Donne poem.
To think about both operas reveals another weakness in As One. Kaminsky's score shares some of the pulsing quality of Adams' post-minimalist composition. It is strongest in the instrumental writing of the string quartet representing, to my mind, the racing of the character's inner monologue. The vocal writing, however, feels more like a string of ariosos, something in between arias and "recit."
Sometimes this is called "airy," as in light, writing and surely, in this work, must be as difficult to learn to sing as it is to refresh one's ears and listen to for over an hour. I sensed the audience longing for more variety, and in particular, for break out arias where the two voices and emotions could soar. At times such evenness of composition eclipsed key dramatic moments, such as when Hannah makes the decision to start hormonal therapy as part of her transition. Some people lost that key event entirely.
In scoring the work for a string quartet, Kaminsky has chosen to keep the ensemble small in order to bring the work and this important issue to multiple communities. A couple of times, the violist comes on stage and offers some solo work as if to speak to and with the singers in a theatrical way. That this "middle instrument" in a quartet was chosen to represent some new "middle way" of living as the character of Hannah was a most interesting choice, but I didn't hear the music express anything new and so it seemed tacked on, interruptive, rather than integral to the piece.

AS ONE



October 3 – 10, 2015
UrbanArias
at Atlas Performing Arts Center
1333 H Street NE
Washington, DC 20002
Tickets: $29.50
Details and Tickets


———————
The set design by Adam Crinson was quite beautiful and used the Sprenger space at Atlas Performing Arts Center to great advantage. Crinson created levels and a glass chamber that served as a kind of box of mirrors, both a prison and a chamber of self-discovery. Occasionally however, by breaking up the surface planes, the cinematic contributions of Kimberly Reed got diffused or became completely unintelligible.
Sarah Riffle's costumes for the two singers were just right to signify a kind of androgyny. I especially liked the matching shimmering blue shirts that cast the audience forward in the piece to the revelatory scene of northern lights where Hannah, alone in the Norwegian wilderness, faces her true self and becomes integrated.
UrbanArias is a company that takes risks with new works, and these of necessity are developed over time and with the midwifery of several productions. For this, this show is to be highly commended, and As One has been given a very respectable production. Behind everything that UrbanArias presents stands Artistic Director Robert Wood, and he conducts the work with enthusiasm and a masterful understanding of its musical structure.
And, in case you haven't kept up with D.C. cultural landscape, UrbanArias has officially "arrived." It was cited earlier this year in Opera America as one of the four major opera companies of the Washington area (along with Washington National Opera, Opera Lafayette, and Washington Concert Opera) and the only professional group devoted solely to new works. It has also, not incidentally, been awarded grants from the National Endowment for the Arts.
As One charters new territory in theme and content of "what makes an opera." It is a fascinating and promising chamber work and deserves serious attention.
As One .  Music and Concept by Laura Kaminsky . Libretto by Mark Campbell and Kimberly Reed . Film by Kimberly Reed . Featuring Luis Alejandro Orozco and Ashley Cutright .  Conducted by Robert Wood . Stage Direction by Octavio Cardenas . Produced by UrbanArias . Reviewed by Susan Galbraith
Recommended – 4
Running Time: 75 minutes with no intermission