Christine Evans' Can't Complain is an exquisitely beautiful play that cuts to the bone. Luciana Stecconi brilliant set plunges us into an in-between world of gradations of gray and charcoal. Gray blankets and sheets, gray pillows, and cushioned arm chairs. A supposedly soothing atmosphere, but one that hurts to be there, like going to a doctor's waiting room when the news is all bad.
Everything that happens here is a paradox – nebulous, kind of eerie and strange. Evans' writing is compelling. Every word, every phrase had relevance and seemed to indicate weightier meaning. "It's three minutes before sunrise." It doesn't matter who utters the line. It puts us into an uncertain time frame.
This superb ensemble of actors make an eerie, absurd world feel matter-of-fact and comfy, as if we belong and live in it every day. Yet this needling theatrical piece captures the unsettling fear, even terror, we feel about losing control of our lives but can't put into words.
We are in a world, past and present, concocted by playwright Evans, as if she were drawing from quantum entanglement, what Einstein called "spooky action at a distance." That is, exploring another layer of reality, where subatomic particles far apart can become entangled and transfer information.
Director Michael Bloom aptly places focus on the character, Rita (Cornelia Hart, a middle-aging elegant lady with regal bearing. She appears in a V-necked, calf-length, silky street dress of non-descript pattern, black slippers, and an abalone shell necklace – a proper-Bostonian who speaks with a controlled-calm, in a matter-of-factly manner, as if she knows exactly where she is every second of the time.
Rita is waiting but we're not sure for what or for how long. "How are you?" asks Maureen (Tonya Beckman) her all-business daughter, with the chip-on-the-shoulder voice. "Can't complain," Rita says. The title of the play is repeated throughout like a lyrical refrain. Except that as the mother-daughter competition is revealed in free-associative dialogue we see that Rita has complaints and could have screamed them in rebellion. After years of care-giving as a mother, she's got plenty to gripe about. Isolation, for one thing, in a room where her twin bed is next to another with a weird lump that moves but doesn't reveal itself.
Daughter Maureen is trapped in a dysfunctional marriage to Michael, whom we never see. In a hyper-tense exchange with Rita, she says in a punishing tone, the confinement is "… just for a little while for some tests." What kind of tests? For a stroke? Dementia? We're unsure of who is more demented, the devoted mother or the explosive daughter. Yet we can see in Hart's facial expressions, and soaring performance as Rita, the slow realization of aging and loss, at times touching, at times humorous. Rita confesses that she's stressed out as a lonely mother. It feels cruel to be here without her cat, Sooty. "Tests show that pets alleviate stress," she says hopefully. So what do we do with old folks, who wander off, and no longer can live at home on their own? Like the bare-branched trees in the final scene, stripped of all its leaves, the elderly are stripped of social life.
Who is more unstable? Our sympathy at first goes to Rita, who feels unwanted and absurd. During her free associating, random, self-talk, she reveals that she hears "whisperings on the T (the Boston city trains)," that instruct her: "Give up hope…. End your life. End the torment." Or is her daughter, Maureen, more unhinged? Worried about her mother, who wanders at night, Maureen has had to call the police to find her. At the same time, however, she is a person under such extreme pressure, she lights the oven, forgets, leaves the house, and burns the kitchen to a charred core. Yet Maureen has a dark sense of humor about herself. She brings Rita a covered dish of lemon meringue. "I do occasionally turn on the oven, not to put my head in it."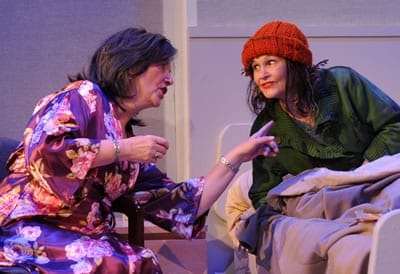 That lump in the second bed turns out to be the delightful, totally mad Iris, played by the wonderful Wendy Wilmer, who pops up and proposes toasts to Rita. Iris, wearing fingerless gloves and a winter, wool cap, is from Derry, Ireland, and Wilmer plays her with animated, infectious, hilarious charm. "They're just trying to get rid of you," she says. Is Iris Rita's alter-ego? Her subconscious? Or from another dimension? Whatever, Rita must learn to share confinement with this relentless nemesis, who calls Rita "Mrs. Muckity Muck," and asks disarming questions: "What was it like in bed with Jimmy, your husband" and "Why go on?"
Who is the Man in Blue, (Eric M. Messner) the man with a wicked smile, and devilish gleam, who enters sweeping the wand of a vacuum cleaner back and forth? "Do you usually clean around people?" Rita asks. (It gets an appreciative laugh.) Is he the Devil? Later, Messner, as the psychiatrist, could be Prince Charming, who seductively sweeps Rita up and onto a dance floor.
Our interview with playwright Christine Evans
A significant scene: Jansis, played by luminous Nicole Ruthmarie, is Rita's gorgeous teenage granddaughter. "I can slip in and out and nobody notices." Jansis talks about dreaming about institutional confinement, where locked up in ward, she finds a patient walking around without feet, "….gliding around and staring into everyone's faces." Rita reacts anxiously, "You must have been scared out of your wits." Jansis has elevated us into a ghost story.
But supernatural magic stops there. Our perspective is through Rita's mind. Rita is imprisoned in a nightmare, a Sartre-like, clinical world with no exit.


CAN'T COMPLAIN

Part of the Women's Voices Theater Festival
October 1 – 25
Spooky Action Theater Company
1810 16th Street, NW
Washington, DC  20009
About 1 hour, 30 minutes with 1 intermission
Tickets: $25 – $35
Thursdays thru Sundays
Details and Tickets


———————
There is a deeper story of who is more out of control, the daughter who sets her kitchen on fire, or her mother who doesn't take part in the search party when her granddaughter goes missing. Beckman, as Maureen, delivers a wet-eyed high-point revelation, that's emotionally moving and monumental, shattering any fairy tale illusions about how we take care of each other. It brings the audience to pin-drop stillness.
After experiencing this mother-daughter relationship, I wondered how the human race survives and why it reproduces. Oh, Rita recalls a quick flashback of delight in playing with her babies. But Maureen rips back at her mother with cracks like, "They could bottle you and sell you as vinegar." Why aren't we an extinct species? Why have babies? Being a parent is so painful; it must be one of the great mysteries of human existence.
In one comically allegorical scene, Rita keeps herself calm by brushing her hair, like a grooming cat, (Schrodinger's cat, for the Physics wonks?), while Iris clips her toenails with the clipper amplified by sound. Yet we are never sure if Iris is a real person or an altered reality from a parallel universe. Ultimately she injects comic relief by throwing a wild party with Irish dancing.
Luciana Stecconi's set design is ingenious with a surprise at curtain call except to say it suggests that possibilities are limitless. For Jansis.
——————–
Can't Complain by Christine Evans . Directed by Michael Bloom . Featuring Tonya Beckman, Cornelia Hart, Eric M. Messner, Nicole Ruthmarie andWendy Wilmer. Set Design by Luciana Stecconi . Lighting Design: Brian S. Allard .  Sound design: David Crandall . Costume design: Robert Croghan . Properties: Elizabeth Williamson .  Scenic Artist: Mariana Fernandez . Technical Director: Rachel Wallace . Master Electrician: Nicolas Barry . Stage Manager: Sarah Magno . Assisted Stage Manager: Patrick Derrickson . Produced by Spooky Action Theater . Reviewed by Rosalind Lacy.