In his first entrance as Moniquito, the foolish courtier, ,Alex Alburqueque slid on his knees in an exaggerated send-up of romantic wooing, Latino-style. From that moment on, Alburqueque, with his instinctive comic timing, total body and soul involvement, enthralled us and made us laugh.
This young baritone, opera singer once again showed exciting potential as a comic, character actor. I remember him as Leparello, the sidekick, in the In Series staging of Mozart's grand opera, Don Giovanni, last March (2015). In Jacinto Guerrero's zarzuela, La Rosa Del Azafrán, Alburqueque proved just as effective.  His mock courtship of scornful Catalina, the charming soprano, Giuliana Concha, was over-the-top engaging.
Stamping flamenco dancers, clicking castanets, from Ballet Furia Flamenca, opened this two-act zarzuela, a traditional, tuneful Latino-style musical comedy. It's a celebration of a late 19th century autumn planting season in the courtyard of a country house, owned by the wealthy Sagrario, sung superbly by mellow-voice, mezzo Patricia Portillo.
Scene projections on the upstage wall, ranging from the facade of a stucco, tiled-roof hacienda, to narrow streets in a rural Spanish village, saturated with saffron yellow light, (lighting design by  Christopher Annas-Lee), placed us in La Mancha, the same fertile plain in Spain where Don Quixote courted windmills. But in La Rosa Del Azafrán, the earthy, farm laborers celebrated their harvest.
La Rosa Del Azafrán's plot is similar to Spain's great playwright, Lope de Vega's El Perro Del Hortelando/The Gardener's Dog. An aristocratic female land owner is attracted to a man from the lower classes. Since society is ruled by class snobbery, courtship and marriage are strictly forbidden. Yet, ultimately, what goes around comes around. And the moral of the story is fulfilled: Some men are born to nobility but some of humble origin earn the right to become noble.
Spoken dialogue, instead of sung recitative, alternates with sung arias, choral numbers, and duets. The zany romantic plot serves as a frame for memorable music. In the beginning, all the love matches appear frustrated. Tenor Andrés Carvallo did a fine job as Carracuca, who needs a new wife for his five children. All in the supporting cast were excellent. Stalwart Don Generoso, (baritone Felix Fernández-Pizzi,) was driven mad by the loss of his land and his son. The former estate owner needs a healing from the village midwife and healer, Custodia, (Maricarmen Wila.) And Moniquito has failed to heal anyone.
A talented cast delivered stand-out performances worthy of mention. The central story focused on aristocratic Segrario, the versatile Patricia Portillo, and the humble farmer, Juan Pedro, sung by baritone Ricardo Rosa in his Lirico debut.
Rosa projected the gallantry of any leading man in the sublime "Song of the Sower," that drew us into the disenchanted-love theme. When sowing, Juan Pedro feels as if he owns the world; and what he places in the furrows will reward him with sprouting wheat. "The seed flies from my fist,/falls on fertile field,/feels the caress of the ground/ and opens its heart to life./….." Juan Pedro is happy as a farmer; whereas he hasn't been as fortunate with  the woman he loves. So, he dreams he is planting and throwing to the wind his "love laments…" and hoping for a better future.
Here the saffron flower of deep saturated yellow, came in as a powerful symbol for passion and love. A delicate flower that blooms and dies in one day, saffron flowers also have common uses. The pollen from the pistils are pounded by the female farm workers, as in the climactic Act I scene, for seasonings, used by folk healers as a stimulant and aphrodisiac.
But let's get profound. The saffron flower also represents the fragility of human love. "Love is as fragile as this humble flower;/the flower with its exotic color loves you at sunset/It forgets you at midnight."  An elegant phrase sung by Segragio, echoed by the choral ensemble, and later by Juan Pedro, let down by Segragio's failure to match her declarations of love with action.
Because they are passionately attracted but thwarted, Segragio and Juan Pedro also need some healing. Custodia, (Maricarmen Wila,) as a matchmaker, ultimately is successful in healing Don Generoso's madness and the rift between the true lovers with a trick. Juan Pedro passes himself off as the aristocratic Don Generoso's long-lost son. This is not a spoiler revelation, as the show has closed.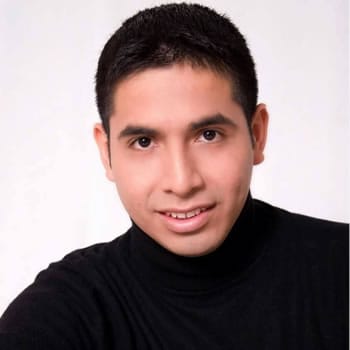 But what is worth remembering, and the reason for my review, is Alex Alburqueque, who possesses the skill and talent to show us two-faced, complex characters. Alburqueque commanded every minute Moniquito swept on stage.  In "Dos por dos son cuatro/Two times two is four," Alburqueque, as lascivious Moniquito, instinctively performed caricature without overdoing it.  Cunning Moniquito, the clownish courtier, used step ladders, as if to scale balconies to reach sequestered women he desired, entrapped behind iron bars. "I climbed a ladder and I'm not coming down until I get a little action," he promised. Yet, in his final scene, after Moniquito has lost Catalina, he breaks down crying. Then in a split-second, his quick recovery and change of subject indicates  he will survive. Brilliant! He didn't push. His character's behavior happened spontaneously.  Watch for Alburqueque's name in future productions.
Sadly, La Rosa Del Azafrán/The Saffron Flower was limited to two performances last weekend; but  Teatro Lirico artistic director, Marco A. Campos, taught us something new. Traditionally, in Latin American countries, zarzuelas are accompanied by audience sing-alongs. "Quite a little early, this morning…",  printed in the program and led by the characters Moniquito and Catalina, was refreshing and enjoyable.
Teatro Lirico of DC's production of La Rosa Del Azafrán/The Saffron Flower was performed October 9 and 10, 2015 at GALA Hispanic Theatre. 
——————
La Rosa Del Azafrán/The Saffron Flower  . Zarzuela by Jacinto Guerrero . Edition by M. Roa (Trito Editions), based on libretto by Romero and Shaw . Stage direction: Corinne Hayes . Orchestra conductor: Jesús Manuel Berard .  Light Designer: Christopher Annas-Lee . Assistant stage director: Bridget Grace Sheaff . Choreography: by Estela Vélez de Paredez .
Performing artists: Baritone, Alex Alburqueque (Moniquito); Soprano Giuliana Concha-Pedraza (Catalina); Felix Fernández-Pizzi (Don Generoso); Baritone Ricardo Rosa (Juan Pedro); Mezzo-soprano Patricia Portillo (Sagrario);  Tenor Andrés Carvallo (Carracuca); Actress Maricarmen Wila (Custodia); Actor Alvaro García-Barba (beggar/Francisco).
Dancers: Estela Vélez de Paredez, founder of  Furia Flamenca; Daniel Paredez, a lead dancer from Furia Flamenca; Morgana Heyer, flamenco dancer.
Chorus led by chorus master, José Sacin. Sopranos: Seana Grace, Shaina Kuhn, Jessica Pressley, Katie McDonald; Altos: Alisa Johnson, Cynthia Gorostiaga; Katy León; Tenors: George Cooper, Iván Lozada, Sandro Trigo. Basses: Alex Alburqueque, Eduardo Castro, Félix Fernán-Pizzi.
Instrumental Ensemble: Ko Sugiyama (Violin I); Timothy Macek (Violin II); Uri Wassertzug (Viola); Kristen Wojcik (Cello); Lauren Sileo (Flute); Lora Ferguson (Clarinet); Lee Hinkle (Percussion); Michael Crabill (Piano). Produced by Teatro Lirico of D.C. .  Reviewed by Rosalind Lacy.