The two characters in The Gin Game do little more than play card games and, once, (spoiler alert) dance. But they're portrayed by James Earl Jones and Cicely Tyson – with some 130 years of acting experience between them – and that's enough to turn this Broadway revival into a stellar outing at the theater.
Now, D.L. Coburn's play (his first) did win the 1978 Pulitzer Prize for Drama, and one could find beneath the entertaining surface of this comedy a certain thematic depth and psychological insight — exploring what it's like to grow old in America, and asking us how much the characters (and, by extension, any of us) need to blame bad turns in life on  bad luck, rather than bad choices.
Weller Martin (Jones) and Fonsia Dorsey (Tyson) are relative newcomers at a weathered old age home, when Weller asks Fonsia to play gin rummy with him. She played the game long ago, but isn't sure she still knows what to do. He is happy to show her. She wins the first hand. "Beginner's luck, I guess," she says politely. He's gracious in response. She wins again…and again. He's no longer gracious.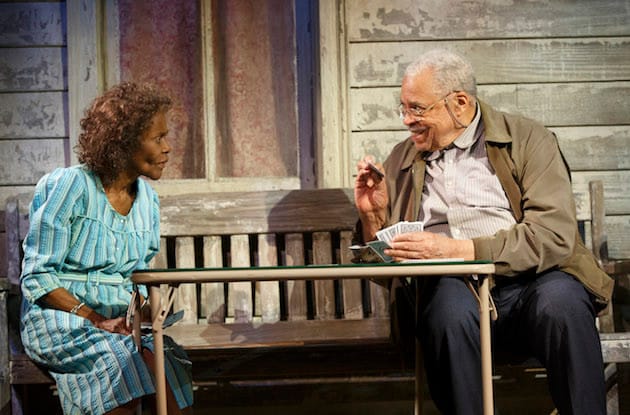 More production photos at NewYorkTheater.me
From the beginning Weller is intent on playing the game, and Fonsia is more interested in chatting. He interrupts her in mid-sentence on occasion by loudly counting out the cards as he deals them. They nevertheless get to know each other, better than they would like. Weller is big and blustery, Fonsia petite and church-like polite…at first.
They both divorced their spouses long ago. Fonsia has diabetes, and asks Weller about his health problems. "I have one of the most advanced cases of old age in the history of medical science." They both have children, who never visit. Neither will admit their loneliness or their impoverishment. Both see into the other's deceptions, and self-deceptions.
Little time is spent on their life stories, far less than the card games.
This might not seem like enough to fill up two hours, but it goes by quickly. The play itself deserves some credit for this; it's proven a reliable vehicle, first on Broadway with married theatrical couple Hume Cronyn and Jessica Tandy in 1977 directed by Mike Nichols; the second time with Charles Durning and Julie Harris in 1997 directed by Charles Nelson Reilly.
This third Broadway production, directed by Leonard Foglia and scheduled to run only until January 10, features two greats who are performing in their sixth show together. They first shared a stage more than half a century ago in a production of Jean Genet's The Blacks. If more demonstrative than I recall Hume Cronyn and Jessica Tandy being (Cronyn was sneakier, Tandy more close-mouthed offended), James Earl Jones and Cicely Tyson are just as adept in mastering the rhythms of this play to keep us engaged.
At one point, Weller complains about the nursing home's "constant need to entertain us. Sometimes I get the idea that they feel like if they don't have a choir up there, or if they don't have a goddamn magician up there doing tricks or something, then we're all going to drop dead right in front of their eyes." There is something of that same need in The Gin Game, but few theatergoers are likely to complain about the myriad tricks by the magicians on stage.
—————–
The Gin Game is on stage at the John Golden Theatre (252 W 45th St., N.Y.C., 10036, between Broadway and 8th Ave.) through January 10, 2016. Tickets and Details