The sinewy vamp beckons your ears to step inside. What follows is a compact one act revue of infectious melodies, perfectly married to the song lyrics which could be about unbridled joy, a broken heart, or a declaration of love.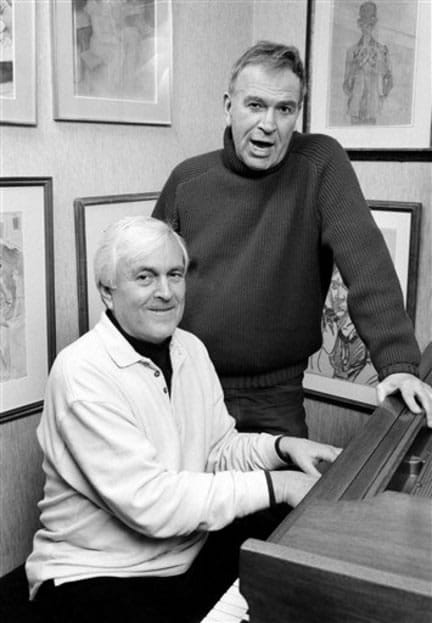 The tunes are by John Kander, the lyrics are by Fred Ebb. Do you really need to know anything else? Broadway and Hollywood would be a lot less tune-filled without such titles as Cabaret, The Happy Time, Zorba, The Rink, New York, New York and Chicago. Not every show was box office gold but Kander and Ebb's working relationship produced winning songs even from the flops. This 1991 revue covers more than 20 years of Kander and Ebb's remarkable career with its hits, misses and everything in between.
Learn more with our recent talk with John Kander
Creative Cauldron has brought The World Goes 'Round to the intimate ArtsSpace in Falls Church and it is a winner. Crisp direction by composer-performer Matt Conner, first-class musical direction by Steve Przybylski, and choreography by Kara-Tameika Watkins that leaps off the stage.
And then there is the cast. I imagine if Mr. Kander slipped in to Creative Cauldron's gorgeous little venue, he would simply smile in appreciation of the five singer-actors performing The World Goes 'Round. Unencumbered by amplification, these consummate performers do more than justice to each musical number. Stellar solo work is combined with fantastically tuned close harmony sections that revitalize classic songs and breathe life into the lesser known gems. When the entire group sings "Yes," and "Coffee in a Cardboard Cup" (both from 70, Girls, 70), "Pain," and "Money, Money" (Cabaret) you feel they have suddenly imported a larger ensemble.
The opening number, and title song, is handled by the Katie McManus, singing in a big, bluesy style, accompanied by the sultry clarinet work by Mila Weiss. Later McManus makes her mark with a song made famous by Barbra Streisand, "My Coloring Book." The singer un-Streisand's another one of Barbra's songs by closing the first act with the song from the film Funny Lady, "How Lucky Can You Get."
A gifted dancer as well as possessing a pleasing tenor voice, Jordan DeBona easily handles such songs as "The Happy Time," and "I Don't Remember You (from The Happy Time) and the title song from The Kiss of the Spider Woman. Playing against type – handsome and fit – DeBona also makes the vaudeville-style, apology "Mr. Cellophane" (Chicago) a showstopper.
Carli Smith, with golden hair and a voice to match, heats up the stage with a celebration of a housewife's infidelity with "Arthur in the Afternoon."  Smith later leads the ensemble in "All That Jazz," making a case for bringing back the Roaring Twenties. She also shows a tender side by putting across one of my favorites from Flora the Red Menace, "A Quiet Thing."

THE WORLD GOES 'ROUND



October 1 – 25, 2015
Creative Cauldron
at ArtSpace Falls Chuch
410 South Maple Avenue
Falls Church, VA 22046
2 hours with 1 intermission
Thursdays thru Sundays
Tickets: $26
Details
Tickets
———————
The celebratory "Sara Lee" is brought to delicious life by baritone Harv Lester, in which he sings an anthem to the mysterious baker of cakes, pies and other goodies in the grocer's freezer. Lester changes tone with "Sometimes a Day Goes By," a poignant song that personifies the perfect melding of music and lyrics by this award-winning team. Wrapped up in a memorable Kander melody, Fred Ebb's lyrics dig deep into love and loss: "But sometimes a day goes by/ When I don't think of her/ 'Til morning comes and then/ There she is again."
Rounding out the ensemble is Carolyn Burke, with the looks of a classic ingénue and a deep, alto voice of seasoned mahogany. (You come see the show and listen for yourself.) Burke's unique and expressive vocals shine in numbers such as "Colored Lights" (The Rink) and "Ring Them Bells" (Liza with a 'Z'). Burke is joined by McManus on two superb comic duets from Chicago and Woman of the Year – "Class" and "The Grass is Always Greener."
Director Matt Conner wraps the entire evening of fantastic tunes and performances in a blanket of remembrance, assisted by scenic and costume designer Margie Jervis, providing an evocative, backstage atmosphere.
Fred Ebb's partnership with John Kander ended with his death in 2004, yet yielded a remarkable legacy of shows and songs. The World Goes 'Round is a testament to their 38 year run. It's worth the trip to  Falls Church to say Yes to this latest Creative Cauldron creation.
———————-
The World Goes 'Round The Songs of John Kander and Fred Ebb . Director: Matt Conner . Music director: Steve Przybylski . Choreographer: Kara-Tameika Watkins . Set design: Margie Jervis . Lighting design: Joseph Lovins . Costume design: Margie Jervis . Stage Manager: Christopher Riherd . Produced by Creative Cauldron . Reviewed by Jeff Walker.