On October 13th, we were treated to the debut of a bold new work, visually stunning and emotionally powerful. Yaël Farber has conceived, adapted and directed a fitting "crown" to the Women's Voices in Theatre Festival by re-telling the story of Salomé as a woman's narrative. By witnessing the work, we the audience help to reclaim her and, in some sense, other unknown women whose stories have been erased or usurped by the men and their powerful empires.
The story is wrought grand in scale yet spare in style and staging and, I imagine, not an easy one to perform or, for some perhaps, to experience.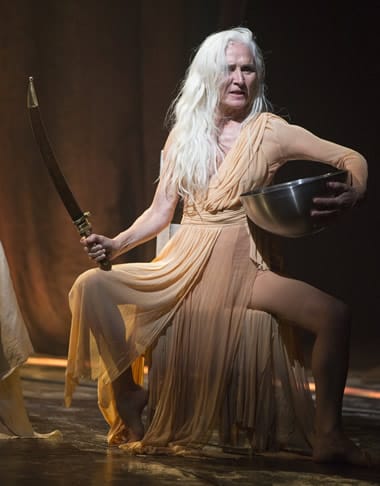 The characters enter slowly from off stage right in solemn procession, as if moving out of history books across a mostly bare stage. Their pace forcibly slows down our own expectations, inviting us into another time and place. The white haired crone comes to sit center stage, with her legs planted wide and her gaze unyielding. Men gather upstage of a long latticed table and freeze in a tableau that eerily conjures a familiar oil canvases such as The Last Supper or other Biblical paintings.
Our interview with Yaël Farber
A young dark woman listens to the men cutting deals, including her stepfather, the man known historically as Herodias. The long table at which they are gathered will soon be disassembled and become both an underground aqueduct in which the white haired woman hides and a ladder for the young woman's descent to a small cell (or perhaps underworld) that holds the prophet and revolutionary figure Iokanaan or, as some people know him better, John the Baptist.
We think we know what happens next. But we're challenged by the crone to listen closely. She has said, "I begin at the end. One by one, I have watched…" This is her story.
To mine for textual fragments, Farber has not only reached back into Hebraic texts but Arabic and Babylonian works as well. Salomé is delivered in multiple languages, then translated line by line, mostly by The Nameless Woman, a kind of narrator and older "other" to the historical daughter of Herodias. Rather than adapt the play by Oscar Wilde and collude with the interpretation that Salomé was a decadent and vengeful traitor to the cause, she chooses to elevate the relationship between Salomé and Iokanaan through the ecstatic poetry of the Song of Solomon. Salomé moves inexorably toward playing a necessary and important role in history.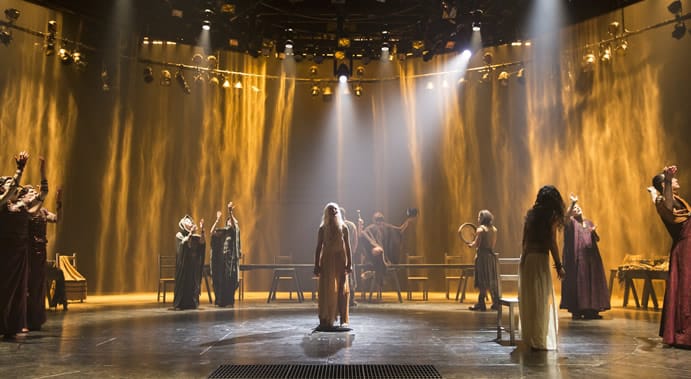 To identify a visual language for the piece, the work not only evokes the classical paintings made of Biblical times but also uses the pouring of sand and a baptismal ritual with water to create a symbolic world where sand is plenty and water is scarce and precious – a world both distant in time and space but one also familiar to us through the current troubles in the Middle East. The torture of this John the Baptist figure with "waterboarding"made some gasp behind me, crying out in recognition and desire for a kind of national atonement.
To understand and fully appreciate Farber's work is to see that Farber and the creative artists around her have come out of the great theatrical tradition from the international festival stages of the second half of the twentieth century. The great wall of silk curtains that comes tumbling down and the heightened physicality in performance style of the richly swathed performers evoke Ariane Mnouchkine's Théâtre du Soleil. The economy of gesture and use of silence call up a certain elegance of truth in the staged "source theatre" works of director Peter Brook and his Lab company as they conducted theatrical and linguistic experiments internationally in places as far flung as Persepolis and villages in Africa.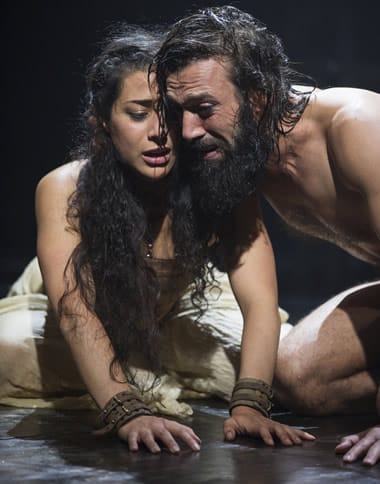 The stillness and inner fire needed to stoke this kind of stylization, realized beautifully by this ensemble cast, might have only been matched by Tadashi Suzuki's company originally out of Toga, Japan.
The grounded movement that revealed strong legs and an almost ferocious sensuality of Nadine Malouf and Olwen Fouéré, sharing the character of Salomé, recall for me the stunning actress Nuria Espert and the special physicality of her Spanish company. These two women are so beautiful they mesmerize, and their stage presence fulfills this vision of Salomé. Maloud reinvents the infamous Dance of the Seven Veils. When Salomé grabs the floor-to-theatre-roof length of silk drapes and begins to whip them like great butterfly wings as she arches in a great backbend, it is something both terrifying and magnificent at once, a statement both deeply personal and politically powerful.
Appreciating these theatrical forbearers, nonetheless Farber has fashioned a fresh new way of combining the elements to tell this story in a commission created specifically to celebrate the Womens' Voices Theater Festival. This same director, who brought us the stunning Mies Julie in 2012, forges once more a fearless, searing vision and demonstrates she has earned her "world class" reputation, taking her place in the pantheon of international "greats."
Likewise, the well-pedigreed cast of international performers is terrific, and the actors have circumvented the perils of acting in ancient costumed drama, by imbuing their work with dignity yet without stiffness.
Ramzi Choukair is dazzling physically as the stripped and tortured political prisoner Iokanaan, John the Baptist, whose work in this version is to overturn the empire and save his own people. Dramatically, Choukair is able to bring humanity to a character that often feels flinty as stone in his unwaving morality. We see him wash and lead the common people in the Jordan in service and with humility. His standing up against both Rome and the priests from the temple, speaking Arabic in a guttural roar, has all the fire of an anarchist and all the self-denial of a martyr.
Farber has not just directed a visually stunning show, but her writing of arguments across the spectrum of the politics of the piece are particularly well crafted to make this a play of political one. T. Ryder Smith as Pontius Pilate binds his historical figure most successfully to a recognizable contemporary power broker. As he describes the need for pulling precious resources (water) out of the land and sharing revenues of taxes with the priests and Herod, we get that chilling feeling we have again been suckered into the rationalization of economic imperialism.
Yuval Boim and Jeff Hayenga as the leaders of Jerusalem's priestly caste give it back to him in an exciting dramatic confrontation. They and their culture will survive, outlasting Rome and all its imperial ambitions. The two embody the struggle to compromise with Rome to stay alive but at what price and make such a striking duo on stage with their elegant costumes and bloodied red hands, a twinship of snake arms and ritualized interactions.
Ismael Kanater plays Herod in one of the creepiest incarnations of this easily creepiest of characters. His drunken lechery towards his step-daughter Salomé is a hard scene to watch.
The other duo, jailors Shahar Isaac and Elan Zafir, carve out real characters with competing desires and stakes. Richard Sauder as Yeshua the Madman is a kind of symbolic homeless street person, present as a witness but powerless, whose story is also lost to history.

SALOMÉ



Part of the Women's Voices Theater Festival
October 6 – November 8, 2015
Shakespeare Theatre Company
at Lansburgh Theatre
450 7th Street NW
Washington 20004
1 hour, 30 minutes with no intermission
Tickets: $20 – $108
Details
Tickets


———————
Lubana Al Quntar and Tamara Ilana, swathed mysteriously from head to foot, representing the silenced women of that part of the world, provide most of the singing and their voices are gorgeous. They act as Chorus punctuating the scenes, sometimes singing words but also soaring lyrically in vocalizes.
The one criticism I have of the cast is a vocal one. The style of delivery of the speech is declamatory, and many of the voices stay both loud and with little pitch variance. It becomes monotonous occasionally, hard to listen to and somewhat dangerous to produce. Some of the voices already sounded ragged and strained.
Movement Director Ami Shulman has choreographed an unfolding pageant of movement, using iconic arm gestures and making the most of a stage turntable on which the characters circle round.
Shakespeare Theatre has always produced sumptuous designs, and Salomé is no exception. Designer Susan Hilferty has given Farber a clean, spare world on which to work and costumed the characters gorgeously with elegant lines and richly drenched hues. Donald Holder lights this world with mastery and finesse, and his design at time made me gasp, it's so beautiful.
Mark Bennett has composed a flowing score which supports the work throughout, bubbling up to take focus in the songs of especially the two women but sometimes including the whole company. There is an eerie tone that he has also devised which keeps reoccurring, indicating perhaps the impending fall of an empire or perhaps the voices of women lying under the earth.
Salomé is a magnificent, hypnotic, and quite magical work.
————————–
Salomé . Adapted and Directed by Yaël Farber . Featuring Lubana Al Quntar, Yuval Boim,  Ramzi Choukair, Olwen Fouéré, Jeff Hayenga, Tamar Ilana, Shahar Isaac, Ismael Kanater, Nadine Malouf, Richard Saudek, T. Ryder Smith, and Elan Zafir. Scenic/ Costume Designer: Susan Hilferty . Lighting Designer: Donald Holder . Composer/ Sound Designer: Mark Bennett . Movement Director: Ami Shulman . Fight Consultant: Robb Hunter . Literary Manager/ Dramaturg: Drew Lichtenberg . Head of Voice and Text: Ellen O'Brien . Assistant Director: Rob Jansen . Production Stage Manager: Laura Smith . Assistant Stage Manager: Elizabeth Clewley . Produced by Shakespeare Theatre Company . Reviewed by Susan Galbraith.