Sandra Kammann's new play, Duir-wyyd: The Dreamer's Doorway, opens October 24, 2015 at the Silver Spring Black Box Theatre. She is a playwright, director, choreographer and cultural anthropologist, a lifelong practitioner of Transformational Theatre and mystical traditions. Founding Artistic Director: Sisters of One Eye Theatre Troupe. Playwright / Director: Crack Between the Worlds: the goddess returns (adaptation, Aeschylus' The Eumenides), produced by Studio Theatre's Secondstage, Helen Hayes nomination: Best Musical. Faculty: Kennedy Center Community Partnerships; Studio Theatre Acting Conservatory (1992-2013). M.A. Cultural Anthropology: Transformational Theatre (Honors), GWU. You may reach her via email here or through her website www.wethetemple.com.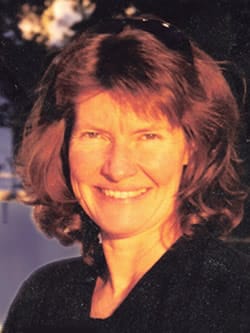 Why are you a playwright?
There is an old saying: "S/he who tells the story rules the world." Much of my work reclaims lost images of disenfranchised people, especially women, and unravels distorted historical perspectives. My works are intended to inspire people to look beyond established paradigms to embrace their inherent power and wisdom.
What type of theatre most excites you?
I appreciate theatre that creates deeply moving relationships, and wrestles with issues of import. I am especially inspired by plays that leave me buoyant rather than blue. That said, I also enjoy experimental works, movement-theatre, ridiculous comedy and stunning musicals.
What starts a play moving in your imagination?
Initially something will call to me, and if I am paying proper attention, I listen. Then a delicious and uncharted journey begins. My interest in sacred rites draws me into the practices of my characters. The anthropologist in me prompts research, deep and wide. For my current play I delved into conventional and alternative histories of the ancient Celts, explored their shamanic practices, read ancient and contemporary lore, and listened to traditional and modern Irish music. All this wove a tapestry of impressions and understanding which supported my creative process in writing a story.


WOMEN'S VOICES THEATER FESTIVAL
Duir-wyyd: The Dreamer's Doorway
October 24- November 1, 2015
October 24 – 25
Black Box Theatre
8641 Colesville Road
Silver Spring, MD 
October 31 – November 1
Spooky Action Theater
1810 16th Street N.W.
Washington , D.C.
Details and Tickets
———————
Do you have a favorite writing place?

I write from inspiration, so if I am not inspired, I go about opening my creative channel so that inspiration can enter in. This might mean time spent in the woods, or practices that allow me to get out of my own way. For my new play, I spent unstructured time in the forest, listening, since the Druids revered trees and the natural world. Soon or eventually, something would come through. Other times I'd wake with a scene or a key element already in progress, and I'd jump up and begin to write. I don't have a typical writing day.
How did you choose this play to debut at the Festival?
A play about the Druids has been in my back pocket for a long time. When I first heard about the Festival, I briefly lamented that my play was not written, I no longer had a performing company, and I had no venue. Then I began to write in earnest, found a fabulous cast and booked two theatres. I am grateful to the Festival, which inspired me to create and mount this work.
What are you working on now?
I am laughing, because as a theatre director and choreographer, I am still working on this piece, which opens on October 24th! I usually write and direct my own work, and am self-producing this piece, so I am still busy.
I am also developing a site-specific activist performance project at old growth forest sites, which will incorporate text, movement, music and shamanic principles. The audience will participate. I'll keep you posted.
Answer this: "If I weren't a playwright, I would be …"
– sad.
The long answer: I love the power and immediacy of live performance. I love to write plays and poetry, and also to direct, choreograph, collaborate and perform. When this magic carpet is woven with deep intent and genuine craft, we all step on and fly together. If not, we hope there are some peanut M & M's to get us through the show. I appreciate the courage and fortitude that artists in all genres muster to bring their visions forth. We need to honor each other, and support each other's growth.
Anything you would like to add?
Yes. Do come see Duir-wyyd: The Dreamer's Doorway! My stellar cast and designers have brought this brand new play to life. Join the creative process by giving us feedback and sharing your insights.
Read on
Our Guide to Women's Voices Theater Festival
and
More interviews with WVTF playwrights