In 1954, The Tender Land at the New York City Opera was a box office flop. American composer Aaron Copland, already famous for his folkloric, cutting-edge ballet scores, Billy the Kid (1938), Rodeo (1942), and Appalachian Spring (1944, for Martha Graham), felt so humiliated, he left town the next day and abandoned opera composing.
Although The Tender Land  was originally a small scale project for television, later adapted for the stage, librettist Horace Everett (a.k.a. Erik Johns) and Copland clearly created a breakthrough, rare masterpiece, ahead of its time. Inspired by the writings of James Agree's Now Let Us Praise Famous Men, (with photographer Walker Evans) about the common man's struggles during the 1930's Depression, this three-act opera was too dark a drama for the Fifties. And once again, the In Series Opera Company has done it. Nailed us to our seats in fascinated awe.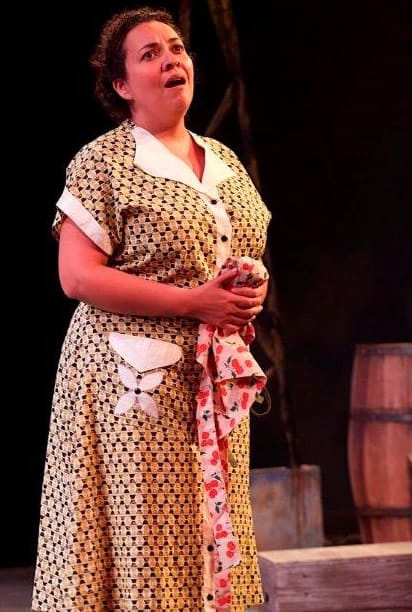 Osbel Susman-Peña set puts us in the Midwest 1930's, the provincial wasteland during the Dust Bowl days. A rickety windmill, stage left, guards over a dilapidated, black tar roofed, slatboard house, an open porch on one side, and a clothesline drooping with clothes on the other. Although it's near time for June graduation, two straggly trees with dried-out leaves, as if in the last stages of autumn, stand for lonely, rural deprivation.
But what is so startling and beautiful, even unique, and what makes this opera so worth experiencing is Aaron Copland's genius, his ultra-expressive, often jarring music, with unpredictable, wild rhythms, now recognized as representative of the individualistic American spirit. And Tender Land is performed and sung by the ever-wonderful In Series Opera Company with a near-spiritual rapture.
Operatic technique is expanded dramatically by Copland.  No dialogue is spoken. The opera is an elongated reflective poem, projected in one atonal, sung recitative, reflective of modern classical music composer Arnold Schoenberg's 12-tone method.
Conducted by consummate music director, Stanley Thurston, Act I builds to a memorable climactic ensemble number, often excerpted as a precious, classical choral piece: "The promise of living." It's thrilling to see and hear this piece in its original operatic context. In this number, we hear Copland's familiar polyphony, as if coming from a cathedral, valiantly conveyed by a nine-instrument-ensemble. The interweaving of individual melodic lines from woodwinds and strings, (no brass) transports us into the realm of the spiritual. Individuality merges into one working whole, fortified by the sung recitative: "…The promise of living/the promise of growing/is born of our singing/in joy and thanksgiving." And the polyphonic blend builds to a passing moment of promise, in intense blue light (lighting by Stefan Johnson).
Stage director Steven Scott Mazzola guides his players with a directness that is demanding, yet effective. What I found refreshing was the way the singers give us human beings who reveal themselves to us by opening their hearts and singing straight ahead, jazz-style, from the apron.  Examples: Let's back up a bit to the opening scene. It's one of isolation, longing for connection. Ten-year-old Beth, the kid sister, played by Arya Balian, talks to and does a jig with her rag doll. She is waiting for a package to arrive from Chicago– Laurie's white graduation dress. Mezzo-soprano Elizabeth Mondragon, as Ma Moss, in full pinafore-apron, as if from a Norman Rockwell painting, (costumes by Donna Breslin) sings with impassioned longing for a better life through her children. Already, Ma Moss clashes with her older daughter, Laurie, about their life ahead, illustrating the generation gap.
Laurie, sung with sweet heat by soprano Melissa Chávez, defiantly  reveals her desire to get off the farm, the boring drudgery of grueling work, that "….as long as I live here, I'll never have my own life." But what makes us edgy is the report from the postman, Mr. Splinters, speech-sung by baritone Kenneth Derby. Several month ago, two wandering strangers raped and impregnated a farm girl. Suspense lingers. The implication is that Ma Moss also could have been an unwed mother, as there is no mention of a Mr. Moss, a father, to her two daughters, Laurie and Beth. Will history repeat itself?
Enter baritone Andrew Thomas Pardini, as Top, and tenor Nicholas Carratura, as Martin. Both, described in the program as drifters, are more like migrants, rootless men, singing their rhythmic repeated refrains: "We've been north,/ we've been south,/we're goin' east,/we're goin' west,/we've been here,/we're goin' there….." The characters reminded me of the homeless, now fleeing Syria and crossing Europe for a safe haven. The point in the story is: Could Top and Martin be the guilty guys?
Look out. Here comes the twist– the essence of this opera, the paradox that unifies the American spirit. Laurie and Martin fall deeply in love and distill the basic theme. Laurie, about to become the first in her family to graduate high school, embodies the future generation's yearning to leave home for broader horizons. In a sense she is like Huck Finn, who lit out for the territory. She wants to break from her roots to realize the American Dream.
But Martin personifies the polar opposite. He hungers to sink roots for stability. The soon-to-become lovers are on a head-on collision course.  "I've never known a house that's mine,/only a roof that's been the sky." Martin sings. Ironically, his work ethic unites him with Grandpa (Scott Sedar,) representing the older generation. Although Grandpa, who hobbles with a cane, is initially suspicious of these two outsiders, he needs hard-working farmhands.
Tenor Nicholas Carratura, gifted with a resonant voice, robustly projects a larger than life, archetypal common man. Soprano Melissa Chávez, who has a beautiful soaring upper register, brings a wistful urgency to her character of Laurie Moss. Chávez's demeanor subtly, yet impressively changes during the course of the opera, indicating Laurie's character development from a downtrodden farm girl into a young woman, glowing with eagerness for a life beyond, as she sings; "Yes, I'm sure that I'm ready/to open my heart/and go out in the world,/….)
Baritone Andrew Pardini, memorable in the In Series Don Giovanni, by Mozart, has a must-mention turn as Top, costumed in overalls, with straps and bib pockets. In "Oh, I was goin' a' courtin'…,"  Pardini is the story teller of the all-American tall tale, in Act II's family dinner scene. Top tells an allegorical tale about courting gone wrong, about a frustrated dinner guest who can't carve up the beef that's too tough. It sounds  like the story of a vagabond's life living on the run.
Another high spot: The invigorating Act II hoedown dance number "Stomp your foot upon the floor…" enlivened by a solo from fiddler Gavin Fallow, who jumps out from the on-stage orchestra. We hear echoes of Copland's Rodeo from an earlier decade. A pleasing consistency in production detail was carried out by costumer Donna Breslin. The instrumental ensemble musicians are decked out in overalls and weathered checkered shirts. Even music conductor Stanley Thurston wears farmhand work togs.

AARON COPELAND'S TENDER LAND



October 17 – 25, 2015
In Series
at GALA Hispanic Theatre
3333 14th Street, NW
Washington, DC 20010
2 hours with 1 intermission
Tickets: $22 – $45
Saturdays and Sundays
Details
Tickets
———————
There's significance in the title The Tender Land. It's an opera with subject matter, relevant even today, that reflectively explores emotional geography of the "tender land," that aching landscape of alienation and uprooted disconnection, the agony of dislocation for survival. The tender love that develops between Laurie and Martin is sung as a nostalgic duet, "We'll take our dreams,/we've dreamed apart,/and we will plant them in each other's heart,"  The "tender land" is a dream world.  The tender land represents the "…fields of love,…" the lovers feel for each other and their openness to painful loss and separations in the future.
In The Tender Land we are introduced to an intricately complex opera with multiple themes of what it means to be American, written in a different decade with different expectations. As to why it was a failure in 1954?  Audiences may have expected the razzle-dazzle of a Rodgers and Hammerstein's Oklahoma.  You have to see the production to hear the unwinding to the hopeful ending in Act III.
Sur-titles are provided to clarify the sung speech; but it's all in English so there is no language barrier for English-speaking audiences. There were a few glitches in the sur-titles on opening night, sure to be smoothed out with repeat performances.
———————-
Aaron Copeland's The Tender Land .  Music composed by Aaron Copland . Libretto by Erik Johns, inspired by writings of James Agee . Directed by  Steven Scott Mazzola . Music directed by Stanley Thurston using the chamber ensemble orchestration of Murry Sidlin . Choreographed by Angelisa Gillyard . Featuring Soprano Arya Balian (Beth Moss, the kid sister); Mezzo-soprano, Elizabeth Mondragon (Ma Moss); Baritone Kenneth Derby (Mr. Splinters), Soprano Melissa Chávez,  (Laurie Moss); Baritone Andrew Thomas Pardini (Top); Tenor Nicolas Carratura (Martin); Baritone Scott Sedar (Grandpa); Erin Passmore (Mrs. Splinters); Elliot Matheny (Mr. Jenks, a neighbor); Keely Borland (Mrs. Jenks); Party Guests (ensemble): Renae Ericksen, Teresa Ferrara, Jase Parker. Production Coordinator: Brian J. Shaw . Technical Coordination: Matty Griffiths . Costume Designer: Donna Breslin . Set Designer: Osbel Susman-Peña . Instrumental Ensemble: Violin I-Gavin Fallow; Violin II-Sonia Garcia, John Philligin III (10/24); Viola-George Ohlson; Cello-Anna Bain Pugh; Double Bass-Kimberly Parillo; Flute-Susan Bour; Clarinet-Jonathan Yanik (10/17 & 25); Breanna Gromick (10/18 & 24);
Bassoon-Renée Deboer; Piano-Reenie Codelka (10/17 & 18); Jidong Zhong (10/24 & 25) Stage Manager: Katie Bucher . Produced by the In Series Pocket Opera Company . Rosalind Lacy.