It's sometimes hard to properly merge comedy with suspense on the stage, but at NextStop Theatre, Deathtrap is a diabolically clever thriller that combines acerbic wit, mysterious anticipation and plenty of mayhem.
Ira Levin's ingeniously crafted play brings the scares and surprises coming until the final curtain, and director Evan Hoffmann manages plenty of gasps from the audience thanks to slight-of-hand stage direction and a perfectly paced production.
Even those familiar with the show's plot—whether through the original Tony-nominated Broadway production that ran from 1978-1982, or from the popular film starring Michael Caine and Christopher Reeve or its numerous stagins since — will not foresee everything the play has in store.
NextStop Theatre's intimate space provides the perfect setting for the thriller, as the audience is up front and close to the action, creating an almost immersive experience. At several points during the show, audience members literally jumped in their seats.
Peter Holdway, a prominent actor in the UK, makes his DC-area debut as Sidney Bruhl, a fading mystery playwright who hasn't seen a hit for nearly two decades. Forced to peddle his fame conducting seminars for wannabe writers, his life seems somewhat desperate and sad. When one of those aspiring writers sends him a script that knocks his socks off, Bruhl "jokes" with his wife about possible claiming it for his own and "taking care" of the student.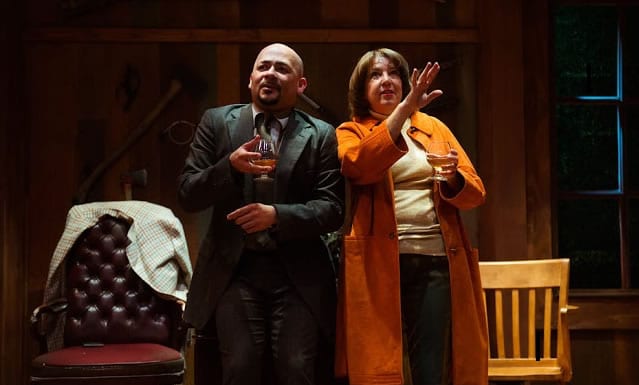 Holdway captures the desperation of a fading celebrity to a tee, and is an acid-tongued delight with a sarcastic wit that never quite lets you know if his murderous thoughts are genuine. Would he really kill for another shot at fame and fortune?
James Finley plays the gifted student in question, Clifford Anderson, and his marvelous script is entitled, Deathtrap, presenting a wink-wink, nudge-nudge to the audience that what we're watching is really a play within a play. It's a format that provides some nice laughs, without ever letting the dark comedy spill over to farce.
Just as in the play itself, the in-play Deathtrap is also a thriller in two parts, with one set and five characters. Without giving too much away, the fun is in watching the two scripts collide and intersect.
Finley is for the most part believable as the innocent student, but he telegraphs some of the action at a pivotal point in the production, and he might be better off taking a more laid back approach in his dealings with Holdway's Sydney.
Susan d. Garvey plays Sydney's loving wife Myra, who doesn't actually believe that her husband would ever do the evil deeds he distills on her. But once Clifford arrives and Sydney seems to be taking a dark turn, you can see the fear in her eyes at what her husband might be about to do. It's Garvey who keeps the play—and her husband—grounded and she is a delight. Her chemistry with Holdway is spot-on and you believe their years of marriage together.

DEATHTRAP



October 29 – November 22, 2015
NextStop Theatre
at Industrial Strength Theatre
269 Sunset Business Park
Herndon, VA 20170
2 hours, 15 minutes with 1 intermission
Tickets: $35
Details
Tickets
Lorraine Magee is a hoot as the world-renowned psychic, Helga ten Dorp, who is vacationing next door in order to refresh her visions. She comes barging in early on and somewhat accurately predicts what will happen—both scaring and delighting Bruhl. It's another sign of deviousness that Holdway showcases well. Magee is meant to add a bout of comedy to the darkness setting in, and her cantering around the room and playing with the ancient weaponry as she "recreates" the future, does just that.
Frank Britton is also solid as Porter Milgrim, Sydney's agent, who has a surprising role to play in the action, as well.
The action takes place in Bruhl's personal study situated in a picturesque country house in Westport, Conn. Scenic designer JD Madsen presents a marvelous look into the mind of a man who could be contemplating such deviousness with ominously displayed weapons (including guns, handcuffs, maces, broadswords, and battle-axes), some having been used in past productions of his work, plus framed theatrical window cards reminding him of his past glory.
If you're looking for a frightfully fun time at the theater, Deathtrap is the perfect way to spend an evening. The dark comedy combines wit and suspense in a way that's rarely seen on stage, and NextStop's production captures it wonderfully.
——————
Deathtrap by Ira Levin . Directed by Evan Hoffmann . Featuring Peter Holdway, Susan d. Garvey, James Finley, Frank Britton and Lorraine Magee . Scenic Designer: JD Madsen .Costume Designer: Kristina Martin . Lighting Designer: AnnMarie Castrign . Sound Designer:Stan Harris . Properties Designer: Hannah Schneider . Fight Director: Kristen Pilgrim .  Scenic Charge: Megan Hart .  Master Electrician: Brian Stefaniak . Production Stage Manager: Laura Moody . Produced by NextStop Theatre . Reviewed by Keith Loria.