Guys And Dolls is playing at Olney Theatre Center!  Directing his first show at this venerable venue, the well-known Jerry Whiddon is raising the roof with a brilliant cast that radiates enough energy to light the Empire State Building. This must-see show promises to be a blockbuster hit.
Walk into Olney's main stage theatre and you get right away that the Olney design team was particularly inspired. Hear the hum of moving traffic, (sound design by Jeffrey Dorfman). Scenic designer Dan Conway thrusts us into a breathtaking skyline, dominated by a replica of a neon-blue-lit Empire State, next to the Chrysler Building; both topped with red strobe warning lights and recessed in a light-studded alcove. Free-standing skyscrapers, stage left and right, seem to represent American ingenuity and individuality. In Act II, drop-down flats, raised and lowered like window shades, put us in the period by advertising  "Malted Milk 5¢" and "Breakfast Special Coffee 10¢."
Damon Runyan (1884-1946), whose short stories provided the source for this musical, was a hard-heeled  journalist who pounded the pavement chasing scoops. Among ordinary New York street people, Runyan found souls worth saving. In his fiction, with O'Henry-like twists at the end, Runyan mingled exaggerated New York slang with elaborate, highfalutin' dialogue from scoundrels and miscreants, the underworld hustlers, individualistic law-breakers, and do-gooders.
What's characteristic of the Runyanesque style is to expect the opposite of what you see. Appearances deceive. Redemption is possible. Runyan's short stories stirred Guys and Dolls book writers Abe Burrows and Jo Swerling to write the frame for the word-perfect songs, by lyricist Frank Loesser. Throughout, the message seems to be: Life is one big wacky, crap game. So roll the dice and play. This is America where the unexpected is possible.
In the big climactic turning point moment in Olney's classy production, baritone Matt Faucher, debuting at Olney as Sky Masterson, belts out "Luck Be A Lady," and cries out "Hah!" as he rolls his dice. Some audience members echoed that "Hah!," spellbound by Sky's every dip, turn and knee-slide to the floor. (choreography by Michael J. Bobbitt).  Caught up in the gamble of his life, Sky is not only throwing the dice to live up to his reputation, but also he's betting to win the love of a Salvation Army missionary "doll," by delivering a dozen sinners to her Save-A-Soul Mission.
This classic gem was a groundbreaker in  the Golden Age of American musical history because of its emphasis on the story. In the 1920's, musicals descended from vaudeville, full of lavish songs and dance numbers with little purpose except to dazzle audiences with spectacle. Then in the 40's and 50's, change took place and the story became important with Rodgers and Hammerstein's Oklahoma and Carousel. Written in 1950, Guys And Dolls, surtitled A Musical Fable of Broadway, plunks us down in Runyanland, the fairy tale streets where happy endings are possible.
Tobias Young, dressed in mismatching plaid jacket, vest and baggy pants, is a downright charmer as Nicely-Nicely Johnson, who, with Evan Casey as Benny Southstreet, and Nurney as Rusty Charlie, leads off the show with the polyphonic opener, "Fugue For Tinhorns."
Smooth-talking Nathan Detroit, the nattily-dressed Paul Binotto, is hard-up for cash for his crap game, which is threatened with shut-down. So he bets Sky Masterson, his high-roller, $1,000 that Sky cannot lure puritanical Sister Sarah Brown, away from her Save-A-Soul Mission. If Nathan wins, (and he expects to), he can bankroll his floating crap game. "The Oldest Established," dedicated to the sacredness of the game, sung by the hardened hustler and his street cohorts, including Nathan, Southstreet  and Nicely-Nicely, is  delivered in the wholesome harmonizing of a barbershop quartet.
Guys And Dolls takes place in an age of relative innocence for our country, before political unrest launched the Cuban Revolution from 1953 to 1959. Not mentioned in the program notes, that's the time period when Fidel Castro usurped power from Batista and the United States initiated the embargo against Cuba, that just ended in 2015 with diplomatic recognition.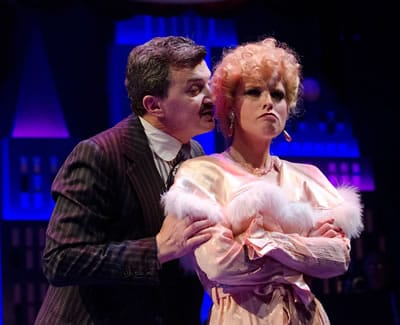 Thus Sky Masterson entices Salvation Army recruiter, Sarah Brown, for a night-on-the-town in Havana, a well-known safe haven for gamblers and a capital of sin and corruption. Perfect for his seduction of a struck-with-the-light-of-the-lord preacher on a mission.
Jessica Lauren Ball, endowed with a soaring soprano voice, brings an endearing sweetness to Sarah's  zeal. When in the Havana night club Sarah politely asks for milk, Sky orders milk laced with Bacardi. And she drinks one too many. "If I Were A Bell" is sung by Ball with tipsy giddiness, who makes comic and grandiose use of the stage balconies and spiral staircase.
Once back in New York City, their relationship unravels. Yet another twist will save the day. Leo Erickson, as the gentle grandfather, Arvide Abernathy, who pounds the Salvation Army drum, unexpectedly stands up to Sky. It creates a delightful moment.
In this production, nearly every song is a show-stopper. Here is one more example:
There is another love story going on. Nathan Detroit is reluctant to turn his 14-year engagement to chorus-girl, Miss Adelaide, into a marriage proposal. Miss Adelaide is played to the hilt with exaggerated suffering by another newcomer to Olney, Lauren Weinberg.  Dressed in a gorgeous fur-lined robe, Adelaide reacts with psychosomatic illnesses and pours over a self-help psychology book at a nightclub table. If guys get ridiculous, so can Adelaide to entrap Nathan into marriage. Will Nathan ever marry her?
Weinberg delivers the juicy lyrics from "Adelaide's Lament" with relish:  "In other words, just from waiting around for that plain little band of gold, A person can develop a cold."  Cheers for her performance bring down the house.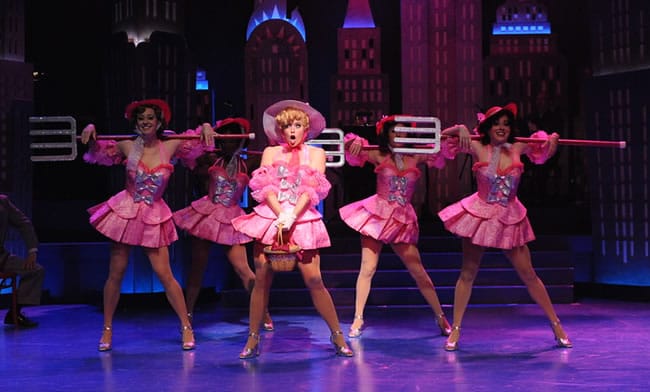 Nathan's bigger worry is: Will he find a home for his crap game? The stakes are high now because Big Jule from Chicago, played menacingly by towering actor Richard Pelzman, has come to town. And the anti-corruption cop, Lt. Brannigan, played with a snarl by Ron Heneghan, is hot on the gangster's heels.
One thing that is truly unique about Whiddon's staging is the placement of the musicians easily within view, in an alcove, center-stage. And, by the way, conducted by pianist Doug Lawler, they sound much more like a full-piece orchestra.
Costuming by Rosemary Pardee is a definite wow.  "A Bushel And A Peck," the song-and-dance take-off of a strip tease number, which is actually more coy than bawdy,  stacks the deck as a show-stopper. The number features Weinberg as Miss Adelaide, backed by ensemble singer/dancers, the wide-eyed Hot Box Girls. Those fluttery, hot pink, scanty skirts, with layered ruffles, topped with silver-bowed bodices, are perfect. The Girls all wear ladylike white gloves and wide-brimmed straw hats. But they carry silver pitchforks, that make them appear devilish.  In their second big number, "Take Back Your Mink, Take Back Your Pearls," the strip-tease gets more specific with rising, mock-indignation. Adelaide and the Girls again are featured, this time in sleek black, tight-fitting cocktail dresses, topped with white fur stoles.


GUYS AND DOLLS



EXTENDED! November 11 – January 10, 2015
Olney Theatre Center
2001 Olney-Sandy Spring Rd.
Olney, MD 20832
2 hours, 40 minutes with 1 intermission
Tickets: $18 – $75
Wednesdays thru Sundays
Details
Tickets
———————
Dance numbers, such as "The Crapshooters' Dance," by noted choreographer Michael J. Bobbitt, another first timer at Olney, are breathtaking. The male dancers are wonderful, nimble, even acrobatic. Splits-in-the-air leaps seem higher than the tallest skyscrapers. The choreography also features diagonal knee slides across stage, with open-palmed hand-waving in air, to impersonate gamblers on their knees worshipping their crap game.
Ben Cunis, known for his featured roles as a company member at Synetic Theater, plays tough-guy Harry the Horse with convincing New York dialect, and serves as fight choreographer.
And finally, Tobias Young, who began the show, has a stellar moment when he leads  into the final big number that tops it all off, the rousing "Sit Down You're Rockin' The Boat."
In 2013, Olney Theatre Center reached new heights with their Helen Hayes award winning production of A Chorus Line. Continuing under the leadership of artistic director Jason Loewith, Olney is continuing to make new records of excellence for musicals revivals. So throw the dice and step back. "Hah!" Everyone is a winner in this show. Don't miss it.
——————
Guys and Dolls . Based on a story and characters by Damon Runyan . Music and Lyrics by Frank Loesser . Book by Jo Swerling and Abe Burrows . Director: Jerry Whiddon . Choreographer: Michael J. Bobbitt .  Featuring Matt Faucher as Sky Masterson, Jessica Lauren Ball as Sarah Brown, Paul Binotto as Nathan Detroit . Lauren Weinberg as Miss Adelaide .  Tobias Young as Nicely-Nicely Johnson .  Evan Casey is Benny Southstreet . Nurney is Rusty Charlie/Angie the Ox . Ben Cunis as Harry the Horse . Richard Pelzman as Big Jule . Valerie Leonard as General Matilda B. Cartwright, Leo Erickson as Arvide Abernathy . Ron Heneghan as Lt. Brannigan/Joey Biltmore . Andre Hinds as Calvin . The ensembles: Dolls and Hot Box Girls: MaryLee Adams, Jocelyn Isaac, Amanda Kaplan, Julia Klavans . Guys: Ethan Kasnett, David Landstrom, Tony Thomas, Andre Hinds . Dance Captain: Tony Thomas .
Scenic Designer: Dan Conway . Costume Designer: Rosemary Pardee . Lighting Designer: Colin K. Bills .
Sound Designer: Jeffrey Dorfman .  Dialect Coach: Nancy Krebs . Fight Choreographer: Ben Cunis .
Director of Production: Dennis A. Blackledge . Musical Supervision/Orchestration: Christopher Youstra . Production Stage Manager: Josiane M. Lemieux.
GUYS AND DOLLS ORCHESTRA under Musical Director, Timothy Splain:
Doug Lawler, Piano/Conductor; Tony Neenan, Trumpet/Flugelhorn; Frank Gorecki, Trumpet/Flugelhorn; N. Jay Ellis, Trombone; Patrick Plunk, Alto Sax, Flute, Clarinet; Chris Reardon, Tenor Sax, Flute, Clarinet;  Frank Higgins, Bass; Alex Aucoin, Percussion.
Produced by Olney Theatre Center . Reviewed by Rosalind Lacy.