One of the most ambitious shows being put on in DC this winter is the oversized blockbuster musical West Side Story produced by Signature Theatre. Just how does Signature plan to fit this big Big Apple play into their relatively small Shirlington theatre space?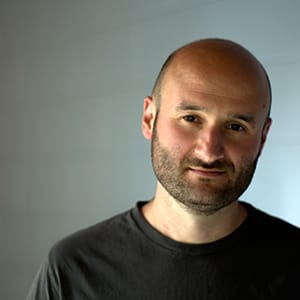 I talked with set designer Misha Kachman to see how he solved the problem. Along the way, I learned how Misha learned to start a show by imitating his daughters, how he is literally turning the Signature's Max Theater sideways, and the best way for a set designer to tempt a music director to homicide.
Alan Katz: How did get on the team for West Side Story?
Misha Kachman: I have a long-standing relationship with Matt Gardiner, the Director of West Side Story. I've been blessed with his trust and appreciation of my work. At this point, we've done lots of work together, and we can finish each other's sentences. In theater, people often form teams or tribes, and I'm lucky enough to be on his team.
I certainly admire the piece. But what's more important is that I admire his vision of the piece and I trust his vision of the piece. And I'm saying that as someone who designed Xanadu for Matt.
AK: So he pushes you into worlds where you wouldn't normally go?
MK: It's more that due to my upbringing outside of this country [Mischa is originally from St. Petersburg, Russia] and my artistic experiences, I didn't have an appreciation of Musical Theater until about 10 years ago. I was never hostile to it. I just never learned to appreciate the form because I didn't grow up with it.
It was really Matt Gardiner to whom I owe an appreciation of the form. He's really someone who really lives and breathes American musical theater. But true connoisseurs are rare, and Matt is one of them.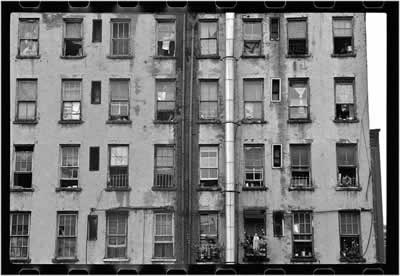 AK: When you start on a play, what's your first step? Is it a conversation with the director?
MK: Every show is different. But there is a conversation in which we talk about absolutely everything that isn't design. We talk about the story and its meaning. But for every show, one question is the same. Why this play now? I get the question from my daughters. I'll be explaining something to them, and they'll look at me open-mouthed the whole time. When I'm finished, they won't say, but they'll have a look on their face says, "And why is this important?" For this, I try to be like them.
AK: So why is West Side Story important?
MK: West Side Story is important because it is a profound human story. While it is of its period, it is also, as Matt calls it, the greatest piece of musical theater ever written. It's iconic. Like Chekhov in Russian theater or Shakespeare in English theater, West Side Story is too big to avoid in Musical Theater.
AK: I think that's what people think of when they think of West Side Story: this huge landscape, this epic story, this big staging—
MK: It is all of those things. And it is logistically big too. For Signature Theatre, this may be as many actors as they've ever had onstage at once.
We're maximizing the seats for this configuration and we're at slightly more than 300 seats. Not only are there 28 actors in the show, sometimes there are all 28 actors on stage at the same time. Plus we're using Jerome Robbins' original choreography [with very expansive balletic dance moves]. When there at that many performers onstage, they become the set. The performers are there own scenery.
So are the musicians. There's an 18 piece orchestra. And it's not like we can hide them in a pit or behind a wall. If you build a wall, you cut down on performance space.
AK: So what do you do?
MK: This is the set in a nutshell. The back wall of the set is the band. They're distributed vertically as opposed to horizontally, on scaffolding made of platforms and fire escapes. I can't completely separate them because the Musical Director would kill me. You have to maintain eye contact, but we're going as vertical as we can.
AK: Is fitting all of these pieces into the space your biggest challenge?
MK: It is a challenge, but I don't want it to sound like my job is what a friend of mine calls "just getting paid so that they can tell me where to put the couch." Yes, there are sometimes plays like that. Set design is more about finding the poetic envelope for the story.
AK: Tell me more about that envelope.
MK: Here's the thing: West Side Story is such an iconic piece that you have no obligation to explain to the audience or illustrate what Manhattan, what New York is in this play. We don't have to use "scenery." I use the word scenery as a pejorative.
West Side Story comes with a kit. We all know what's in that kit: exposed brick, fire escapes, the overhead bridges, buildings in the background and water towers on top of the buildings. There are design kits like that out there for a reason. Because they work. For this show, we have no interest and no obligation to use that kit; we peel that kit back. Make it simple. Make the set the actor's workplace.
Early versions of the set, there were things that were more representational. But as we progressed we kept removing them because they were unnecessary.
Instead we decided to make it a playground. Not literally, but a place for the actors and the choreography and the lighting designer to play. In some sense my job is to stay out of the way. Stay out of the way of 28 actors in costume.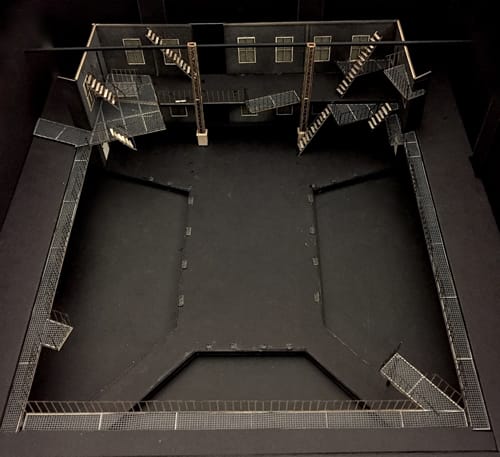 I have to make choices. Choices that are manifested in steel and lumber orders. The other designers and director are at the mercy of some of those choices, so they better be good ones and I don't want to let them down. An 18 foot wall is what it is.
AK: Does that worry you?
MK: It does worry me. All the time. It makes me…melancholic. But you have to project confidence. But when I say things like "It's not like I know what I'm doing," they take it as part of my sense of humor. And it is. I don't laugh…easily. I laugh when something is funny. But there is this constant fear. It's always there.

WEST SIDE STORY
December 8 – January 24, 2016
Signature Theatre
4200 Campbell Avenue
Arlington, VA 22206
Tickets: $77 – $92
Details and Tickets


———————
AK: As a set designer, you have a special privilege in the theater. When the audience walks into the theater, your work, how you fill the empty space, is the first work they see. What does your space mean as the audience walks in, before the space is filled?
MK: I guarantee that for West Side Story for Signature's regular patrons, the first reaction will be surprise. They've never experienced the space this way. We're turning the house 90 degrees. As the audience enters, they normally see the set from the front, but for this show, they'll come in and they be looking at the set sideways. There's also a gallery that goes all the way around the theater in front of the dress circle that will be space used by the actors. They'll be climbing and running around on it, so the people on the balcony will get a good view.
It isn't for holding extra people though, it's for staging. We can't break the deck [the boards of the stage] into levels because it has to hold 28 people and Jerome Robbins' choreography. The gallery gives Matt different levels to stage on. So, hopefully it will be intriguing and be a bit puzzling.
My goal for every set is to assemble a set of visual tools that are required for the particular story. I try, but I don't always succeed. Maybe I do too many shows for that. It's a living. But every time I try to make a new toolbox.
AK: What are those tools for West Side Story?
MK: The band as set is key which is something the production owes to Matt. One of the first things he said when setting the parameters of the play was that the band is visible and therefore is the set. Deal with it.
Creating running lanes and diagonals makes Matt's dynamic staging and Robbins' choreography possible.
Most of all, everything on the set has to look and feel real. Take a piece of scenery that looks like a fire escape. No! It is a fire escape. No flat playacting walls. We're on a thrust stage [that goes out into the audience, surrounded by seating on 3 sides]. Thrust is unforgiving. Any kind of fakery is exposed immediately. This world is what it is.
AK: Tell me what it's like for those characters to live in the world you've designed.
MK: The world is inhospitable. It's the opposite of cozy, aggravating and abrasive. You look at New York and you wonder, "Why do people choose to live this way?" New York is so busy and chaotic, and, the most important thing is density. You bump into things and people all the time, and when you get outside the air feels thin.
We're in the MAX theater, but 'max' is a deceiving term. It's not a large space.So we have to use it to our advantage. The play's world is in the city. It's small tight and dense and the air is thick and you can cut it with a knife and a fork. People's bodies are hot and stuffed into their excessive 50's clothing. They're uncomfortable. In this world, there's haze and smoke and sound and smell.
It's real…Hopefully.
—-
Imagine all these performers on Misha's set.