The Wiz Live! eased on down the road Thursday, the best-attended Broadway try-out in history. Next year, director Kenny Leon is planning a Main Stem transfer of the production, although it's unclear who will be in it: The NBC broadcast was so full of stars it could have been called We Are The Wiz.

If they can't keep the entire dream cast, let's hope Broadway will at least be able to retain what was best about the show, especially Paul Tazewell's colorful and clever costumes, Tin Man Ne-Yo's swoon-worthy r&b singing, The Cowardly Lion David Alan Grier's clowning, and the Wicked Witch Mary J. Blige's….everything; her too-brief powerhouse performance made me regret she had to melt.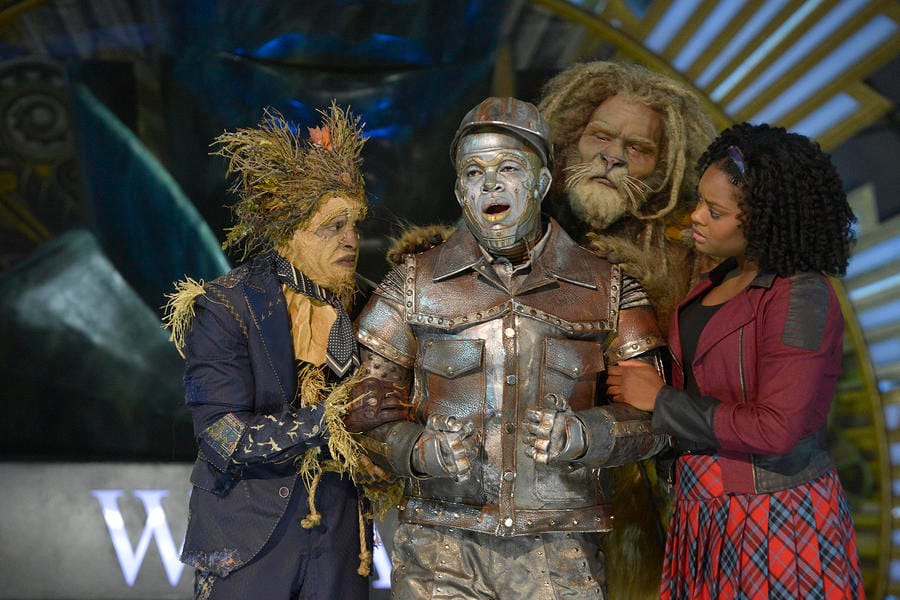 See all photos at NewYorkTheater.me
Those viewers gleefully anticipating an evening of hate-Tweeting surely wound up disappointed. There was little to ridicule in this latest production of the all-black musical adaptation of L. Frank Baum's 1900 children's story about young Dorothy's journey in the land of Oz. Though the acting was often less impressive than the magnificent singing, The Wiz Live! was an effective entertainment, and an efficient one as well — despite its 11 commercial breaks, it actually ended 20 minutes earlier than the promised three hours. (When has that EVER happened in the theater?)
Perhaps now we'll see the disappearance of the vague but persistent taint that has been attached to the musical ever since the 1978 movie adaptation starring Diana Ross and Michael Jackson. That movie was such a critical and commercial disaster that it's literally used as a case study in a book chapter on movie adaptations entitled "What Were They Thinking?"
It's historically fitting that TV and Broadway should be working hand in hand to gain new respect (and a new audience) for The Wiz. Almost four decades before the Judy Garland movie, Broadway was the first to present a musical adaptation of Baum's novel, featuring songs with titles like "Niccolo's Piccolo." And then, almost four decades after the Judy Garland movie, television is given credit for having rescued The Wiz from failure.
Business was initially so bad that the producer posted a closing notice only a week after opening on Broadway…until he was convinced to try a then-novel marketing strategy – television commercials. The show went on to win seven Tonys in 1975, including Best Musical, and ran for four years.
The actress who portrayed Dorothy in that production, Stephanie Mills, became Aunt Em on the NBC broadcast, appearing in the beginning with the new Dorothy, 19-year-old newcomer Shanice Williams. Williams seemed tentative at first; the pacing of the early scenes felt off. But the pace picked up when the songs began, and Williams soon warmed up.By the 18th and final number, "Home," she was belting out with the best of them.
And they really were the best. It would be hard for me to argue that the soul and r&b score of The Wiz offers vigorous competition with the iconic melodies of The Wizard of Oz movie. When the munchkins tell Dorothy to "Just follow the yellow brick road," all we want to hear is Yip Harburg and Harold Arlen's
Follow the yellow brick road, follow the yellow brick road
Follow, follow, follow, follow, follow the yellow-brick road
Instead, we get
Soon as I get home
In a different place
In a different time
Different people around me
I would like to know of that different world
And how different they find me
Which is an adequate song, surely, but not much more than that. .
Even such a well-known and infectious melody as "Ease on Down the Road" pales beside "Over the Rainbow," which has become nearly an alternative national anthem.
Yet the cast individually and collectively put over even some of the less familiar songs as if they were American classics: the rendition by Amber Riley (Mercedes in "Glee") of "He's The Wizard," Ne-Yo's seriously sexy "Slide Some Oil to Me," Queen Latifah's "Y'all Got It."
Elijah Kelley as the scarecrow was a revelation, hilarious and tuneful trying to ward off the harassing crows while singing "You Can't Win."
Uzo Aduba (Crazy Eyes in "Orange is the New Black") as the good witch Glinda, descending in a vision of gold, and singing "Believe in Yourself" was the highlight it was meant to be.
The songs for the broadcast came from both the Broadway musical and the movie, and there was also a new one, "We Got It," written by Ne-Yo and Elijah Kelley and two others, which is bouncy and fun, all the more so because of Fatima Robinson's choreography, and Paul Tazewell's bright orange costumes. (If The Wiz Live! ensemble seemed to be wearing the same long johns as the ensemble in Hamilton, it's not a coincidence: Tazewell is also the costume designer for Hamilton.)
This slideshow requires JavaScript.
The creative team includes Harvey Fierstein, charged with touching up the book. I thought I detected his handiwork when there was talk of a United Witch Workers union, when David Alan Grier the lion says "Give me some paw, my man," when Common, as a very green-attired bouncer, looks over his iPad, and acts surly with Dorothy and her entourage, saying "Think that you somethin' special, some kind of VIP?"; and when the scarecrow is reassured by the Wiz that his honesty about his ignorance is his strength, inspiring the scarecrow to ask: "Knowing that I know nothing means I know something?
But other changes, although slight, don't work as well. A supposedly more empowered Dorothy makes the decision not to travel on the balloon back home, rather than simply missing the flight because she's chasing after Toto. This didn't make sense to me. How did she know she would only have to snap her silver shoes together? (They're silver in the show, not ruby, which was a difficult adjustment.)
Speaking of Toto, many wondered where he (she?) was during most of the show; that even inspired a hash tag on Twitter that was put to extensive use: #WheresToto
There's an answer to this. But first you should know that Toto was portrayed by a 10-year-old Cairn terrier named Scooter. Another 10-year-old, Ralphie, his sibling, was the understudy. They had been shelter dogs, abandoned by their elderly owners who wanted to travel, and rescued by Bill Berloni, who trained them for their TV gigs.
In The Wiz, unlike The Wizard of Oz, Toto never leaves Kansas. But the more important question remains unanswered: Will Scooter be on Broadway?
————-
Note:  Alan Katz live tweeted the show – and the commercials for DCTS. Read them here.
————–
The Wiz Live! .Book by William F. Brown .  Music and lyrics by Charlie Smalls . Additional writing by Harvey Fierstein .  Directed by Kenny Leon . Choreography: Fatima Robinson . Starring Queen Latifah, Mary J. Blige, David Alan Grier, Uzo Aduba, Amber Riley, Elijah Kelley, Common, Stephanie Mills, and Shanice Williams as "Dorothy". Also featuring Chris Borreo, James Brown III, Olutayo Bosede, Elon Van Buckley, Ta'Rea Campbell, Jessica Castro, Jacie Garland, Asmeret Ghebremichael, Frankie Gordils, Khadija Griffith, Tre Holloway, Antonio Hudnell, Carlos Irizarry, Marcue Paul James, Frederick Jean, Capathia Jenkins, Mykai Kilgore, Tamika Lawrence, India R. McGee, Maurice Murphy, Antonio Moore, Danielle Polanco, Malaiyka Reid, Eric Sanchez, Sherisse Springer, Chris Silcox, Ahmahd Thomas, Raphael Thomas, Alex Wade, Donald Webber, DaShaun Wesley, Xavier Wilcher and Natasha Williams .

Scenic Design: Derek McLane . Costume Design: Paul Tazewell . Music Producer: Harvey Mason, Jr . Animals trained by Williams Berloni . Live Television Direction: Matthew Diamond . Music Direction: Stephen Oremus . Casting: Telsey + Co . Special Acrobatic Effects: Cirque Du Soleil . Produced by NBC . Reviewed by Jonathan Mandell.