Motown the Musical has thundered into the National Theatre here in DC for a holiday run. The Detroit label that gave starts to artists like Michael Jackson and Marvin Gaye, graces the stage with its music in a full-scale jukebox-style musical. But does the legacy of Motown and its vast catalog of work stand on its own as a 3 hour Broadway extravaganza?
The cast and catalog certainly do. There are 62 songs in this musical, only two of which were written exclusively for this show, and they've been put into the hands of over 30 performers whose captivating vocal talents show off Motown's half century of standards. They are all soloist quality performers. Allison Semmes' vocals shone as she played Diana Ross, smartly toeing the line between impression and homage while bringing down the house with most of the Supremes singles, most especially with "Reach Out and Touch."
Josh Tower, leading in the role of Berry Gordy, not only showcased classic numbers and more contemporary pop, he also gave flair to the two songs written for this production, "It's What's in the Grooves that Counts" and "Can I Close the Door on Love?" His admirable effort, and the music writing brilliance of Berry Gordy and Michael Lovesmith, made those new songs feel at home among hits like "Do You Love Me?" and "Dancing in the Street."
If it feels like there was a little name confusion just then, don't worry, there wasn't. Berry Gordy is the founder of the Motown Record label, a songwriter for many hit Motown singles, the book writer for this production, and the leading role in Motown the Musical. The story here is autobiographical, following Gordy from first listening to Joe Louis defeat Max Schmeling on the radio and borrowing $800 from his family to start Motown until he finally sold his ownership in the Detroit based record company in the 1980's.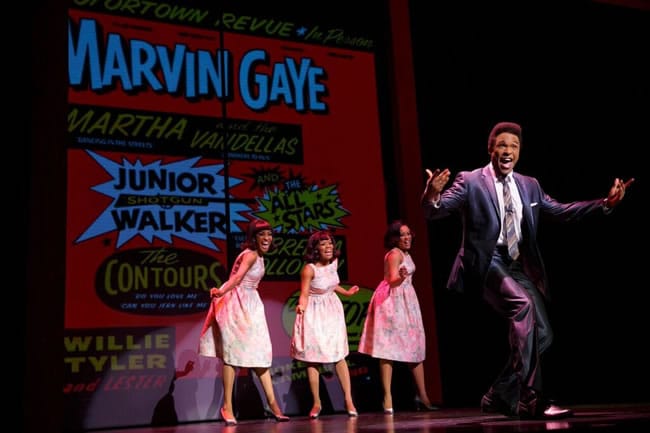 We interview Jarron Muse on playing Marvin Gaye
It must be nice to be able to write your life story in a Broadway musical with yourself as the romantic lead. As legendary of a songwriter as Berry Gordy is, his book writing is thin. What could have been a powerful history of 20th century Black music and politics as seen through the lens of a proudly Black-owned record label instead seems like a self-congratulatory and candy-coated autobiopic whose lead character lacks convincing flaws and whose story seems more excuse for music than reason for it. Muddled stakes, too-light politics and unconvincing romance sometimes score cheap points but plague the script. I have no comment on the historical accuracy or authenticity of these staged moments from Berry Gordy's life, but for this play and on this stage, they feel vapid.
But let's be honest, storytelling isn't the reason someone buys a ticket for Motown the Musical. You buy a ticket for breathtaking spectacle. And this play has spectacle in abundance.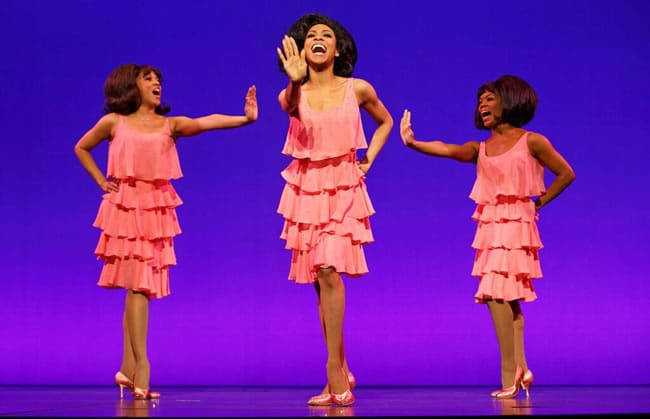 The design is at once the most and least spectacular element of Motown. Most spectacular because the complex interplay of lights, projections and moving set pieces were both brilliantly coordinated and showily presented. Least spectacular because that coordination was subtle and that presence clear, sharply communicating time and place. The costumes showed time and place especially well, and the wardrobe for this touring production must be the size of Narnia. The complexity of the rigging to move set pieces and the synchronization of the projections most impressed me, but the real star is what happens in front of these set elements.

MOTOWN THE MUSICAL



December 1 – January 3, 2015
The National Theatre
1321 Pennsylvania Avenue, NW
Washington, DC  20004
3 hours with 1 intermission
Tickets: $48 – $98
Tuesdays thru Sundays
Details
Tickets


———————
But it's the music, specifically musical performances by the ensemble, that steals the show. The whole point of this musical and the best way of enjoying it, is reveling in some on-point triple-threat performers take on some of the greatest music icons of the 20th century.
The first act, focusing on Motown's Detroit years and the foundation of the genre of Motown as we know it today. Jesse Nager's Smokey Robinson and Martina Sykes' Mary Wells form a bedrock of musical talent for the first act with top notch solo after top notch solo. But the Motown signature is the backup singers and there were too many amazing performances to name.
The second act saw this great ensemble branch out from group work and choreography to individual cracks at famous singers. Most prominent and loved by the crowd were Jarran Muse's take on DC native Marvin Gaye and Leon Outlaw Jr.'s outstanding performance as young Michael Jackson. The audience's reaction to both of their multiple song runs can only be described as exuberant and riotous, but so were the reactions to literally dozens of other songs. Justifiably so. There were no weak links in a show packed to the gills with music.
So packed, in fact, that Motown the Musical might be more accurately called Motown the Medley. The story, the design, and even the choreography were drowned in the sheer volume of musical hits. This could leave some audience members over-stuffed and exhausted. But it also serves to skim over story weaknesses and to deliver what the audience came to see and what this cast excels in: toe-tapping and heart-moving music.
So if you're looking for a true concert-like celebration of the music of Motown done by a stellar cast, Motown the Musical is just the thing for you this holiday season.
—————–
Motown the Musical . Book by Berry Gordy and Music and Lyrics from "the Legendary Motown Catalog," Arranged by Ethan Popp . Directed by Charles Randolph-Wright . Featuring Josh Tower, Allison Semmes, Jesse Nager, Jarran Muse, Nik Alexander, Douglas Baldeo, Erick Buckley, Chante Carmel, Stephen Cerf, Tayla Groves, Nathaniel Cullors, Ashley Tamar Davis, Preston W. Dugger III, Anissa Felix, Chandae, Rod Harrleson, Robert Hartwell, Dana Marie Ingraham, Rodney Earl Jackson, Jr., Elijah Ahmad Lewis, Jarvis B. Manning Jr., Krisha Marcano, Moeisha McGill, Marq Moss, Rod Naylor, Leon Outlaw, Jr., Ramone Owens, Olivia Puckett, Nicholas Ryan, Jamison Scott, Joey Stone, Doug Storm, Martina Sykes, Nik Walker, Galen J. Williams, and Syndee Winters . Scenic Design: David Korins . Costume Design: Esosa . Lighting Design: Natasha Katz . Sound Design: Peter Hylenski . Hair & Wig Design: Charles G. Lapointe . Production Stage Manager : Anna R. Kaltenbach . Music Director: Darryl Archibald . Choreography: Patricia Wilcox & Warren Adams . Projection Design: Daniel Brodie . Produced by Kevin McCollum, Doug Morris, and Berry Gordy at the National Theater. Review by Alan Katz.