The Neo-Futurists are at it again. Once more they are taking Woolly Mammoth's stage by storm with their mentally experimental performance of Too Much Light Makes the Baby Go Blind. The show has been running for over 20 years, making audiences laugh, scream, dance, and so much more. That momentum shows no sign of stopping, and having this Chicago show in the heart of DC for a few weeks is a treat that's not to be missed.
If you've never seen a performance of Too Much Light, the deal is this: 30 plays in 60 minutes. The frenetic micro-plays can range from absurd comedy to political commentary to heartfelt demonstrations. You never quite know what you're going to get. But you do know that when those sixty minutes are up, you'll have had one of the best theatre experiences of your life.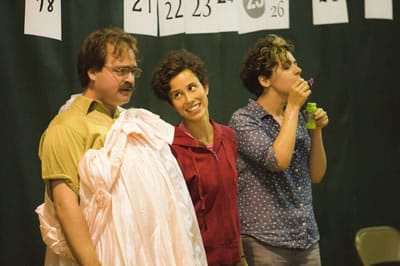 There's a part of me that simply wants to run down the thirty plays that I saw the night I attended. Each one was hilarious or beautiful or dumb in all of the right ways. I imagine they'll pop into my head for weeks to come and elicit a chuckle wherever I might be.
But I won't go into detail. For one, the fun comes from never knowing what's going to happen next. But what's more is that what I saw will not be what you are anyone else sees.
Every night is a new performance with new plays that could go anywhere except already treaded ground. It is live theatre turned up to eleven, leaning into the fact that no two performances will ever be the same. The Neo-Futurists make damn sure of that, making every performance a beautiful instance of ephemerality.
I can tell you that the performance I saw was phenomenal. Ida Cuttler, Bilal Dardai, Trevor Dawkins, Lily Mooney, and Malic White took the stage (and the seats and the balcony) and treated us to some of the most engaging fun that you're likely to see anywhere, let alone DC. And I can tell you that there's a large chance the same will be the case on any other night of the show. You might not know what you're going to get, but you know it's going to be great.

TOO MUCH LIGHT MAKES THE BABY GO BLIND



December 7 – January 3, 2016
Woolly  Mammoth Theatre
641 D St NW
Washington, DC 20004
1 hour, no intermission
Tickets: $48-$68
Details
Tickets


———————
And all of that chance and circumstance make this play something truly special. It's been taking Chicago by storm for decades, and it has every right to. For as silly as it can be,
Too Much Light
is one of the most realized examples of the power of live theatre that you're likely to encounter.
In a short hour it brought together a roomful of strangers and let us share a moment that will never happen exactly the same way again. Never before have I left a performance so wanting to meet someone new, or – as the Neo-Futurists put it, make an "awkward but beautiful human connection." Too Much Light Makes the Baby Go Blind is full of those moments, and they make you feel alive like nothing else you'll see on stage.
 ——–
Too Much Light Makes the Baby Go Blind written, directed, and performed by the Neo-Futurists. Created by Greg Allen. Featuring Kurt Chiang, Ida Cuttler, Bilal Dardai, Trevor Dawkins, Tif Harrison, Dan Kerr-Hobert, Lily Mooney, and Malic White. Produced By Woolly Mammoth Theatre Company. Reviewed by Sean Craig.