Imagination Stage's A Year with Frog and Toad is exactly what the title implies: two friends have adventures during the four seasons of spring, summer, fall and winter- and a long sleep of hibernation in deep winter. Based on the popular childrens' books by Arnold Lobel, the premise itself is simple and this bright musical production makes the most of it.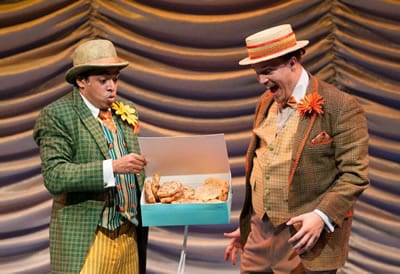 Set in a wondrous land upsized to become a frog's-eye view of the world, Frog, Toad, and their friends of the forest and stream cavort their way through a year of swimming, snow, leaves and broken clocks, with each small event of the season nicely capped by a song.
With catchy tunes by Willie Reale and Robert Reale such as "Frog Looks Funny in A Bathing Suit" (yes, I am still humming it a day later), and "Raking Leaves", which becomes a softshoe number in the grand tradition, the grownups will have fun, too- this is by no means a show just for kiddies alone.
For one thing, the quality of the performers is above and beyond what one might normally expect from children's theater. Imagination Stage has for years been one of the premier spaces for fine work for young audiences, and it shows. Each of the performers is perfectly cast: Jobari Parker-Namdar is an exuberant and jovial leader of the two friends, and dances just as hoppingly as his name implies. As his sidekick Toad, Stephen Edwards Horst is that friend who's a little less sure of himself and always needs a nudge in the arm to join along- but when he does, is always the louder and happier of the pair.
All of the other the animals in the countryside – Mouse, the Moles, the Birds, the Squirrels, and Lizard – are played by three actors, Tracy Lynn Olivera, Nova Y. Payton, and Matt Dewberry, and a talented trio they are. With crisp voices and fine harmonies, they open the show as the Birds arrive in early spring. Olivera's voice in particular is wonderfully suited to her roles, with a clear, childlike soprano rising above in most of the ensemble numbers.
Matt Dewberry is of particular note in a recurring role as Snail. Assigned to deliver a letter to Toad from his friend Frog, Snail takes the entire hour and a half to circumnavigate the audience to make the (pardon the pun, but it is unavoidable) snailmail delivery. Children were screaming in their seats each time he popped up in the aisles to sing of his speedy progress, all the more funnier because of his slow-motion actions of 'running'- as only a Snail can.
The set design by Andrew Cohen is exemplary- for those who have not yet visited Imagination Stage, now's the time to go; I'd be hard pressed to envision a better use of their thrust stage. With its faux bronze frog footlights (so darn cute!), lights framed by lace umbrellas to mimic flowers, and wonderfully painted blue floor with lilypads scattered about, it's a cheery homage to vaudeville as seen through the eyes of its aquatic inhabitants.
The design aesthetic continues with equal fervor by costume designer Kendra Rai- where else will you see an elegant lady Turtle in an Edwardian bathing costume, her shell suggested by a green umbrella, a Lizard whose curled green tailcoat is his tail, or a Snail whose shell is a tightly rolled up bedroll? And yes, Toad does look funny in his bathing suit.

A YEAR WITH FROG AND TOAD


November 24 – January 10, 2016
Imagination Stage
4908 Auburn Avenue
Bethesda , MD 20814
1 hour, 30 minutes with 1 intermission
Tickets: $25 – $35
Details and Tickets
———————
Director Colin Hovde keeps the action humming along at a nice clip. At an hour and a half, that's a short show for adults, though in reality it's a long time for children. But with a well timed intermission halfway through, it never felt like squirmy time for the littlest set.
If it sounds as if not much happens, that's because the message of the show is a bit hidden- and it's nice to see a show aimed at young audiences that doesn't shout its moral message to the rooftops.
In this production, Toad isn't so much grumpy as anxiety-ridden and a bit obtuse when baking cookies. He worries he won't know when they're done, as his clock is broken and he can't time how long they should stay in the oven. It is Frog, then, who must point out that one can always open the oven door to check if they're brown. And, of course, they are, which leads to the lovely little romp of all the animals "Eating Cookies".
That's the crux of the show, really – that your friends will be there to reassure you and make things better, and that you, in turn, do the same for them. In this holiday season of gimme gimme gimme, it's a nice, subtle message for children and adults, too, of what is really important.
—————–
A Year with Frog and Toad . Based on the books by Arnold Lobel . Book and Lyrics by Willie Reale . Music by Robert Reale . Director: Colin Hovde . Cast: Stephen Edwards Horst (Toad); Jobari Parker-Namdar (Frog); Tray Lynn Olivera (Bird/Turtle/Squirrel/Mother Freo/Mole); Nova Y Payton (Bird/Mouse/Squirrel/Young Frog/Mole); Matt Dewberry (Bird/Snail/Lizard/Father Frog/Mole) . Choreography: Rachel Lee Dolan . Costumes: Kendra Rai . Scenic Design: Andrew Cohen . Lighting Design: Andrew Cissna . Sound Design: Christopher Baine . Music Director: Deborah Jacobson . Stage Manager: Trevor A Riley . Produced by Imagination Stage . Reviewed by Jill Kyle-Keith.