Lazarus, the hottest ticket right now in New York, is a startling new musical, featuring 18 songs written by David Bowie (four of them new), a production directed by auteur-du-jour Ivo van Hove that's a sensory stimulation chamber, and a plot that might as well be from a different planet.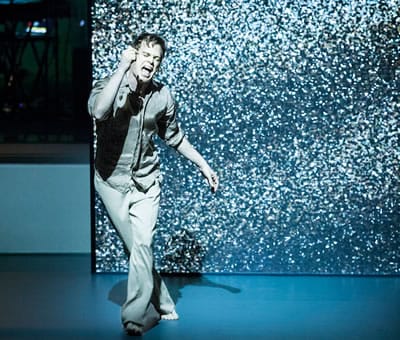 The Off-Broadway show, on stage at New York Theatre Workshop through January 20th, is a sequel of sorts to The Man Who Fell to Earth, the trippy 1976 film – based on the 1963 science fiction novel by Walter Tervis — in which Bowie starred as Thomas Newton, an extraterrestrial who comes to Earth to ship back water to his home planet. By the end of that film, he has failed in his mission and is an alienated alien – rich, stuck on Earth, alcoholic and alone.
In Lazarus, written by Bowie and Enda Walsh (the Irish playwright best-known in the U.S. for his Tony-winning stage adaptation of the movie, Once) Newton is now retired, but still alienated, still rich, still stuck, still addicted: "I watch television and drink gin," says Newton, portrayed by Michael C. Hall, (best-remembered for the cable TV series Six Feet Under and Dexter.) Later he says that he is dying "a little bit every day. I'm a dying man who can't die."
But it would be difficult to call Newton still alone. Newton interacts with a parade of people. The 11 characters, performed by a first-rate cast, include Elly (Cristin Milioti, of Once fame), Newton's new personal assistant who falls in love with him and tries to look like Newton's old flame Mary-Lou; Elly's obsession with her boss threatens her marriage to Zach (Bobby Moreno, who's an insufficiently heralded star of Off-Broadway)
                                                          More production photos at NewYorkTheater.me
There is a young girl (Sophia Anne Caruso, who was great in The Nether, and now reveals she can sing wonderfully as well); the girl has been given a mission (it's not clear by whom) of getting Newton back home; she is joined by three teenage girls. There is also a manipulative villain named Valentine (Michael Esper from The Last Ship and The Lyons) Some of the characters are apparently figments of Newton's imagination; at least one is, Sixth Sense style, actually dead. The best thing I can say about Bowie and Walsh's script is that it's close to impossible to offer spoilers; it's not easy to describe what's going on, much less give it away.
Unlike your typical jukebox musical, there also doesn't seem to be an extensive effort to connect the lyrics of the songs to what is going on in the scene beforehand. What's oddest here is that this is as true for the new songs written specifically for Lazarus, as for the songs selected from 45 years of the Bowie catalogue (the oldest is 1970's "The Man Who Sold The World."), including such hits as "Changes," "Life on Mars?" and "'Heroes." (Oddly enough, no "Space Oddity.")
You've perhaps picked up on my view that the story is not Lazarus' strongest suit. But at a crowded talk back I attended after the show, most of the theatergoers peppering the host with questions were not dazed and confused, certainly not annoyed – they were intrigued. Given the right frame of mind – it helps to be a Bowie fan, and to have seen the movie or read the book – the story is a tantalizing mystery.
One need not be a specialist, however, to enjoy the music – delivered by a terrific band placed behind a glass wall, and sung by a cast (especially Michael C. Hall) as if they had received extensive voice lessons from Bowie himself.
The songs are accompanied by a bombardment of visual inventiveness delivered by van Hove and his usual team of designers, turning each one into a kind of live music video. Most memorable is what accompanies a new Bowie song, "Killing a Little Time." While Michael C. Hall sings lyrics like
I staggered through
this criminal rain
I'm not in love
no phony pain
we see a video projection of Michael C. Hall trashing the apartment, stripping the curtains, before collapsing against the wall next to the fridge full of vodka – followed by the actual Michael C. Hall going through the same motions until he melds with the collapsed video Michael C. Hall. (I told you it wasn't easy to describe.) Tal Yarden outdoes himself with the projection design, throwing in everything from 1930s newsreel to montages of Manhattan to television noise to a video cameo by Alan Cumming.
This is now the fifth production directed by Ivo van Hove that I've seen in the past year, including this season's A View From The Bridge on Broadway and Antigone with Juliette Binoche at the Brooklyn Academy of Music, and last season's Dutch-language production of Angels in America and Scenes from a Marriage. That last, a stage adaptation of Bergman's film, was in the same theater where Lazarus is being presented and was, to my mind, the most successful of his efforts.
If this avant-garde director's aggressive imagination can sometimes seem at the expense of the text with which he is working, that is not the case with the Bowie musical. Without van Hove's contribution to Lazarus, to paraphrase Gertrude Stein, there'd be little there there.
——————–
Lazarus is on stage at the New York Theatre Workshop (79 East 4th St., New York, NY 10003, between Bowery and 2nd Ave. in the East Village) through January 20, 2016.
Tickets and details
Lazarus by David Bowie and Enda Walsh . Inspired by the novel "The Man Who Fell to Earth" by Walter Tevis .  Directed by Ivo van Hove . Cast: Krystina Alabado (Teenage Girl 1), Sophia Anne Caruso (Girl), Nicholas Christopher (Ben), Lynn Craig (Maemi), Michael Esper (Valentine), Michael C. Hall (Newton), Cristin Milioti (Elly), Bobby Moreno (Zach), Krista Pioppi (Teenage Girl 2), Charlie Pollock (Michael) and Brynn Williams (Teenage Girl 3) . Sets and Lighting: Jan Versweyveld . Costumes: An D'Huys . Video:  Tal Yarden . Sound: Brian Ronan . Music director: Henry Hey .  Choreography:Annie-B Parson . Dramaturg: Jan Peter Gerrits .  Reviewed by Jonathan Mandell.