When the leading gent in Round House's regional premiere of Stage Kiss goes on a mid-Act I rant, he declares that audiences only put up with theatrical smooching because kisses provide a sense of dramatic closure. No one really likes it; they like it's symbolism. He's wrong, of course, and the proof is all around him. Stage Kiss is full of stage kisses that fill all sorts of roles and are easy to like, much like this smartly written and sharply directed comedy.
Lots of the kisses in Stage Kiss ratchet up tension rather than provide closure. The play is a sometimes serious screwball comedy (think It Happened One Night and The Philadelphia Story) whose first act is about a theatrical production of a screwball comedy where the romantic leads of the play, played by the fabulously nuanced Dawn Ursula and the rakish yet sensitive Gregory Woddell, turn out to be former lovers who "ended things badly."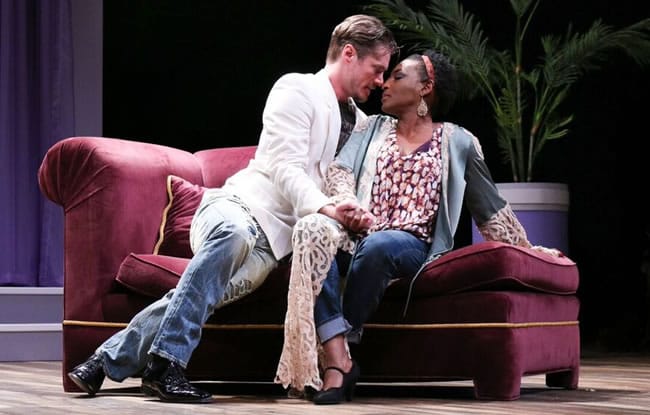 Watching them struggle against the reality of having to kiss their estranged ex, then giving in to the temptation of passion, forms the spine of the play. Their undeniable chemistry is a joy to watch throughout the play, but their mixed feelings about betraying their current families (played by delightfully hokey Rachel Zampelli, the charmingly tender Todd Scofield, and the vivacious Tyasia Velines) gives Stage Kiss a depth that makes it more interesting than your average comedy.
That isn't to say that the play isn't funny. Playwright Sarah Ruhl mixes in slapstick and delicious cringe that left me in stitches throughout the play. Michael Glenn, playing hapless understudy Kevin, may not have a lead part in Stage Kiss, but his hilarious antics are essential to keeping the play rollicking. When you go see this production, do yourself a favor and keep half an eye on Glenn whenever he is onstage. He amusingly mimics the lead men while the play-within-the-play is being rehearsed, plays the bumbling sad sack between scenes, and throws some top-notch looks of befuddlement throughout the show.
Rachel Zampelli deals some great comedy as well in Act II as the Wooddell's passive-aggressive Midwestern girlfriend. Her small choices, recognizable only to a hawkish eye, make her work great here. For example, when coming home to an unexpected surprise from a grocery run, she distractedly puts a spray bottle of Febreze in the refrigerator. If that doesn't sound funny written down, don't worry, Zampelli sells it and makes keeping an eye on her worthwhile.
Aaron Posner lives up to his reputation as a director who pushes a lively pace, coordinates design to focus on story, and fills his productions with Easter Egg details that reward attention. Set Designer Tony Cisek turns in what must be the 100th piece of evidence that he's the best scenic man in DC. His living spaces that turn into theatrical sets (and vice versa) are both impressive to look at and subtly integral to Ruhl's brilliant plotting.

STAGE KISS



December 2 – December 27
Round House Theatre
4545 East-West Highway
Bethesda, Md
2 hours, 30 minutes with 1 intermission
Tickets: $36 – $61
Wednesdays thru Sundays
Details
Tickets


———————
An important thing to note about
Stage Kiss
is that, as the name implies, much of its humor is metatheatrical; that is, the comedy of theater that is about theater. Craig Wallace's role is the director of the play, and he gleefully plays up every negative director stereotype that Ruhl stuffs into the play. For good and ill, many of the clever devices that Ruhl uses to create both humor and depth (like fight choreography or the repetitions of rehearsal) fall somewhat flat if you aren't intimately familiar with the process of making plays. As a theater person, I enjoyed them very much, but the over-dependence on those devices might caution me from bringing a theater novice to this play.
This metatheatricality takes on a wicked twist in Act II, where the play-within-a-play becomes something more dark (but equally bad). While this tonal difference is understandable given the darkening nature of Ursula and Wooddell's relationship, Act II feels less polished and less necessary than Act I. It drags out to make poetic reciprocations to moments in Act I which spark intellectual interest, but lack visceral immediacy.
Despite that hiccup, Round House's production is a blast. Stage Kiss mixes comedy, poignancy and, yes, even romance. Entrancing leads surrounded by great role players with exceptional direction moved me and kept me on a string from the first kiss to the last kiss. I found it easy to fall in love with this play, and I think you might, too.
————————–
Stage Kiss by Sarah Ruhl . Directed by Aaron Posner . Featuring Dawn Ursula, Gregory Wooddell, Craig Wallace, Michael Glenn, Todd Scofield, Tyasia Velines, Tom Truss and Rachel Zampelli . Set Design: Tony Cisek . Costume Design: Kelsey Hunt . Lighting Design: Andrew R. Cissna . Sound Design: James Bigbee Garver . Props Master: Kasey Hendricks . Dramaturg: Jessica Pearson . Fight Choreographer: Casey Kaleba . Choreographer: Kelly King . Production Stage Manager: Bekah Wachenfeld . Produced by Round House Theatre . Reviewed by Alan Katz.