Have you heard about the new musical now onstage at Signature Theatre? It's name: West Side Story.
West Side Story's been around nearly 60 years, and everyone knows it was an updated, musical version of Romeo and Juliet created by an A-list of collaborators: music by Leonard Bernstein, a book by Arthur Laurents, lyrics by a young Stephen Sondheim, directed and choreographed by Jerome Robbins. Yes, It's a bona-fide classic.
Yet as performed in the immersive Max Theatre in Arlington, West Side Story is reborn and it is glorious. No revisions to the book, no tweaks to the lyrics or interpolations of the music – the work of Bernstein, Sondheim and Laurents is on display, but it all feels newly minted.
I have seen a number of musicals throughout 2015 and I have to say West Side Story rises to the top as the most exciting, engaging and electric production of the year.
This triumphant take on the tragic romance that crosses cultural lines is directed by Signature's own associate artistic director Matthew Gardiner, our local wunderkind who continues to grow as a director with every production. Placing West Side Story in a thrust-like staging places the storytelling front and center. The audience is never but a few feet from the action and some are inches away, as the Sharks and Jets zoom their way across the metal scaffolding, representing the fire escapes, and back alleys of their Manhattan turf over which they battle.
Gardiner's immersive staging also allows for a cinematic flow to the scenes, one scene folds into the next. The director uses each one of his artistic collaborators to their fullest advantage and prodigious elements converge to keep the audience engaged every step of the way. The clean scenic design by Mischa Kachman provides an open canvas, with Jason Lyons' vibrant lighting design giving the production a film-like quality that perfectly matches Gardiner's seamless staging.
The Jerome Robbins choreography for West Side Story is, in a word, iconic. The combination of modern angular movement and fluid balletic choreography – where urban virility meets sensuality, is intact, but choreographer Parker Esse takes Robbins' recognizable template and weaves new connective tissue throughout the dances.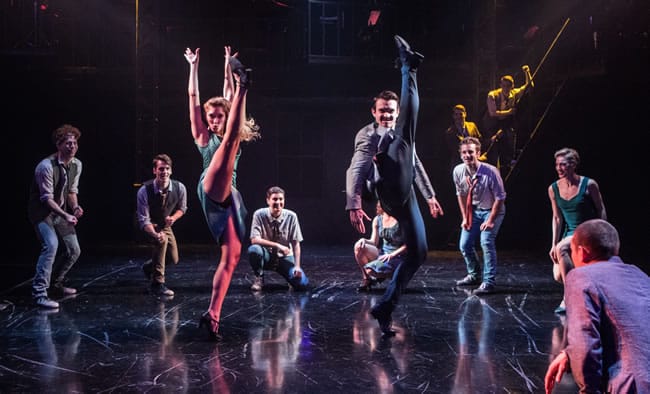 From the first time the Jets meet the Sharks, to the heartbreakingly lyrical dream ballet, Esse gives the dancers ample opportunity to shine, and shine they do. The jazzy angst of the Jets, the sensual passion of the Sharks, the sense of dangers that runs throughout the plot – these elements leap from the stage. West Side Story has never been just about the dance steps, the clashes between old New York and the new Puerto Rican immigrants also comes to the stage through fight choreography and Signature has one of the best in the business to enhance the storytelling in this production.
To top things off, Gardiner has assembled a superb cast for this production, led by the perfectly matched Austin Colby and MaryJoanna Grisso as Tony and Maria. As the sensitive boy next door trying to shed his streetwise ways, Colby is as good a stand-in for Romeo as you will ever find. His expressive, supple voice wraps around Bernstein and Sondheim's score and lyrics, bringing new depth to "Something's Coming" and "Maria."
With her petite frame and angelic face, has there ever been a Maria as innocent and delicate as Grisso? The actress brings effortless charm to the role but also a depth that shows not only her star-crossed love of Tony but her spine of steel when standing up to her strict brother Bernardo. When Colby and Grisso share Tony and Maria's scene on her balcony, I wanted to be able to stop time and somehow let them escape the cruel world and their tragic ending.
Sean Ewing, as Bernardo, and Natascia Diaz, as Anita, make for a pair of potent and passionate lovers, and the protective stand-in parents for Maria. Ewing easily displays Bernardo's sense of pride and his seething anger at the racism he and the other Puerto Rican immigrants face; Ewing can also execute higher kicks than all the other male dancers. Diaz – a Broadway and Signature veteran – makes Anita her own, bringing her combination of biting humor, sensuality, and strength to the fore. Diaz's Anita may not kill with a switchblade, but her performance of "America" with cast members Katie Mariko Murray (Rosalia), Olivia Ashley Reed (Consuelo), Jasmine Alexis (Teresita), and Ilda Mason (Francsisca) is a showstopper.
Another showstopper – no surprise – is "Gee, Officer Krupke," the comic relief number that appears late in the second act (like a Shakespearean clown scene) to put the brakes on the impending tragedy that is just around the corner. As performed by the surviving members of the Jets gang, "Krupke" is nearly always a delight and herein is no exception as performed by the gifted dancer-singers Ryan Fitzgerald (Action), Ryan Kanfer (A-Rab), Joseph Tudor (Baby John), J. Morgan White (Snowboy), and Diesel (Kurt Boehm).
Signature does not squander talent even in pivotal, small roles. Maria Rizzo, as tomboy Anybodys, John Leslie Wolfe, as the ugly American (racist) police lieutenant Schrank, Russell Sunday, as beat cop Krupke, all make an impact. And one of DC's favorite song and dance men, Bobby Smith, here does not sing a note or dance one step, but he makes the most out of his dual roles as adults trying to maintain order among the rampant juvenile delinquency that surrounds him. Smith – coiffed by wig designer Anne Nesmith – is a hoot as Glad Hand, the social worker who runs the high school dance. He takes off the wig for his role as wise and kindly Doc, Tony's boss at the local soda fountain and drug store.

WEST SIDE STORY



EXTENDED! December 8 – January 31
Signature Theatre
4200 Campbell Avenue
Arlington, VA 22206
2 hours, 30 minutes with 1 intermission
Tickets: $77 – $92
Details and Tickets


———————
The adaptation of
Romeo and Juliet
by Bernstein, Sondheim and Laurents elevates the tragic love story to new heights, with all the elements converging in a perfect storm at Signature Theatre for this production. The only major player I have not mentioned is music director and conductor Jon Kalbfleisch. As Signature's resident music director, Kalbfleisch's credits are indeed impressive. Here, the maestro can add another sterling credit to his list of accomplishments: Bernstein's score – modern symphonic meets jazz – is as electrifying as it was nearly 60 years ago when Broadway heard it for the first time. Scott Ninmer is credited as music arranger, but the notes are all there and played with precision and nuance by the 17-piece orchestra.
West Side Story's story, as seen here in Signature's intimate setting, feels as ripped from the headlines today as it was when Bernstein wrote:
"This will be our reply to violence: to make music more intensely, more beautifully, more devotedly than ever before."
The immigrants might be hailing from other parts of the world, but the rhetoric is just as heated as it was when Lt. Schrank wanted to incite bloodshed between the "American" Jets and the Puerto Ricans he calls a slew of un-politically correct names. Just check the headlines or your social media newsfeed for more of the same.
Like Shakespeare's own version, the creators of West Side Story penned a tale that remains universal, and it has been given a new, vibrant production that strips the story down to the essentials of human collateral in a volatile world. Five stars? I'd give it a couple more if I could. And a one way ticket out of New York City for Tony and Maria.
————————
WEST SIDE STORY book by Arthur Laurents . Music by Leonard Bernstein . Lyrics by Stephen Sondheim . Based on a conception of Jerome Robbins . Based on Shakespeare's Romeo and Juliet . Choreographed by Parker Esse (based on Robbins' original choreography) . Director: Matthew Gardiner .
Featuring:  MaryJoanna Grisso, Austin Colby, Sean Ewing, Max Clayton, Natascia Diaz, Jasmine Alexis, Jacob Beasley, Kurt Boehm, Jennifer Cordiner, Ryan Fitzgerald, Michael Graceffa, Colleen Hayes, Jamie Howes, Ryan Kanfer, Katie Mariko Murray, Ilda Mason, Tony Niedenbach, Zachary Norton, D.J. Petrosino, Olivia Ashley Reed, Eric Rivas, Maria Rizzo, Ryan Sellers, Boddy Smith, Cami Spring, Russell Sunday, Joseph Tudor, Shawna Walker, J. Morgan White, and John Leslie Wolfe.
Musical direction: Jon Kalbfleisch . Set design: Mischa Kachman . Lighting design: Jason Lyons . Costume design: Frank Labowitz . Sound design: Lane Elms . Fight choreography: Kasey Kaleba . Stage manager: Kerry Epstein . Produced by Signature Theatre . Reviewed by Jeff Walker .