1.  Most Emotionally Devastating Deaths by Inanimate Objects in A Play – Famous Puppet Death Scenes – Woolly Mammoth Theatre Company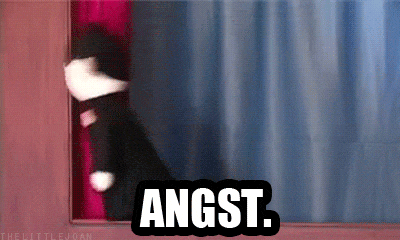 Feel free to kick yourself if you missed this horrifyingly hilarious (or hilariously horrifying?) series of vignettes with various topics like domestic abuse, ecological disaster, failed romance, and German children's television, but one commonality. The puppet dies. I had to hold onto the railing in Woolly's standing room section at the puppet death that represented the extinction of whales. Literally wailing.
2.  Most Mind-Blowing Concept (That Actually Works) in a New Play – Night Falls on the Blue Planet – Theater Alliance
Kathleen Akerley has quietly (depending on who you ask) become one of the best playwrights in DC. I make a point to never miss her shows because her concepts feel like they're pulled from the darkest depths of dreams and subconscious. In Night Falls, a woman channels visions of another world while receiving a massage, then makes her friends act out her visions while she paints her world on her body. I love how Akerley's dreams can become my nightmares, and, boy, can she write a scene about someone pooping. It was so odd, I couldn't even.
3.  Most Outstanding Anthropomorphic Performance in a Socially Conscious Devised Piece – The T Party – Forum Theatre

This prize is actually split between two contenders from Forum's remount of The T Party: Brendan Quinn as a roller-skating otter in a nature documentary-style segment on gay taxonomy (as in burly gay men=bears) and Rachel Hynes, who successfully managed to portray a sex-driven dolphin in a silver full body suit in a mashup of a scientific paper on dolphin sexuality and a go-go show. The play wasn't all fun and games though. It exposes some painful truths about living in today's world as a trans* person, like the fact that 1 in 3 trans* people will have attempted suicide by the time they reach age 21.
4.  Most Vital Production of a (sort of) Shakespearean Play- Hamlet Q1 – Taffety Punk

It takes some chutzpah to put on a script universally known as bad, as in the Bad Quarto of Hamlet (though the Punks dressed it up as Hamlet Q1). But using this non-traditional text alongside some eerie interpretive dance made for actors who were totally present in their bodies and avoided the feeling that many Hamlets have of being quips strung together. The biggest star here was Esther Williamson as Ophelia, who took a role I have never seen done well and broke my heart.
5.  Most Vapor-Inducing Performance by An Actor in a One Person Show – American Moor – Anacostia Playhouse

Setting aside for a moment that American Moor is one of the best solo performances that I have ever seen and that Keith Hamilton Cobb's incisive polemic on being a Black Shakespearean actor in the 21st century is so important that a copy of its promptbook is now in the collection of the Folger Shakespeare Library, Cobb is a total fox. I mean, look at his picture below. Stunningly tall and even more stunningly muscled, Cobb brings together the physique of a god and the voice of an angel, combining exceptional delivery of Shakespeare's best verse and a fierce, social justice oriented intellect. What a babe.
6.  Most Ugly Sobbing Induced by a Play or Musical – Occupied Territories – Theater Alliance
I was silent the whole ride home. I had nothing left. People talk about theater being "cathartic," but Occupied Territories actually left me with the feeling that I was poisoned and didn't know it until this intimate devised adaptation of The Trojan Women drew the poison out of me with a equine syringe. Watching Nancy Bannon cleaning out her Vietnam vet father's basement and reliving his wartime experiences cleaned out my soul and my tear ducts.
7. Musical Most Likely to Make You Pee Yourself With Sheer Giddy Excitement – Man of La Mancha – Shakespeare Theatre Company

In Man of La Mancha, Shakespeare Theatre not only pulled out the stops, they pressed every key of the organ then set it on fire. The giant cage set was an engineering marvel, Anthony Warlow brought the audience out of their seats with the power of his voice, and a wild ensemble kept this musical frothing in every moment. I was bouncing when I left the theater, and it didn't stop for a week.
8. Best Adaptation of Chekhov's Uncle Vanya – Life Sucks – Theater J

2015 will undoubtedly go down as The Year of the Vanya with 5 versions of the classic produced by DC area theater outfits. Aaron Posner's Life Sucks was far and away the best, with the entire ensemble delivering powerhouse performances and Posner avoiding a sophomore Chekhov adaptation slump after adapting The Seagull for Woolly Mammoth in 2013. I gave this play the highest compliment I can give: despite seeing nearly 60 productions in a year, I went to go see it twice. And, yes, it was just as good (if not better) the second time.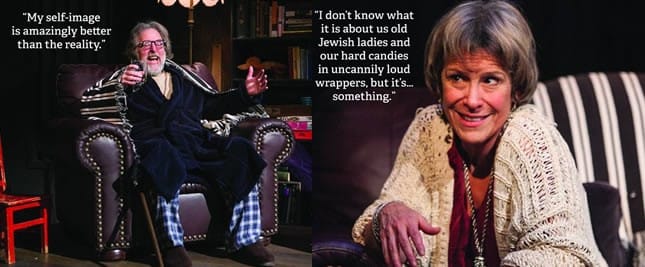 9. Play that Best Inspires Hope for the Future of American Theater – Passion Play – Forum Theatre

Forum Theater's Poor Theater-inspired version of Sarah Ruhl's masterwork proves two things: that Ruhl is might just be the best living American playwright, and that Forum Theater might just be the kind of company that can save the American Theater from itself. Brilliant physicality is what separates this play from the pack. Passion Play's 4 hours may have been the fastest waking 4 hours of my life, full of bright storytelling and the kind of magic divorced from big-budget tricks.
10.  Realest Play and Most Moving Spiritual Encounter- Dontrell, Who Kissed the Sea – Theater Alliance

There are many reasons to see a play: getting in touch with current culture, an escape from your day to day life or to impress a date. But maybe the most important reasons is to engage in an encounter with performers that reshapes your understanding of yourself and the world around and fulfill a spiritual need for that kind of encounter. This year the story of Dontrell, a young man coming to grips with coming of age and dreams of his enslaved ancestors, was the epitome of that kind of encounter.
Justin Weaks as Dontrell blew me away, Louis E. Davis captured me with his choices, and I want to put Frank Britton's earth-shattering monologue on a poster and hang it in every house I ever own. Nathan Alan Davis' masterpiece and this particular production was True and Real, full of Soul, capitals intentional. Dontrell, Who Kissed the Sea is something I still ponder 7 months later, and I will do so for the rest of my life.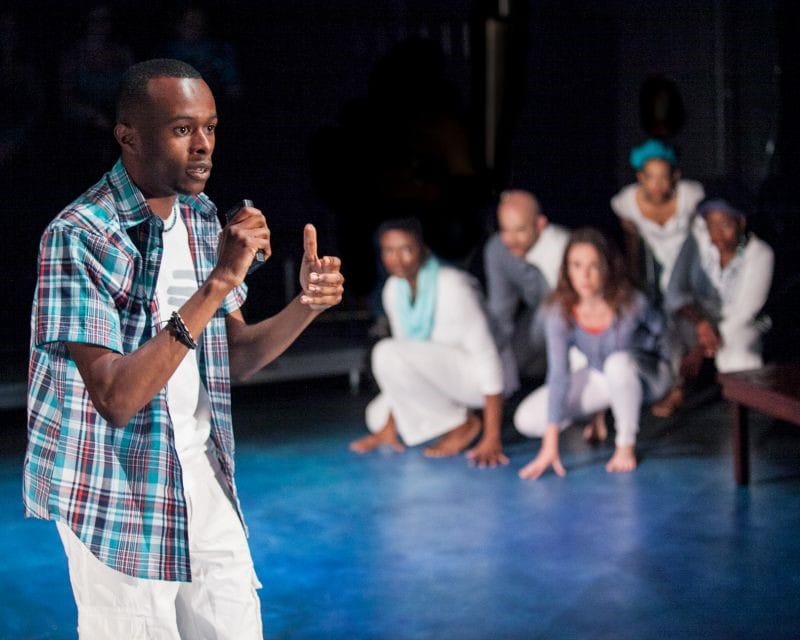 Click for more DCTS best shows of 2015