I'm retired now as a critic and when I see a play it is generally as a civilian. In days of old, I might see upwards of a hundred fifty plays a year, and the experience was as commonplace for me as swatting mosquitoes or filing lawsuits. It became like going to an art gallery; you see a Picasso and a Degas and a Van Gogh and a Rembrandt, and after a while you begin to nod, and become more interested in the little placards next to the painting which explain what you are seeing.
But, relieved of my weighty responsibility, I found myself looking at theater as a customer would — that is to say, judging it not on the artist's oeuvre, or by a playwright's context, or as a theatrical trend, but by a blunter standard: is it worth $150 for my sweetie and me to see this show? I am astonished to report that in many cases the answer is in the affirmative. Here are fourteen cases where the answer is overwhelmingly in the affirmative, in more or less chronological order.
Michael Russotto in The Whale
Produced by Rep Stage
I had read the play ahead of time and I must say that I wasn't looking forward to this show. The script seemed to me to be full of pat answers to grotesque problems, with action both banal and predictable. Not in Rep Stage's excellent production, though. Russotto — who ten years ago I considered an average professional actor but who has recently been superb — was on fire as the title character. He was truly a man trapped in his own body, bewildered and afraid, and at every moment I thought that this could be me, or any man. Jayne Blanchard's brave review also helped me to understand the character's dilemma.
Bruce Alan Rauscher
in Cops
Produced by American Century Theater
There are times that are fitted to the man, and roles that are fitted to the man, and Bruce Rauscher was the man of the hour in this chestnut of a melodrama. The cop Rauscher played was a hero, a heinous bully, and a lunatic, in equal measure, and the actor must bring out all three of these characteristics for the play to work. Rauscher did the job, and in doing so reminded us of what we are missing with the closing of American Century Theater.
The Lieutenant of Inishmore
Produced by Constellation Theatre Company
Bloodshed has never been funnier than it was in this Martin McDonagh comedy about the ultra-violent rebel who has lost his kitty. Matthew Wilson got a superb performance out of this cast, in particular Thomas Keenan in the title role and Megan Dominy as his love interest. The final moment wins my award for best punch line in a theater this year.
Dunsinane
Produced by The National Theatre of Scotland and the Royal Shakespeare Company
Presented by Shakespeare Theatre Company
Sequels almost always disappoint, as anyone who ever went to Ghostbusters II can tell you. And doing a sequel to Shakespeare — well, that's just insane. (Anyone for Fortinbras the Musical?) But David Greig's brilliant sequel to Macbeth had every bit of the mystery, surprise and suspense of the original, and it delivers its story with the force and precision of a jackhammer. Siward, a minor character in Shakespeare's play, here bears the weight of all English ambition in the frustrating and baffling land of the Scots. This excellent play was further buoyed with superb performances by Darrell D'Silva as Siward, Ewan Donald as King Malcolm, and especially the incomparable Siobhan Redmond as Lady Macbeth. This was the best show I saw in Washington in 2015.
Mary Stuart
Produced by Folger Theatre
To know that Kate Eastwood Norris is playing Mary Stuart and that Holly Twyford is playing Queen Elizabeth is to know that Friedrich Schiller's meditation on the limitations of power will be in capable hands. But a great supporting cast, including Nancy Robinette, Louis Butelli, Cody Nickell and the excellent Paul-Emile Cendron was the cherry on top. Richard Clifford's attentive, detailed production of Peter Osborne's uncluttered adaptation was one of the most watchable things all year.
Delance Minafee, Jeena Yi, and Ryan Barry
in Lights Rise on Grace
Produced by Woolly Mammoth Theatre Company
This was, to be blunt, not that great of a play. But to see three fine actors play tag-team with a dozen roles is to see the possibility of great theater. It doesn't matter, for example, if Yi, or Barry, is speaking in Cantonese — you know exactly what they are saying from the way they hold their bodies and the expressions on their face. It doesn't matter if Barry was playing the protagonist's best friend three minutes ago; now he is playing the protagonist's despicable brother, and you understand it immediately. I think we can all agree that theater can expand your mind; in this production, these three great actors could blow your mind.
Everything You Touch
Produced by Contemporary American Theater Festival
This wasn't the Contemporary American Theater Festival's best year but it was a stone delight to watch Sheila Callaghan's daring, hilarious, mysterious, deeply moving and astonishing play. To those of you who loved Women Laughing Alone with Salad — and I was one of them — this play is even better. We saw Callaghan as an emerging artist years ago when We Are Not These Hands played at the much-missed Catalyst Theatre; it is a pleasure watching the artist in the fullness of her powers.
The Originalist
Arena Stage at the Mead Center for American Theater
It is a bold thing to write a play about an iconic living person. It is even bolder to play that character. But John Strand's honest, complex script and Edward Gero's compelling performance gave me a Justice Antonin Scalia I want to believe is the real one, and reminds us that the law, no less than human nature itself, is a roiling mix of noble and banal, reason and rage, the sacred and the profane.
Mary-Kate Olsen Is in Love
Produced by Studio Theatre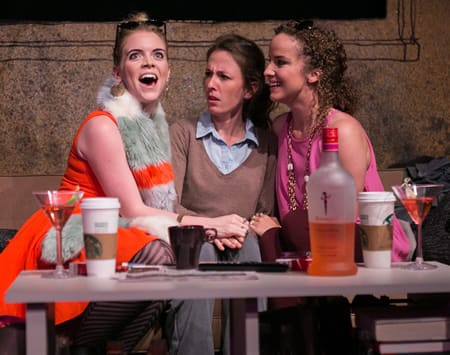 Grace and Tyler are an inert, depressed, enervated couple who fall in with fantasy figures in this hour-long dystopian soufflé. Grace gets her solace, and advice, from a pair of frothy consumer mavens, one of whom becomes her lover; Tyler receives standing orders (that is, orders to stand up) from a character from Call of Duty, a video game. The results are predictably fatal. Why did I like this play so much? Because it's true, I think.
Silence! The Musical
Produced by Studio Theatre
The capsule description explains why this should be on everyone's best-musical list: a wretched community theater decides to write and produce a musical version of Silence of the Lambs. This was a genius script (Hunter Bell) with genius music and lyrics by Jon and Al Kaplan, but what was even better was Laura Jordan as Clarice — not a parody, and so twice as horrifying.

Uprising
Produced by MetroStage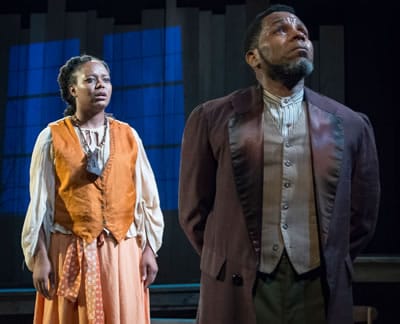 The Civil War was over one hundred fifty years ago, and we're still learning things about it. Gabrielle Fulton directed our attention to a portion of history which has been, so far, under-observed: the life of free Africans in this country prior to the civil war. The disrupter is an escapee from John Brown's failed raid on Harper's Ferry, and the dilemma the characters face is a universal one: the dream of safety against the need for truth. Fulton's script, William Knowles' music and the performances were superb. I saw this show with a large contingent of people from Norway, and it was nice to be able to show that, at least in this small way, we're not afraid to examine our past.

Adu Yadav's 'Capers
Produced by Forum Theatre
Probably the most astonishing single performance this year was Yadev being every character in a play which she wrote about an actual event: the City of Washington's badly-managed transition from the Arthur Capper/Carrollsburg Housing Project to a mixed-income community. Unless you're Jefferson Mays, this kind of project should be off-limits, but Yadav showed with her performance that she has no limits. She even played herself.
West Side Story
Produced by Signature Theatre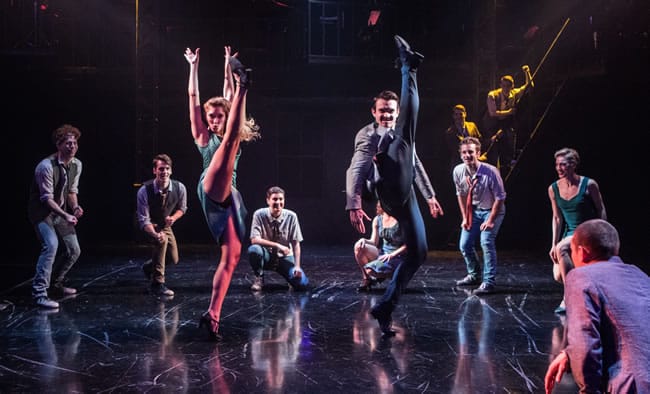 This has all the power and scope of the Broadway  musical, in a venue which seats perhaps three hundred. Based on Shakespeare, lyrics by Sondheim, music by Leonard Bernstein — need I say more? I will: I mean no disrespect to Richard Rodgers and the other brilliant composers of the last century when I say Bernstein's difference is one of kind, not degree. Bernstein's skill as a composer was equal to Verdi's, or Listz's, and West Side Story is one of theater's seminal accomplishments. And you have until January 31, 2016 to see it.
Kerri Rambow
in Night Falls on the Blue Planet produced by Theater Alliance
and
George is Dead produced by The Klunch
I began by talking about an actor who has proven to be much better than I thought he was; now let me end by talking about another: given the right material, Kerri Rambow is exquisite. Kathleen Akerley's Blue Planet is a tragedy which is streaked with comedy.
Elaine May's George is Dead is a comedy which ends in tragedy, and in both instances Rambow rendered every drop of comedy and tragedy from both plays.