Call me an old softy, but I get pretty sentimental during the holidays. As I look back on theatre for the year 2015, my cup runneth over with blessings – performers and productions that touched my heart, delved into my soul or sparked my imagination in a memorable and lasting way.
10. Holiday Memories
Produced by WSC Avant Bard
Combining two memorable stories by celebrated author Truman Capote (adapted by Russell Vandenbroucke), Holiday Memories warmed the intimate Theatre on the Run space with more than poignant memories of Thanksgiving and Christmas past. The WSC Avant Bard production, directed with an artistic flair by Tom Prewitt, was grounded by Christopher Henley's genteel and sensitive portrayal of Capote, as narrator and observer of his bittersweet memories. This production and Henley's performance as Capote deserve to become holiday traditions.
9. The Oldest Profession
Produced by Rainbow Theatre Project
A bevy of aging working girls pine away for the old days of their youth misspent in a New Orleans brothel. The tough economics of the 1980s in the City That Never Sleeps – where plenty of men sleep with ladies of the night – never looked so bleak. It may not sound like a play to pluck the heart strings, but Paula Vogel's character-driven comic-drama is like a faded, jaded valentine. As performed by the tiny Rainbow Theatre Project, the all-female ensemble memorably inhabited ladies who were now mere shells of their former selves. The Oldest Profession might have been about past-their-prime prostitutes, but was also a testament to the true meaning of family and devotion among a sisterhood of old souls.
8. The Wonderful Wizard of Oz
Produced by Adventure Theatre MTC
I have been assigned to review a number of family-friendly and children's theatre productions over the years. This year, I only found myself at one such production but it is was a keeper. Washington, DC-based playwright Jacqueline E. Lawton revisited L. Frank Baum's legendary tale of Dorothy's journey to Oz and back and created a concise and magical version lovingly produced with humans and puppets by Adventure Theatre MTC. My only regret was not bringing along one of my nieces when I was transported to Oz and the Emerald City. It was a shame to waste the trip on a middle-aged guy with the heart of a kid. I hope Lawton's version – including her own twists on characters and iconic moments we remember – can become a staple of theatres everywhere.
7. Love, Loss and What I Wore
Produced by Next Stop Theatre Company
Did I ever think I would put the girl-power and fashion-friendly Love, Loss and What I Wore on a top 10 list of anything? Not really. That is until I saw Next Stop's production in February. What is usually a reader's theatre style presentation was given a full theatrical production in an intimate cabaret setting by director Lorraine Magee. Magee's ensemble cast of talented ladies, were thoroughly entertaining, bringing the witty and wise words of sisters Nora and Delia Ephron to life with poignancy and élan.
6. Simply Sondheim
Produced by Signature Theatre
Truly the theatre's "signature," the music and lyrics of Stephen Sondheim were given a new and exciting setting with the one-off, exclusive musical revue Simply Sondheim. Signature's artistic director Eric Schaeffer and veteran musical supervisor David Loud co-conceived the revue and handed over the directorial reigns to Matthew Gardiner. With an orchestra led by Signature's resident maestro Jon Kalbfleisch, the ensemble cast masterfully wove songs old and new from the Sondheim canon uncovering gems and lesser known riches. . How can you go wrong with Austin Colby, Kellee Knighten Hough, Donna Migliaccio, Paul Scanlan, Bobby Smith, and Stephanie Waters performing such songs as "Send in the Clowns," "Now/Soon/Later," "The Hills of Tomorrow," and so many others?
5. Friendship Betrayed
Produced byWSC Avant Bard
Performed during the Women's Voices in the Theater Festival, Friendship Betrayed was a rediscovered classic like no other. Originally written by one of the most popular Spanish writers of the 17th Century, Maria de Zayas y Sotomayor's La traición en la amistad dealt with sexual politics and independent women of the upper classes. Catherine Larson, a professor of Spanish and Portuguese, has translated Sotomayor's sex comedy into Friendship Betrayed that leaps from the page and has the freshness of a play written yesterday. Avant Bard gave the comedy from the 1630s a1920s update that fit perfectly with the liberated women motif. Stylish, fun, sexy – a triumphant trifecta.
4. The Elephant Man
Produced by Maryland Ensemble Theatre
The performance that touched me the most with sensitivity and grace was Matthew Lee in the title role of The Elephant Man, produced by Maryland Ensemble Theatre in Frederick, MD. As John Merrick, Lee possessed poetic grace and produced a stunning physical transformation as the misshapen protagonist of Bernard Pomerance's play. With keen and theatrical direction by Julie Herber, MET's production of The Elephant Man was stylish and a portrait of dignity in the face of adversity.
3. Mary Stuart
Produced by Folger Theatre
The power couple to beat was not actually a couple at all. They were cousins and rivals in a blood-thirsty feud for power and the crown of England in the 16th Century. The proud and brittle Queen Elizabeth and her imprisoned and passionate kinswoman Mary Queen of Scots were the centerpieces of Folger Theatre's masterpiece production of Mary Stuart. Friedrich Schiller's original play was produced at Folger in a new and compelling version by Peter Oswald and directed with precision by Richard Clifford. The two powerhouse women were made flesh by two incomparable performers:  Holly Twyford and Kate Eastwood Norris. Twyford – cunning and strong as Elizabeth – and Norris – nobility personified – as Mary combined fire and ice in two magnificent portrayals.
2. West Side Story
Produced by Signature Theatre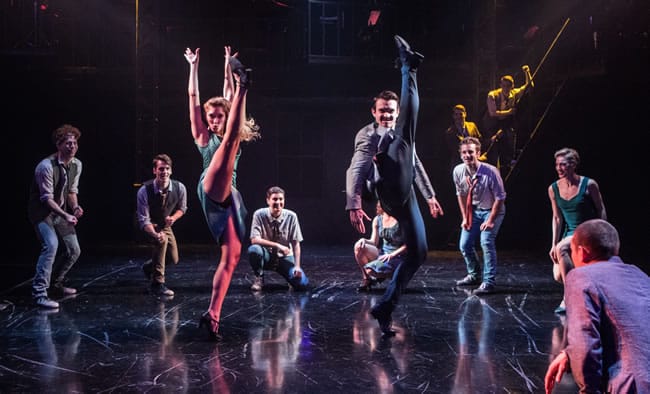 The best overall production I caught this year was also the most recent: Signature's stunning production of West Side Story. Once again, the Tony Award-winning, Arlington-based theatre raises the bar. The intimacy of the staging, the electrically charged choreography, the sense of danger, the power of Tony and Maria's pure, first-time love for each other – all of these elements and many more hit the bullseye. The cast is likewise superb in every way. Luckily the production extended to January 31, and the demand for tickets is huge.
1. Blithe Spirit, national tour
Presented at National Theatre
Angela Lansbury. The living legend – nay, working legend! – just 8 rows in front of me commanding the stage with ease as that loopy medium, Madame Arcati in the touring production of Noel Coward's Blithe Spirit. It's cliché to say she's still got it but darn it she did. Sure, maybe I'm a little star struck. What's wrong with that? The show is a chestnut, but to see Dame Angela with a stellar company bring new life to Coward's "improbable farce in three acts" was like a breath of fresh air.
Read all DCTS 2015 Top 10 Lists