I continue to celebrate the voices and the productions that were heard in Washington this Fall as part of the Women's Voices Theater Festival. Frankly, I'm also still mulling over the questions and the challenges that surfaced then and continue to send ripples through the community.
There was much good theatrical fare produced in this festival. It gave Washington 62 performances to applaud, some by writers who were homegrown and all who enriched the local scene with their presence. It's too early to predict how the seeds sown will do and to know conclusively the viability of the local theatrical soil and the vitality of the voices planted.
On a personal note, it got me out to see productions I might not have seen and to visit some theatres I had not stepped into before. I take festivals seriously, turning myself over to them and letting the works speak both each in their own right but also to breathe alongside each other and create powerful frisson with various resonances put into play. For this, let us applaud the WVTF.
Find all WVTF plays and playwright interviews on the DCTS Guide
The seven theatres that banded together to launch the idea of the festival not only gave a platform to women playwrights, but in the process shed light on the gross inequities that women continue to face in having their works produced.
What is the take away from this Festival and these works? Most of all, to coin from Shakespeare's Anthony and Cleopatra, the awe-filled line "her infinite variety." We have been schooled that women's voices can be…
— lyrical without waxing sentimental —
1. Ironbound
Produced by Round House Theatre
Take what was for me the number one play of the festival, Ironbound, by Martyna Majok. With stunning performances all around, the play brought Darja to full life, who though trapped in the shadows of a great iron bridge girder that threatened to press down upon her – a design metaphor for all that this country's challenges represent to the immigrant — simply would not give up. It is a play that showed the size of a woman as measured in her ferocious ability to survive. We are so grateful that Round House scored this one as the ultimate festival treasure.  Note:  Ironbound is being produced March 2-  April 10, 2016 at Rattlestick Playwrights Theatre, NYC.
Details and tickets.
— bold, dangerous and mythical —
2. Salomé
Produced by Shakespeare Theatre Company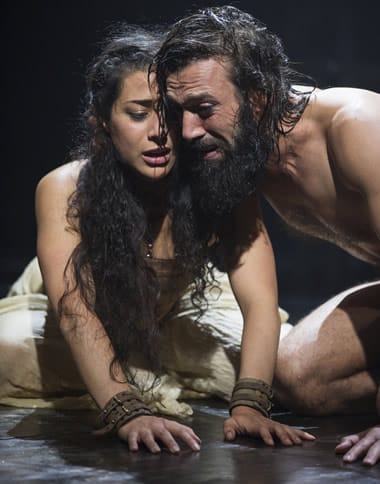 A close #2 in Yaël Farber's stunning adaptation of Salomé. Using ritual, ancient and contemporary languages, and a kind of incantatory style of declamation, Farber made no easy choices developing the piece but ran with the gauntlet thrown down by this Festival's challenge to seek something new, and I felt both shattered and uplifted by her vision. It was also the kind of work only Michael Kahn and his Shakespeare Theatre Company could commission and pull off with such world-class magnificence.
— achingly from the heart and gaspingly true —
3. Uprising
Produced by MetroStage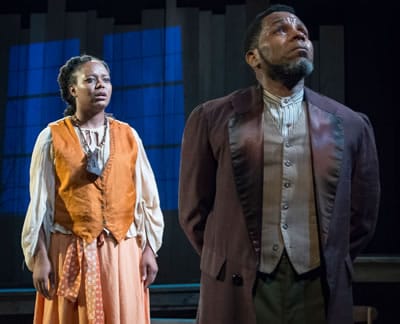 That describes how I experienced Uprising, MetroStage's entry into the Festival. It is the work by young playwright Gabrielle Fulton, bringing to life the story of one of her ancestors in the years leading up to the Civil War when things were still raw and untested by some new Free Blacks. It remains burned in my brain, meriting #3 on my play list, the writing matched every bit as beautifully by the music of William Knowles, and delivered onto the stage with up-close simplicity and dignity, hallmarks of MetroStage productions. The production did not shy away from its lead character's central dilemma, as powerful and shocking as the one in Sophie's Choice.
— crusty, crude, and crass —
4. Women Laughing Alone with Salad
Produced by Woolly Mammoth Theatre Company
Just as one reviewer observed, women can also deliver raunch and driving expletives — riding rhythms that excavate a whole new terrain of linguistic communication. Take Bad Dog by Jennifer Hoppe-House and the even more scabrous Women Laughing Alone with Salad by Sheila Callaghan. I'll make Callaghan's whacky roller coaster ride rifting on how out of balance we have become as a society #4 on my list. When have I ever howled with laughter so much in one moment then winced with the aftershock of the equivalent of seismic plates shifting and exposing our dirtier sides? But then when has Woolly Mammoth ever steered shy of stepping over proprietary boundaries? This was a great pic for Artistic Director Howard Shalwitz's sensibilities and his audiences' "extreme sports" tastes.
5. Bad Dog
Produced by Olney Theatre Center
As for Ms. Hoppe-House's work, Bad Dog, well the play clearly had all the markings of a TV writer at work in its feel of small-screen domestic drama with killer punch lines, but what a skilled one she is in this genre, doing some devastating character excavation from her own family. The searing dark comedy which purposely states it's about "how alcoholism is affected by a [dysfunctional] family" tells an all-too familiar story for many of us. It had a great cast, headed up by Holly Twyford, and the performers had the audience eating out of their hands. Kudos to Olney who scored this A-list ensemble!
— have surprise twists and turns in plot-making –
6. Phoebe in Winter
Produced by Single Carrot Theatre
Jen Silverman is able to carry us into the most menacing and chaotic reaches of the human mind as writers such as Pinter have done for previous generations. I discovered the play in a small little theatre in Baltimore, Single Carrot Theatre, and this gem is the kind of triumph a playwrights' festival  can produce. Silverman is already an accomplished playwright to be sure, but one I had whose powerful work I never before had the fortune to know. The play was given strong stylistic direction by Artistic Director Genevieve de Mahy with a terrific cast of actors.
–serve as a memory play —
7. Queens Girl in the World
Produced by Theater J
One of the best memory plays showed up in the festival in Caleen Jennings' thinly-disguised autobiographical one-woman show Queens Girl in the World. Jennings has a terrific vehicle for an actress who can deliver multiple characters physically and vocally, switching at lightning speed, and it was performed strikingly by Dawn Ursula. The work follows a young black girl growing up in the fifties and sixties who learns about how stupid and unspeakably cruel people's ideas can fuel hate crimes. What a timely piece it proved to be! Jennings and Ursula together garner a #7 for this collaboration.
— exemplify a solid, long term partnership between local playwright and theatre company representing a kind of developmental "stable" for the future of theatre —
8. Destiny of Desire
Produced by Arena Stage at the Mead Center for American Theater
For this, I give Destiny of Desire's playwright Karen Zacarias and Arena Stage a solid #8. Remembering back to Press Night, I found the company was still finding its sea legs for this over-the-top tribute to the popular telenovelas. The music, singing, and dancing were all top notch and made for an evening of good light entertainment even if the petticoat of a script seemed to drag in parts and its intentions get somewhat cluttered. But it's a work that deserves another viewing.
— tackle issues of our time head on, but with a fresh voice and subtle touch —
9. The Requiem
Produced by The Highwood Theatre
The fresh voice was exemplified by the youngest playwright (age 15) given a full production in this festival, Madison Middleton. The Requiem, which touched on the affects of Alzheimer's on a family, seemed to come from a mature and assured voice, even elegiac in tone, and well deserves a  place on this list. The fact that the show was produced, directed, designed, and cast by a high school-age company should not allow anyone to assume this is anything but a theatre with professional ambitions and standards.
–be inspired to communicate "spacially" and physically rather than through text –
#10. Alice in Wonderland
Produced by Synetic Theater
While I appreciated the stylistic unity of texts&beheadings/ElizabethR at Folger Theater, as a play the work felt more like an academic composite. So I turn to Synetic Theater, that has been leading the way in physical theatre locally both in their productions and training of performers. Partnering with  playwright and former critic, Lloyd Rose, they created another physically realized work in their Alice in Wonderland, which was quirky and often highly amusing. This may not have been Synetic's most astounding work of the year, but what a refreshing move to bring in a woman's voice to experiment with and expand on their unique style. They well deserve to be in my top 10.
So, there was a lot of good work going on, and my top ten list is just that: group of theatre experiences which floated to the top of my consciousness from a couple of months past.
There were some problems the festival never ironed out. There was no coherent thought to scheduling as in a typical festival. Most theatre companies just kept to the usual production run and times, making it hard to catch all the shows. (Margaret Hausfeld producing herself was smart – she set unusual starting times and got rewarded handsomely by healthy-sized audiences for her one-woman cabaret, Just Between Us.)
On that note, another challenge the festival raised was despite all the riches and the pats on the back about Washington theatre and its audiences, is whether Washington even has the breadth and depth in its audiences for so many new works. Some great theatre was mounted, but even the "big gun" theatres struggled to find audiences for so many productions which became, perhaps, too much of a good thing.
So does this festival end as a one-of-a-kind marketing event? Will the companies that participated commit to further collaborations with the playwrights they chose and provide a professional lab for them? Will the playwrights have their works produced for a second or third production here or elsewhere? Might these works be published together? How better might these amazing performances be archived? Were they videoed?
There was no real attempt to get the women playwrights together and let them speak to each other. A virtual community was created by DCTheatreScene posting a series of questionnaires that served as interviews, and were shared amongst the playwrights. These became welcome nourishment for many.
What do the women playwrights want next for themselves and for their plays?
This was, let's hope, only a beginning.
Read all DCTS 2015 Top 10 Lists