Aaron Davidman, whose Wrestling Jerusalem is onstage now at Mosaic Theater, is no stranger to the issues affecting Israel, having been a frequent visitor over the years, and it was always his desire to use his artistic side to explore what the land truly meant to the Jewish community.
In 2001, he became the artistic director of Traveling Jewish Theatre in San Francisco and set out to write something new.
"I felt like the most important question for the Jewish community had to do with Israel and the American-Jewish relationship to Israel," he says. "I started going back to Israel and meeting some people and became involved and helped develop an international collaboration of a play called Blood Relatives, which premiered in San Francisco in 2003, and that really began an in-depth investigation that has lasted the last decade."
During his years there, he also co-wrote and performed in God's Donkey; originated the role of Momik Neuman in See Under: Love, based on the David Grossman novel; and directed Death of a Salesman.
In 2007, Ari Roth of Theater J commissioned Davidman to write Wrestling Jerusalem, a play that follows one man's fascinating journey to understand the Israeli-Palestinian conflict. Following a successful run there and elsewhere around the country, it's now finding new life at the Mosaic Theater Company of DC, under the direction of Michael John Garcés.
"I had never set out to be a solo performer but Ari and I developed a relationship over the years, being directors at Jewish theaters, and he was looking for something on the conflict," he says. "The piece evolved as I dug deeper into more specifically what an American-Jewish person grappling with these issues come up against."
Set in America, Israel and Palestine, Davidman lends voice to 17 different characters throughout the play, painting a complex portrait of the humanity that lives inside this conflict.
"It's the most demanding performance piece I ever worked on in my career. It's 85-minutes of very dense text. As a writer, it took a long time to get the text right. I did public readings all over the country and worked with many directors to get it just right," he says. "As a performer, it's a physical, emotional, spiritual workout every night and it's incredibly demanding. The amount of focus and concentration and energy required is just…"
Let's put it this way, by the time each performance is completed, Davidman admits he's drained.
"I'm empty," he laments. "I do build stamina; just like any kind of workout, the more you do it the stronger you get. As I get into a run, I get stronger as I go. Technically, the performance is very particular. I have to be well-hydrated and prepared and get out there and hit my marks."
Although Davidman isn't one to prescribe to telling an audience what they should feel when leaving any performance, he does hope that people "learn about the other; whoever that other is." He explains that the play is an exercise of breaking down barriers of fear and mistrust so we can see who is on the other side. Depending on who you are and where you're coming from, the other side means something different to everyone.
"My hope is that audiences can do some of the deep listening that I did to create the piece—to meet people that are different and really try to understand who is there," he says. "When we think about these issues, it's such a polemical debate—our whole culture is becoming more and more polemicized. The play stands for multiplicity and complexity and nuance and humanity, so if we're going to create change, we have to understand who the players are as human beings. That's the great tradition of the theater."
As he's performed the show around the country, Davidman has had the opportunity to meet with many audience members in post-show conversations and is thrilled with the response he has been getting.
WRESTLING JERUSALEM

January 6 – 24, 2016

Mosaic Theater Company of DC
at Atlas Performing Arts Center
1333 H Street NE
Washington, DC 20002
Tickets: $18 – $40
Details
Tickets

———————
"We reflect on the themes in the play and that is really interesting and important to me," he says. "I think we are living in an age where people are afraid to really go deep into this material. It's scary to people for lots of reasons, and confusing. The play doesn't offer answers but hopefully it offers some clarity to people about what's at stake and what's really going on."
In addition to the staged version of Wrestling Jerusalem, Davidman is working with director Dylan Kussman on a film version (details of which are here) with a mission: to inspire a generous vision of humanity in the midst of one of the world's most troubling conflicts.
"It's shot in three different locations—the stage, in a dressing room and on location in a dessert, and different characters show up in each of these locations," Davidman says. "Dylan had the idea to use the three spaces to embrace the cinematic life form and to breathe some different aesthetics into the piece and live as a film."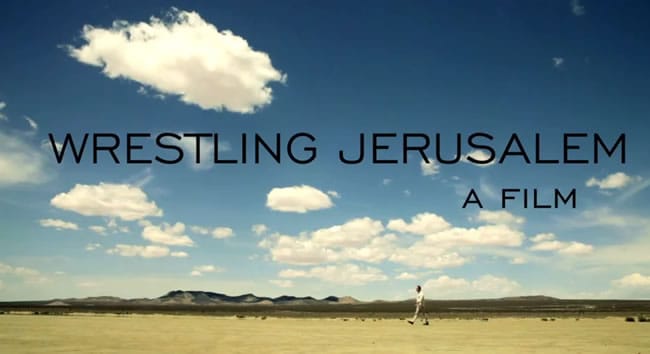 Click above image to watch the trailer for the film Wrestling Jerusalem.