The glorious and painful truth about heroes is that they never die. Glorious because their moments of triumph and wonder can live on moment after moment, memory after memory, into the infinite vaults of storytelling. Painful because heroes, when stripped of their glory, are merely human, and they live on, undying and shriveled in the withering light.
The dichotomy has never been more clear than in Georgie, the alternately hilarious and riveting solo stare by Ed Dixon into the depths of his hero, the legendary English theatrical clown George Rose. Dixon's picture into Rose's life follows a familiar formula: a nervous novice, initially awestruck in the presence of greatness, befriends the storied expert. Dixon reveals layer after layer of humor, complexity, and artifice before he reaches the core truth of his all-too-human hero.
But there are two things that separate Georgie from the litany of obsequious drivel into which so many biographical solo shows fall: artful, multi-faceted mimesis from the actor and a harrowing streak of darkness that gazes unflinchingly into not just the legend but the reality of George Rose.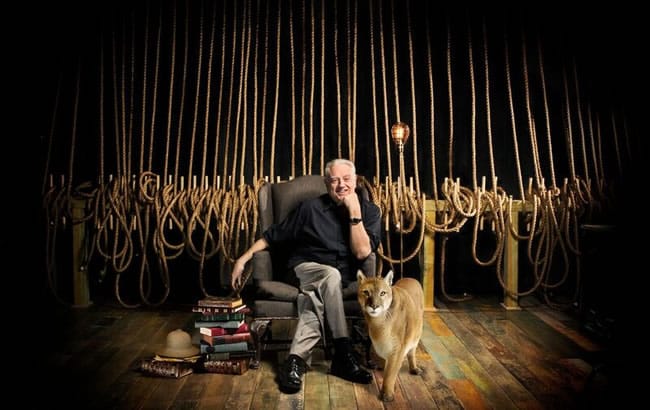 If New York stages were theaters of war, Ed Dixon's uniformed chest would be bursting with commendations for character acting, not to mention nods for writing, composition and voice coaching. In Georgie, Dixon not only acquits himself honorably as the playwright, finding a musical structure through the remembered voice of George Rose, but also as an actor portraying Rose, who has almost as many lines as Dixon's own narration. From knee-slapping commentary on passers-by (an elderly man and a young man walking too close together, "when a woman gets older she has to open her purse") to withering scorn for theater personalities he didn't like (on Joe Layton: "Oh, that queen with the knitted hair",) Dixon brings George Rose to life on Signature's stage.
Many solo artists fall into the trap of "doing" people with schlocky voices and broad gestures, as in, now the actor is "doing" their mother or "doing" some famous actor that they have never met in real life. Dixon sometimes seems to devolve into this kind caricature, especially recounting George Rose's stories of famous actors of the English stage like Laurence Olivier or John Gielgud. But Dixon manages a trick of depth in these imitations: he's not doing an impression of Olivier, he's imitating Rose's imitation of these famous actors. It's a sign of brilliance in performance that those layers are even distinguishable and a sign of Dixon's mastery of the character of Rose that George's voice rings clear in and out of these anecdotes.
Though professionally executed, some of these stories are tasty but trimmable fat whose main draw and power come from the razor-sharp focus on George Rose, his comedic foibles, his wild eccentricities, and his world-shattering secrets. I must confess, I knew little of Rose before seeing Georgie. I recognized him as the pinnacle of the Modern Major General from, as Rose called it, "that badly produced film" of Pirates of Penzance and I knew him by reputation as one of the funniest actors of the 20th century stage, but Rose retired the year I was born, so I never had the pleasure of witnessing his genius.
Did this lessen my enjoyment of the show? Perhaps a little. Georgie suffers somewhat from Excessive Throwback Reference Syndrome, or what people of my generation will recognize as Animaniacs Syndrome, where famous names are liberally peppered throughout the script and, even though I have a decent knowledge of the American and English stages, I recognized maybe 3/4ths of them. Though it can be a bit annoying to hear a few audience members coo over some dropped name, Dixon as writer does well to never leave those name drops uncontextualized.
In his care, Dixon's picture of Rose as a central theatrical figure in the 20th century becomes an amusing education in legacy. So even if the name of George Rose means nothing to you, I still feel comfortable recommending Georgie, like a delightful biopic of a personality you never knew and never knew you loved so much.
GEORGIE: MY ADVENTURES WITH GEORGE ROSE


January 8 – February 7

Signature Theatre
4200 Campbell Avenue
Arlington, VA 22206
1 hour, 30 minutes with no intermission
Tickets: $56 – $88
Tuesdays thru Sundays
Details
Tickets
But
Georgie
is not all sunshine and roses. Many biographical solo shows paint their subject with a gilded brush and thus have no driving narrative arc. They end pathetically, with a whitewashed recounting of the hero's life, perhaps with a song or returning quotation to put a false cap on the evening. I would postulate that this lack of drive and realism is what dooms solo performance to a rank somewhere between stage magic and mime. And, honestly, even halfway through the show that is where I suspected
Georgie
might end up.
I couldn't have been more wrong. Georgie doesn't peter away uselessly. It becomes absolutely riveting in its last 20 minutes. Credit the sheer bravery of Dixon as a writer to crack open his sternum and reveal his bare, broken heart to this audience and credit Eric Schaeffer as director for establishing the final shift in tone so dramatically. I simply cannot give away this ending, but suffice it to say that Dixon cuts to the reality of Rose hidden behind the lilting comedy in a way that is simultaneously supported by the previous hour of stories and a blindsiding blow to the image of the man I grew to love over the course the evening. Dixon's shocking and powerful reality created a gravitational well of focus, an attention paralysis, a rare silence in a theater where all fidgeting ceases and every eye is trapped in the net of the performer.
That kind of moment, especially one stretched out over such a long period of time, is a miracle of stagecraft and not a small reason for why I go to the theater. Georgie breaks the mold of biographical solo shows, showing George Rose as Ed Dixon saw him, alive and real, a hero of the stage and a deeply flawed human being. And now, because of this moving story, never dying. See the hilarious and riveting Georgie to laugh until you cry and cry until you laugh.
———————
Georgie: My Adventures with George Rose by Ed Dixon. Directed by Eric Schaeffer. Featuring Ed Dixon. Lighting Design: Chris Lee . Set Design: Eric Schaeffer . Produced by Signature Theatre . Reviewed by Alan Katz.