The strange title refers to the profound sense of feeling insignificant, inconsequential, disrespected and invisible sentiments felt by black men in America. The stories and messages are clear and graphic about the diminished value of black men's lives, but rather than get stuck as a linear lambasting diatribe about criminal injustice, police brutality and societal neglect, the writer crafts the story with a provocative spin.
A researcher, Dr. Adrienne Taylor, interviews four "subjects" over several years to determine the effects, if any, on the mental, social, and physical survival of black women! The script delves into the lives of each of the men and sheds light on deeply rooted unspoken truths with unflinching honesty and craftsmanship, remarkable, especially considering that this is the playwright's first of several plays.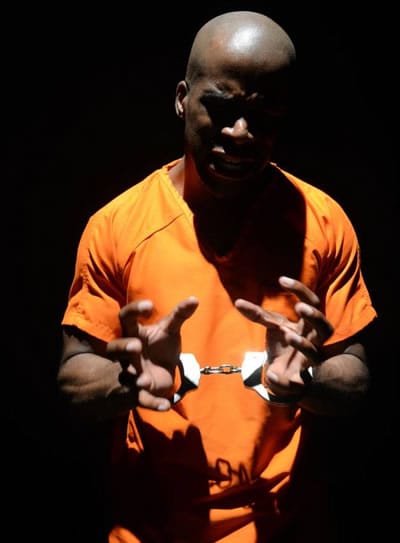 The research participants get the spotlight—literally and figuratively—but Suli Myrie, as professor Dr. Taylor, has true star power, relaying a range of emotions despite her attempts to be passionless, almost Vulcan like in keeping the participants out of her head and heart.
In an effective layered portrayal, Taylor periodically shows chinks of vulnerability in dealing with the men folk in her life both seen and behind the scenes. Myrie asks penetrating questions and doesn't blink an eye at the tough responses. Through it all she is ram-rod straight in a form fitting red-patterned dress, changing to a pale colored, neutral beige tone several years later. Taylor is prim and proper with her hair pulled back in a tight bun and glasses that hang on a beaded decorative neck chain. She's in total command even when the sessions get menacing and maintains an unwavering intent to excavate the deepest emotions—not to help her "subjects" but to elevate the impact of the results for her study. Dr. Taylor's research methods start off within the realm of routine intellectual protocol but slowly veer eerily off track as she desperately seeks acceptance, accomplishment, and validation.
In contrast, Wilma Lynn Horton plays the professor's assistant Michelle with a Niecy Nash-like bubblicious appeal, curling iron at the ready to smack any resistant hair in place. Michelle is attentive to her tasks, and appreciates Professor Taylor's goals while comfortable with her own skills in her own skin. The two enjoy a comfortable repartee; a natural rhythm with each other's constantly evolving stances. With her keeping it real approach, Michelle steals scenes like she steals glances from the brothers who enter, appreciating her voluptuous figure in come-hither heels and skin-tight leggings, oozing sex appeal. Her sidebar expressions and reactions speak volumes and she will have her say at the least provocation. Horton has fun taking the character to the edge of a stereotype then reels her back with sensitivity and charm.
The rest of the ensemble consists of iconic Brothers in spirit, each with his own backstory; Clermon Acklin as the studious bookworm AJ who catapulted from crack-infested neglect to the Ivy League, Christopher Ezell as the tightly wound up and wounded Jayson who has totally disassociated himself from his cultural heritage, and MarQuis Fair as Tyrone, still under incarcerated supervision in the orange jumpsuit and shackles, a subtle reference to bondage of all kinds. Charles W. Harris plays Alan as the hardened middle age loner with a painful history that harkens back to sharecropping and unspeakable family abuse.
David Lamont Wilson does double duty as the ego-tripping, gold-chain flashing music celeb while also serving as sound designer with a scrumptious songlist, including Donny Hathaway's soothing tones, Marvin Gaye's social consciousness, then smacking down with the brash Fight the Power by Public Enemy. In a touching monolog, Wilson digs beneath his well-buffed "Flexx" character's flashy personae to reveal the painful innocence of a child confronted by a predatory, trusted relative.
The characters in this remarkable script are clearly drawn as real people dealing with life's ups, lots of downs, and the results of their own sometimes disastrously wrong choices. Courtney Baker-Oliver, the artistic director of Restoration Stage, has helped to shepherd the show and extols its intent to give voice to the cast-offs, shed light on the difficult topics, and rattle the complacency of simplified and sugar-coated messages about marginalized lives.
DCTS interviews director Courtney Baker-Oliver
The reflections of societal neglect, pain and abuse are real, it hurts and it's unsettling. As noted in the program, the final scene is meant to disturb but I'm still trying to process what it's meant to say. Maybe it's beyond analysis and punches straight to the gut of horror and unrequited loss, reminiscent of classic Greek tragedy. For me, the scene shows good intentions gone terribly wrong in wrong ways in a strange abrupt turn that comes from nowhere and has nowhere to go. Still, the writing and observations are stunningly effective and the script is filled with poignant passages with expert direction by Courtney Baker-Oliver who keeps the attention riveting and ratcheted to the hilt.
Innovative use of projections and lighting on the large back screen makes it appear that the office is perched in a high complex overlooking the Chicago skyline. The sophisticated projections are moving images that transition to floating clouds, cascading pills in a recalled suicide, even the wavering smoke of a crack addict.
CHOCOLATE COVERED ANTS



January 14 – February 7, 2016
Restoration Stage
at Anacostia Playhouse
2020 Shannon Place SE
Washington, DC 20020
3 hours with 1 intermission
Tickets: $35
Thursdays thru Sundays
Website
Check for  discounts

——————–
Set designer Harlan Penn did a masterful job setting up three distinct areas to serve as various offices, each with distinct impressions, colors, even textures. Two offices flank the back sides, stark, sleek and minimalist black and white on stage right for the female researcher, then plush chairs with warm earth tones on the left for the other professor, played with nice gravitas by Tillmon Figgs, who turns out to be Professor Taylor's father. The prominent middle setting where the bulk of the action takes place contains a comfortable couch and desk with the computer for the researcher's constant data analysis which she records while also dictating meticulously into her hand-held device. Several low pedestals along the floor elevate the characters in the "spotlight" to reveal their reflections and hidden memories.
Restoration Stage has been around longer than one would realize, lurking along the edges, plugged into various play festivals and black boxes in the metro area. The playwright /directing duo, Baker-Oliver and Butler, have worked behind the scenes for numerous shows and nod to the late greats Mike Malone and Reggie Ray of Howard University theater for their influence and legacy. The theater's mission is to "Restore the Black Family—One Story at a Time." Chocolate Covered Ants and more quality productions in the works could be the unveiling to reach audiences they rightly deserve.
—————-
Chocolate Covered Ants by Steven A. Butler, Jr. Directed by Courtney Baker-Oliver .  Cast: Tillman Figgs, MarQuis Fair, David Lamont Wilson, Clermon Acklin, Christopher Ezell, Charles W., Harris, Jr, Wilma Lynn Horton, Kandace Foreman . Production Staff: Executive Producers: Courtney Baker-Oliver, Steven A. Butler Jr, and Will Otis Cobbs, Jr. . Set Designer: Harlan Penn . Costume and Properties: Courtney Baker-Oliver . Sound Designer: David Lamont Wilson . Sound/Light Operators: Keta Newborn, Eric Wells and Robert Hamilton . Lighting Designer: Johnathan Alexander . Stage Manager: Brandyn Poole . Produced by Restoration Stage, Inc. Reviewed by Debbie M. Jackson.