Following the plinkety-plinks of a somewhat less-than-shimmering overture – after all, it is a "junk yard" gamelan – delicately carved puppets transport us through their shadow play.  All in shadow, a wild-haired man touches fingers with a lithe woman in a beautiful courtship, and they whirl through the air in a kind of ecstatic dance.
Another feminine figure appears and goes into a kind of rampage, shaking and enlarging, as if through its venomous jealousy, to double its size, then banishes the man. Meanwhile, a shadow bump pops out on the first woman's belly. Soon the bump transforms into a baby that flies into the air.  The audience giggles then gasps. It's all quite magical. The woman they now recognize as the favorite votaress of Titania and Oberon falls and disappears from view, and the audience responds with a sympathetic, "Ah."  In the space of these few moments, the whole backstory of A Midsummer's Night Dream unfolds.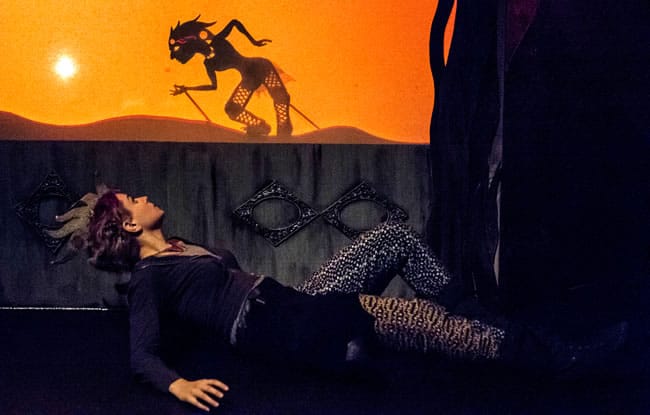 This Javanese-inspired Dream is at its best in the animation of these shadowy creatures and what they bring so uniquely to the familiar world of Shakespeare's most popular play.
Director Randy Baker has come to this creation honestly, as he was born in Singapore, just across the straits to the island of Java.  He grew up within earshot of Javanese gamelan music and saw there and in Malaysia performances of the ethereal puppetry of wayang kulit. This approach not only differentiates the world of the fairies, but creates a whole projectory to the well-known tale that is about accessing the metaphysical world of shadows through dreams and then the journey back to real life.  He has taken some liberties with switching around lines and adding scenes to do so.  It's a beautiful endeavor.
Baker has a great partner in puppeteer Alex Vernon, who has has created terrific figures for the fairy world. Though he has fashioned the traditional two sticks to manipulate these wayang kulit figures, he has taken liberties with new articulation joints. Cobweb as she swings upside down in a kind of aerial ballet with her legs akimbo and her hair trailing is perhaps the most radically new and freely expressive, but the fairies are all enchanting.
Puck first appears as shadow figure with a wild Mohawk. This creature is so lively it is only a matter of time before it will jump out of its limited shadow world. Actress Daven Ralston then takes over Puck's reenactment, and what physicality she gives this creature! Bouncing, crouching, and leaping, through these newly acquired legs, she nonetheless keeps a sense of the Javanese in her upper body, especially her highly-articulated fingers and often-lifted elbow joints. It's as if Ralston has colluded with Baker to make this Dream Puck's story as a kind of Pinocchio journey, puppet into human.
Although in this version, most of the other actors play multiple roles, using their voices to enact the shadowy world of the fairies, the only groundling character that gets to "cross over" to the world of shadows on screen is Bottom.  Zach Brewster-Geisz has created a rather original take on this perennial favorite. Rather than a weaver, he rolls onto stage with his cart more like a peddlar, or the Indonesian variety that I used to see coming up the path to my home growing up, what we would call a tukang, a kind of poor man's traveling salesman.
He also well represents the Indonesian clown that gets to update his audience with snatches of popular music, social commentary, and a kind of direct address to the audience. In his kulit version, the puppet's head is able to throw back and open its mouth open in a braying action. It's a great way to inform Bottom's transformation. But Brewster-Geisz also wows us with his live simplicity, how with two sock arms and a headband with ears and a mouthful of teeth can make this rubber-faced actor become perfectly asinine.
Perhaps because of the power of the shadow play theme, the other action comes across with somewhat less distinction. Rachel Viele as Helena seems to lead the pack of lovers with her knowledge of breathing and delivering verse, but Jenna Berk as Hermia, Danny Cackley as Lysander and Robert Pike as Demetrius all find moments to create a respectable quartet. There is certainly ample roughhouse in the famous Act II, Scene 2 to entertain us all. They double up as the fairies and do a lovely job of singing.


A MIDSUMMER NIGHT'S DREAM



EXTENDED! January 14 – February 14, 2016
WSC Avant Bard
at Gunston Arts Center
2700 S. Lang Street
Arlington, VA 22206
2 hours, 15 minutes with 1 intermission
Tickets: $30
Details
Website
Check for discounts
———————
Christian R. Gibbs and Melissa Marie Hmelnicky as Theseus and Hippolyta also perform as the voices of Oberon and Titania as shadow puppets. Physically, they make an imposing pair, though for the kind of poetry in the writing of these characters, pleasure comes from more seasoned voices.
Designer Debra Kim Sivigny has made great use of the intimate performing space of Gunston Two by maximizing the corridors for lots of running around and still giving focus to six panels which provide multiple screens for the exquisite shadow puppetry work. Music director James Bigbee Garver has created a nice sound world for this piece.
Perhaps it was first night nerves, but the ensemble seemed to be pushing for an unnecessarily broad comedic style when in fact Shakespeare has written something where often less can be more.
However, I came away with a good feeling about the tight-knit camaraderie. The actors take turns on the homemade tin cans and xylophone parts that serve as the gamelan.  While actors doubling as musicians is not new to the stage these days, but these guys seemed to have a special kind of focus and at the same time having great fun with their "found" orchestra.
This  production theatrically manifests many of Shakespeare's lines in bright, news ways, and  I'm left marveling at its images: 'swift as a shadow, short as any dream.'
——————
A Midsummer Night's Dream by William Shakespeare .  Directed by Randy Baker . Featuring Daven Ralston, Christian R. Gibbs, Melissa Marie Hmelincky, Jenna Berk, Rachel Viele, Danny Cackley, Robert Pike, Toni Rae Salmi, Zach Brewster-Geisz, Jon Jon Johnson, Annalisa Dias, Linda Baird, and Erika Jones . Dance Choreography: Elena Velasco . Set and costume design: Debra Kim Sivigny . Lighting design: Katie McCreary . Music direction: James Bigbee Garver . Properties design: Britney Mongold . Puppet design: Alex Vernon . Produced by WSC Avant Bard . Reviewed by Susan Galbraith.