I am sure this statement – and the following article –  will come as a complete shock to absolutely everyone who knows me or who has seen my work before: I am a feminist.
I'll give us all a moment to pick our jaws up off the floor before continuing.
Nu Sass Productions prides itself on making space for women in theatre, on and off the stage. Part of our mission statement includes the idea that women are more than 50% of the population – ergo, they should be more than 50% of our production team: cast, producers, designers, and crew alike. We have been blessed with getting to work with a variety of incredibly talented designers, male and female, who have make the production side of our minimum gender ratio requirement easy to match.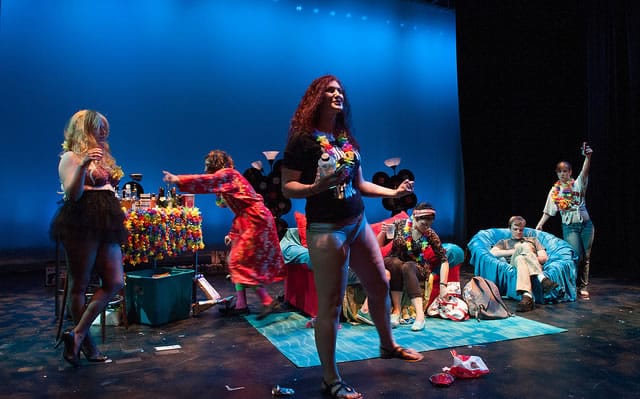 On the stage, however, it sometimes gets more difficult. It is 2016, and even now, my fellow co-producer and artistic director Aubri O'Connor and I struggle with finding plays that not only satisfy our personal artistic drive, but also either provide enough women to begin with or allow us to gender-bend casts so we can meet our female representation goals. Trying to create a full season is an exhausting process for any theatre company – doubly so for companies attempting to bring diversity and representation to the art. (Dear playwrights – by all means, yes, send us that play of yours that you think might be perfect for us. We promise you we want to read it.)
So thank heavens for Danny Rovin. Two years ago he approached us both with a script about a party house; a house filled with unhappy millennials trying to solve their problems at the bottom of a bottle; a house about to be haunted by more than just the smell of last night's spilled beer. And on the very second page of the script, he had added a disclaimer – "… Joys and sorrows are universal. They know neither race nor gender, nor societal boundary. If the director wishes a character to be a female, let that character be female. If the director wishes that lovers be of the same gender, then let it be so".
He couldn't have sold it to me better.

STONE TAPE PARTY
January 21 – February 7
Atlas Performing Arts Center
1333 H Street NE
Washington, DC 20002
Thursdays thru Sundays
Tickets: $30
Details
Website
Check for discounts


———————
For our original staging of Stone Tape Party for Capital Fringe Festival 2014, we were blessed with two fantastically talented male actors, Jack Novak (Dusty) and Ben Calman (Basie).  For our remount this year, unfortunately, both of them (as well as the amazing Bess Kaye, who played the role of Kat) were unable to reprise their roles due to scheduling conflicts with prior commitments. So Aubri and I found ourselves with three roles we needed to recast, and a question on our minds: do we aim for the same kind of gender breakdown and try to re-create the old Stone Tape Party as closely as possible? Or do we take the opportunity to see what this play would become if one – or both – of our previously male characters was instead played a female?
We opted for the latter, and are delighted to now bring you a 100% female version of Stone Tape Party: The Re-Mix. Now, I could go into detail about how strange and wonderful it has been to explore this play again with new voices bringing new ideas to the table. I could wax poetic on what it means to be exploring female, bisexual, and lesbian sexuality with a group of incredibly intelligent and caring actors. I could talk for hours about how excited I am that this production is showing sides of what it means to be a woman that I don't think I have ever seen portrayed on stage before…
I could, but – it will be so much more fun to have you see it for yourself.
—————–
Guest writer Angela Kay Pirko is a DC-based actor and director who has worked in film and theatre in DC and New York. She is the Co-Producer and Resident Director for Nu Sass Productions, and Founder and producer for Gooseberry Productions.