"If you didn't witness it in person, it's difficult to grasp what it really was. That's something I'm trying to wrestle with in this piece."
I was speaking to Ed Dixon, who wrote and is performing Georgie: My Adventures with George Rose at Signature Theatre through February 7th. He was describing that elusive element called star quality as it applies to his title character.
Georgie is a theatrical memoir of Dixon's friend and mentor, the Tony-winning British actor who spent most of his career and later life in the States — that is, until he bought a place in the Dominican Republic. He began spending his time between shows there, and intended eventually to retire to an idyllic Caribbean paradise.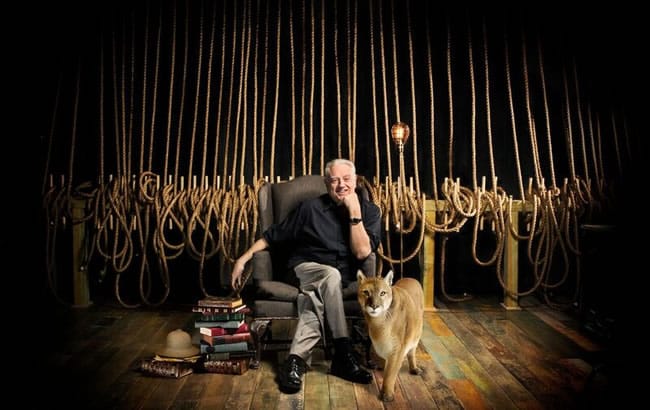 It was a story on the front page, I remember, when The Washington Post reported the death of George Rose following a car accident in his second adopted homeland. It was also on the front page a few days later when the shocking news arrived that it was no accident. Rose had probably been murdered by, among others, a young Dominican boy whom he had adopted. The car accident had been staged to conceal the murder.
I began my talk with Dixon by telling him how much I had admired Rose. I had seen him in the British comedy My Fat Friend. (It played the National during a tour prior to a healthy run on Broadway.) Rose was the wise and witty gay roommate of a heavyish woman who decides to lose weight in order to win the guy of her dreams. (Lynn Redgrave played that role, while a young John Lithgow played their other roommate, who loves Lynn and doesn't care what she weighs.)
A few years later, Rose was back at the National touring The Kingfisher, which starred Rex Harrison and Claudette Colbert as old flames rekindling romance during their golden years. Rose rounded out the cast as the valet whose devotion to Sexy Rexy may be more than just professional.
And I saw his Captain Hook opposite Sandy Duncan's Peter Pan. An actor comfortable and experienced in Shakespeare (he supported Richard Burton in the legendary rehearsal-clothes Hamlet), he was also a consummate (and terrifically entertaining) song-and-dance man.
The killing of Mister George was the shocking end to a brilliant career, and is a tricky subject for a play, but Dixon has received wonderful reviews for both his work on stage and at the keyboard.
"The last half-hour of this 90-minute memoir is a stunner," reported Nelson Pressley in The Washington Post. "A miracle of stagecraft and not a small reason for why I go to the theater," raved Alan Katz on DCTS.com as he described a climactic moment.
I wanted to know what made Dixon present the piece now, nearly thirty years after Rose's death.
"I think that's a very interesting part of the story," Dixon began, and he told me about Richie Ridge, a caricaturist for The Wall Street Journal who had also done the cover art for Dixon's memoir Secrets of a Life On Stage…and Off. "He is also a neighbor and a good friend, who recently had a huge retrospective at New World Stages."
Dixon came to Ridge's opening. "He surprised the hell out of me by saying that he wanted to come to my house to look at my memorabilia."

GEORGIE: MY ADVENTURES WITH GEORGE ROSE
January 8 – February 7, 2016
Signature Theatre
4200 Campbell Avenue
Arlington, VA 22206
Tickets: $56 – $88
Tuesdays thru Sundays
Details
Tickets
C heck for discounts
That visit was arranged. "We talked for five hours and fifteen minutes without taking a breath." Suddenly, the talk shifted to George Rose.
It was Ridge who suggested that Dixon had, in Rose, a wonderful subject for a solo show. "When he said it, it resonated. I ran to my computer and started typing all night. In 28 days, I had a first draft. (Now I'm about 100 drafts in.)"
Dixon felt that he had the arc of the story, but, "when I got to the end of the story, I thought, 'Is it possible to tell the end?' I wasn't sure it was possible. The subject matter was so difficult, I wasn't sure. Then I got very excited about the prospect and things went very quickly after that.
With a completed script, Dixon arranged a reading. "The New York Times surprised me by showing up." When the Times arranged a photo shoot to accompany an article, "I realized that it had legs — it got so much attention before it even happened."
Did Dixon ever consider a different format than the one-man show? "Whenever I write anything, I have a vision about what it will be from the start." After his friend Ridge suggested a single-character piece, "I had a vision of what that might be."
Dixon did admit to an earlier concept. Birgit Nilsson, the famed soprano, "had a famous stalker and, at one point, several years ago, I had the concept of doing a show" that would pair her story with that of Rose. With each performer, Dixon had had an "idol-like relationship. It would be a two-part show. I did start it, but it never took fire." It wasn't until two years go, he told me, that the current iteration did catch fire.
I asked Dixon what relevance he thought the story of his friend would have for an audience in 2016. "I don't really know how to answer that question. It has important resonance to me. It was such a large experience in my life. I came to believe that if something is this important to me, it might be to others. But I had no altruistic idea that, 'Oh, this is helpful to or salient for today's audiences.'"
That said, Dixon continued: "I have had people come up to me after readings and say that they found personal resonance in it. Two very middle-class women came up to me after it and told me that it had put them in touch with the betrayal they had experienced in their marriages; that they had had a relationship with someone who turned out not to be who they thought they were."
Dixon thus began to expose his complicated feelings toward the subject — and to its inherent mystery. "The pieces of this puzzle are very large and interesting. I don't know how many stories of this magnitude people have in their lives."
I asked Dixon if he expected Georgie to provide him with some sense of closure that he might be seeking. "I had an enormous experience of closure three years ago at the time my book [his memoir] came out. It felt so healing and completing to me to write down my life. I had to give myself a lot of permission to write my life down, a lot of leeway in order to allow that. And because he [Rose] was at one time so famous and influential — it was more difficult to talk about my own life. It's been helpful to me. One never has clarity at the time. I do find the text painful. It's an open wound, but it recalls the beauty of his life at the same time. I didn't know I'd be able to do that. I didn't want an ugly piece. The majority is about the beauty of his life, not the horrible way it ended."
The New York Times reporter who covered that early reading, it turns out, was focused on the more notorious aspects of the story. "His interest was in the end. I said, 'I wish you wouldn't tell it that way.' But he said, 'It's in the public record. You can't tell me not to tell it.' But what I'm trying to tell takes an hour to set up. It's healing, but it's hurtful every time I do it."
The conversation reverted back to the talent of the man. "He had a fearlessness that he manifested in life and also on stage. His ability to improvise was so staggering — I interviewed a lot of people, and Judy Kaye told me a fascinating story."
Kaye is a Tony winning actress and has been, since she took over from Madeleine Kahn in On the Twentieth Century, one of the most highly-thought-of leading ladies in musical theatre.
Anyway, Kaye thought she would challenge the master of thinking on one's feet. She worked up something at home and sprung it on Rose during a performance. Dixon then quoted Kaye: "He turned to me like a wild animal. I woke up two days later, face down in a ditch, not knowing what had happened to me."
Dixon again: "His off-the-cuff quality was so powerful — she had walked into a tsunami of creativity."
I asked Dixon to remember his fondest recollection of the great man as an artist. That was an invited dress rehearsal of The Mystery of Edwin Drood. The Tony-winning show began life (as so many other shows did, including the revival of The Pirates of Penzance that starred Rose alongside Kevin Kline and Linda Ronstadt) as a Central Park summer show which proved so popular that it made the trip from the Park to Broadway.
"There was a full moon. No one knew anything about the show. It was the first time I saw Howard McGillin or Patti Cohenour. No one knew them. I had never seen Cleo Laine, though I knew of her, of course. I was in George's house seats. The part that he played, The Chairman, is one of the largest parts in all of musical theatre. It was one of my favorite nights ever, that night in Central Park. It was one of the most glorious things I have ever witnessed."
Video clips exist of Rose in that show and others from various Tony broadcasts over the years, but "it's so not the same thing. Film and TV are incapable of capturing that essence of him. Lengthy interviews don't in any way capture what I saw, in life and on stage. Those appearances do not conjure that ephemeral, mercurial, impish quality. He was so in the moment."
My brother Edward remembered a Times interview during which Rose complained that he had to leave Peter Pan in order to fulfill a contractual obligation to the tour of The Kingfisher. I've sometimes wondered if Kevin Kline resents the fact that he won his two Tony Awards for musicals, not for his many triumphs in straight plays. I speculated that Rose's disappointment at leaving a musical for a straight play might indicate that he wold not have had any such disappointment for winning his two Tony's in the musical categories.
(Rose's second Tony was for the aforementioned The Mystery of Edwin Drood. The first was as Alfred Doolittle in My Fair Lady — the twenty-year anniversary revival — taking Best Actor in a Musical for what is really a supporting role, and winning the only category that year that didn't have a nominee and winner from A Chorus Line.)
Dixon laughed and agreed. "He had a great love of the music hall. He did a whole evening of music hall." I remember when Rose was interviewed on Dick Cavett's PBS show during the run of that cabaret act he had put together. The broadcast ended with Cavett joining Rose singing "The Man Who Broke the Bank in Monte Carlo."
Dixon spoke of Rose's love of all things to do with opera and operetta. "I originally met him touring in The Student Prince." In fact, Dixon told me, Rose got into theatre through music. He had learned to sing as a child in church. "The first jobs he got were because of his singing."
Georgie is being directed by Signature's Artistic Director Eric Schaeffer, who also designed the set, which is "very beautiful and evocative." We spoke during technical rehearsals, and Dixon was looking forward to having a stand-in on stage, so that he could experience the design from the audience perspective.
Dixon effused about his Signature experience. "It's so pleasant in the room. It's rare when things are this pleasant and easy. I'm marveling at how easy and effortless it is. This [a world premiere production] could be fraught with difficulties, but it couldn't be smoother and more pleasant."
I asked Dixon if the script had been in flux. "It's pretty much settled." He described the process of readings and workshops that had preceded this first full run, "so I could experience it in front of an audience and wouldn't be petrified here."
And that development process grounded Dixon in the piece. "It shifted where the piece lies inside my body and spirit. I observed that the performance shifted into my bones in a different way, the way a part does when you live with it."
Dixon, by the way, was in Les Miserables for, um, a long time, and "when I did it, I knew things about Thénardier after the 1,000th time I did it. It becomes part of my skin. It moves inside myself. I'm not so much looking for it as experiencing it."
I asked what Schaeffer had brought to the show. "Eric has such a unique vision of it. I don't think visually. I love that he designed the set himself. He also set up a publicity shot that we did recently. I didn't understand what he was talking about until I saw it."
Schaeffer also helped mold the script. "He went through it and told me which parts were over-written and which under-written, what should be brought forth and what left out. We continued that work here, and also via phone before I got here. At every rehearsal, he has had a suggestion about tempo and tone. By the time I got here, I had implemented almost all of his ideas. Now, it's too late for any more of that. The version we're looking at today is the version we will open with."
I'll end where I began, with Dixon talking about that special theatrical charisma of which George Rose was possessed. "I saw Ethel Merman live twice and I was struck by what a star she was. Film and recordings didn't capture what made her famous in theatre. It's a different form of expression, It can't be taped. If I didn't know George as well as I do, I would 't understand that quality, but I toured with him and saw it up close. He wasn't a matinee idol. But he brought a vast amount of energy into a space. That's what theatre work is."