There's a certain irony in watching Sweat, a play about the annihilation of the American working class, in corporate-sponsored palatial theater charging $80+ a pop for full-price seats, not to mention a lobby table from notoriously anti-union and universally-despised cable giant Comcast.
But there is a sense of poignancy, too, because this production wields the hopeful social magic of the theater to create an agora where wealth pays to hear poverty's politics and a forum for converting workers' sweat and sorrows into stories.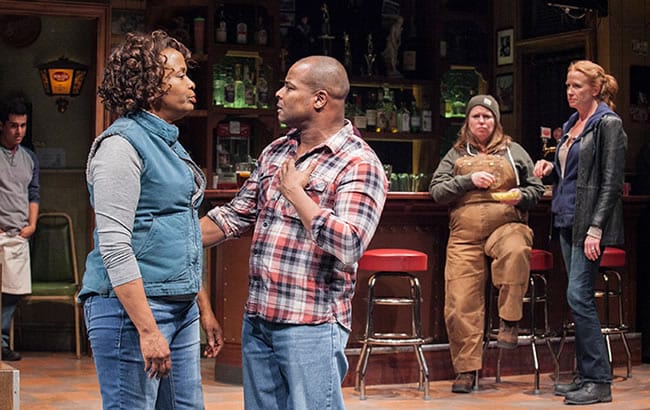 Lynn Nottage's newest work turns the devastation of Reading, Pennsylvania's blue-collar swan song sirenic by alternating focus on the forerunning and aftermath of a crime left unrevealed until the brutal climax.
But Sweat is a mystery of motivation as much as a Who/Howdunit. The intrigue of this play doesn't lie in who committed the crime. Guilt is clear from the opening scene of parolee interviews of Jason (Stephen Michael Spencer's once-grinning goof who now sports neo-nazi prison ink and an attitude to accompany it) and Chris (Tramell Tillmann, whose more subtle but as heart-breaking transformation shines).
Even what is ostensibly the driving dramatic question of the play, "What is the hidden crime Jason and Chris commit?" is reasonably guessable by the early on in Act II, though Nottage has found a brilliant and unexpected extra twist of the knife. The real pull of Sweat is how the disintegration of their social bonds, their livelihoods, and their families culminates into the disintegration of their lives.
It isn't just Chris and Jason who lose out, though and, while their story establishes the main arc of the play, most stage time is devoted to their parents, their parents' generation, and the bar where they drink. DC audience regulars will recognize Johanna Day as Jason's mother Tracey from Arena's previous productions of The Rainmaker and Good People as she continues her mastery of the role of the hardscrabble, morally-complicated working White woman.
Kimberley Scott also returns to Arena's stage this time as Chris's mother Cynthia whose pursuit of the American Dream in the guise of a promotion above the factory floor (where every character in this play works at one time or another) tears apart their friendship and brings out racial ugliness when she succeeds as a Black woman. Scott matches Day step for step down the road of shattering pathos, and her apparent success quickly turns to ashes, as it does with nearly every character in this play. Even old Stan (played heart-felt and folksy by Jack Willis ) the barkeep and former steel worker doesn't escape the Charybdian spiral. His final words of the play, "Thank you," may be the most heart-wrenchingly brutal two words I've ever seen onstage.
The only character who might escape with some semblance of hope is Oscar, the barback whose role is curiously brilliant, as well as brilliantly executed by Reza Salazar. Salazar plays Oscar with tight butlerian invisibility, until he can no longer be invisible, then he lights up the room with inner fire. Curious because Oscar says precious little for the vast majority of the play, though he is onstage for most of the time. Brilliant because of his silent interaction with the set and the other characters. Because Sweat takes place at the after-work bar for the steel mill, we see them blowing off steam from a long work day: talking about work (complaining, really), drinking, and, many times, ordering Oscar about like he is a servant. He civilly watches them complain about their $20+ dollars an hour, their inability to get fired, and their personal lives while he gets paid sub-$10 for chipping their gum off the bottoms of the tables and receives their derision for thanks.
Sweat is incisively titled because that title signifies so many aspects of the play. It is a play about the anxiety of threatened livelihood, about the strenuous and sometimes futile exertion toward the American Dream these characters think they want. Sweat depicts parole officer Evan (Tyrone Wilson) sweating Jason and Chris in interviews and Chris's father (Kevin Kenerly) sweating from the habit he picked up while on strike.

SWEAT



January 15 – February 21, 2016
Arena Stage at the Mead Center for American Theater
1101 Sixth Street, SW
Washington, DC 20024
Tuesdays thru Sundays
Tickets: $80 – $110
Details
Website


———————
But the play also shows a metaphorical sweating. Our culture and economics have exuded this class of working people like salty moisture. America, who once opened her doors, now opens her pores and pours out the kind of people who were once her most essential part. Sweat is the  product of labor, as is this play, a social drama growing from our world coming to grips with a post-industrial present.
The characters' treading water in that existential ocean is honest and fair though the storyteller in me wishes that they would actually do more to grapple with their situation than talk about doing it. Sweat is as much about setting anything else, and I'm not talking about the production design, which was restrained in its rhapsody by time, place, and style. The play grew from Nottage going to Reading, meeting its people, then making their real strife fictional, but just as True. And for the ending of strife? Well, there's always Oscar: hardworking, brave, classy and like many of the people in white shirts and black ties clearing crumb-filled trays from the catered post-opening soiree, Latino.
Race is as important to Sweat as class is. But Nottage makes clear that looking to remedy class or to racial strife to answer American problems is to misunderstand the question. She makes us look, not at a class nor at a race nor at some -ism, but at the people of Reading, Pennsylvania, a place that those of us who are privileged enough to attend an extraordinary night of theater by a Pulitzer-winning playwright might have in our blind spot. Do her, and yourself, a favor, and take a look.
——————–
Sweat by Lynn Nottage. Directed by Kate Whoriskey . Featuring Johanna Day, Kevin Kenerly, Tara Mullen, Reza Salazar, Kimberley Scott, Stephen Michael Spencer, Tramell Tillman, and Tyrone Wilson. Set Deseign: John Lee Beatty . Costume Design: Jennifer Moeller . Lighting Design: Peter Kaczorowski . Original Music and Sound Design: Rob Milburn & Michael Bodeen . Projection Design: Jeff Sugg. Stage Manager: Kurt Hall . Produced by Arena Stage and Oregon Shakespeare Festival . Review by Alan Katz.