1.  This Chihuahua Who Found Out That There Was No Live Stream of the Nomination Announcements, But Then Remembered That Twitter is a Thing.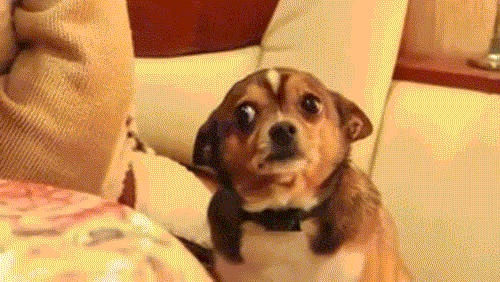 Notice that she is still real disappointed. I'm sure someone did the calculations on viewership and setup cost and it didn't work out, but that doesn't mean that one still can't complain about it. On the plus side, not having a livestream means that said livestream wasn't marred by technical problems. Also, three important HHA Twitter facts:
last night, #HHANoms was trending in Philadelphia,
many people will be calling in sick today with sore thumbs,
and Twitter Goddess Gwen Grastorf (@gwenigma) was nominated for her role in Impossible! A Happenstance Circus, which I highly recommended
2.  The announcement of Rorschach's Very Still and Hard to See getting 5 nominations that gave this Australian Shepherd flashbacks.
First imagine that those aren't cupcakes being presented to this poor buddy, but representations of the 5 award nominations for Steve Yockey's Japanese-inspired hotel horrorshow. Then, imagine that this dog is replaying all of the terrifying scenes from that play, from a human hole consuming the floor to blank-masked ghosts appearing out of nowhere to cackling revenge arson, in its poor tiny head. Much like this dog, I actually couldn't tell whether I peed myself from fear because I had to go home to huddle in the shower fully clothed and rock back and forth afterward. Only for a few hours though.
3.  These Pugs that are Basically Flying V
Flying V has done something unique this year by grabbing multiple nominations for HHA the year after they won the John Aniello Award for Outstanding Emerging Theater Company. Some previous winners like Constellation Theatre and Faction of Fools have nabbed a single nod, but Flying V's pair (including Outstanding Ensemble for Flying V Fights: Heroes and Monsters) is unprecedented. And they've done it all while being chillaxing, pop-savvy "cool" nerds. Not unlike these pugs.
4.  This Mutt Who Embodies Many Theater Artists' Attitudes Toward Awards
One guarantee when nominations come out or awards are given is a flood of posts from artists claiming that they don't care about awards and that the concept of theater awards (that is, comparing one theatrical production to another) is nonsensical. While I sympathize in the sense that every piece of theater is its own special snowflake, I would argue that not only are comparisons inevitable, but awards competitions are necessary because they give a sense of the zeitgeist, foster discussion, and provide a platform to show off our best local work to the national stage. Then again, my job is to write about shows, literally comparing them and giving them a star rating, so what do I know.
5.  One Golden Retriever Puppy for Every Nomination for Shakespeare Theater Company
I realize that this gif doesn't contain 26 puppies, but if you let it loop enough times, it'll get there. Their nominations include the Design Grand Slam for Salomé (Set, Light, Sound and Costume), plus a variety of nominations for their Man of La Mancha and Kiss Me, Kate, which proves that STC stages roof-raising musicals that are not only popular, but award-garnering and relatively within their mission.
6.  This Dog that Can't Understand Whether his Projection Design Goes in the Set or Lighting Categories.
Projection design has been hotly debated at least since I was on the HHA judges panel. Where does it belong? Is it lights since it uses light? Is it set since they can provide structure and context for a show? Should it be in a separate category since it really isn't set or lights? If so, how do you judge it, because not every show has projections or media design? In a bold move this year, theatreWashington has said, "Porque no los dos?" and put one nomination for projections in Set (for Arena's Dear Evan Hansen) and one nomination in Lights (for Theater Alliance's Dontrell, Who Kissed the Sea). Finally, yes, I know that is a cat. It's an entry about confusion, you see, very ironic.
7.  A West Highland Terrier Who Had an Experience Similar to Woolly Mammoth Theatre Company's
Since the split of Helen (ie dirty plebian) productions and Hayes (ie snooty plutocrat) productions last year, it has become commonly understood that a the few theaters in town that can afford to produce shows featuring a majority of Equity member actors on the regular form share the Hayes Awards in a sort of closed loop, pie chart form while hoards of less-than-Equity smaller companies scrap over the Helen Awards.
Unfortunately, this year Woolly Mammoth got a slice of pie relatively equivalent to the slice that my grandmother would give me because she was worried about enabling her mouth-breathingly chubby grandson in his downward spiral of eating his repressed emotions. Much like this Golden Retriever and West Highland Terrier, in the Hayes Category, one theater's gain is another theater's loss. Poor Woolly, they stage three world premiere productions, including the much-anticipated and well-reviewed Women Laughing Alone With Salad and bring in several highly acclaimed visiting productions, and this is the thanks they get. I would encourage you to go see Woolly productions despite this setback because their spring lineup is dynamite.
8.  This Puppet Dog Who Wins Hearts and Minds as Much as Avenue Q's Puppets
The breakout production of this awards season is undoubtedly the surprising and intimate staging of Broadway smash Avenue Q by tiny Constellation Theater Company. When I interviewed Avenue Q  director and Artistic Director of Constellation, Allison Stockman, we talked about how this show represents a significant departure from Constellation's previous work, taking their mission in a new direction and appealing to a younger, hipper crowd. That new direction has worked like a charm, making Avenue Q the best selling show in Constellation history and now garnering 16 nominations of Helen Hayes Awards, more than any other production.