Can you think of anything as emotionally dramatic or hilariously rambunctious as a party at a haunted drunken lesbian coke house? Me neither. Fortunately, you've got an invitation to the Stone Tape Party: Remix, produced by Nu Sass at Atlas Performing Arts Center.
As you enter, the party is already raging and you get to have an Immersive Theater Interaction™ with the ladies of the house and their party guests. They're all hard-drinking, hard-loving and hard-hating ladies who have no qualms about getting close and personal with you, the audience member, whether via a game of Truth or Dare or some pickup lines that are so aggressive they make Tinder seem like Christian Mingle.
I say they're all that way, but that isn't 100% true. There's one exception: Dusty (played by Bri Manante, who shows nice range in this lead role) who is hung up on the fact that this is a birthday party being held for her departed best friend, Aeden. To Dusty's surprise, Aeden (who gets a charming yet creepy treatment from Ariana Almajan) shows up after the party to haunt Dusty, who is thinking about leaving her friends, her house, her new girlfriend, and her "play hard…then play harder" lifestyle behind. The trouble with Aeden's ghost is that only Dusty can see her.
While Dusty's decision to run away and her relationship with the possibly figmental Aeden form the spine of the play, Stone Tape Party: Remix is much more than that. In fact, one of the most pleasurable things about this pleasurable play is that, much like a real house party, it's complicated. Not "It's Complicated" as in a Facebook relationship (though that would accurately describe many of the relationships between the characters), but complicated in the sense that it has dozens of moving parts, subtle contexts and tones that alter noticeably when different characters are onstage, and a deep enough background that even hawk-eyed audience members (like yours truly) cannot dream of fully understanding the characters in a single two and a half hour sitting.
All signs of strong playwriting, sharp directing, and smart acting. But also signs of a familiarity with the material that goes above and beyond the usual. You may have seen the original Stone Tape Party that won Best Overall at Fringe, and many of the actresses here reprise their roles here, which turns out to be a godsend for this play.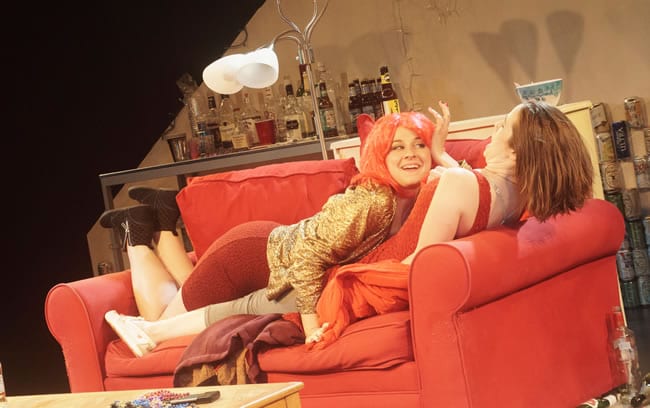 Jill Tighe as Dusty's ostensibly straight room/bedmate Jodie, Casey Leffue as Dusty's "in deep quick" girlfriend Zoe, and Aubri O'Connor as benevolent house dictator and dealer Rich are all returning, and their parts are perfect fits, reminding me of actors who play a role for hundreds of performances on Broadway. They know things about their characters, feel so comfortable in their voices that they can ad lib lines in party scenes with ease, and convince me (rightly or wrongly) that these roles were built for them. And all of this including an hour of material cut from the original.
There's a fine familiarity with the production design as well. I've spent enough time in trashed flophouses where people were igniting their brain cells with weapons-grade hallucinogens to know that this design team has got it exactly right. Eric McMorris nailed the crappy Craigslist furniture, random trash, and bevy of empty bottles which the characters have not yet realized are not trophies, but monuments to desperate escapism. O'Connor collaborated with Director Angela Pirko on the costumes that range from achingly sexy to piecemeal casual and everything in between. It doesn't feel finished, but it probably shouldn't, since no house party like Stone Tape Party should feel conscientiously, or even consciously, decorated.


STONE TAPE PARTY



January 21 – February 7, 2016
Atlas Performing Arts Center
1333 H Street NE
Washington, DC 20002
2 hours, 30 minutes with 1 intermission
Thursdays thru Sundays
Tickets: $30
Details
Website
Check for discounts


———————
And that's the toughest part about the piece. Stone Tape Party is honest to its characters and its setting even to the fault of a perfected craft. The play feels shouty, but who isn't shouty after taking a half liter of Svedka to the face? Some of the emotions and relationship tension moments seem overwrought, but how can people caught in a cycle of rager and hangover be anything but overwrought? The plot is unfocused, but isn't lack of focus is perhaps the most defining characteristic of people who give zero damns about their extended future? Besides, perhaps, early onset cirrhosis.
The result is a Stone Tape Party: Remix that feels "Fringe-y" to the max, in both the greatest and less great senses of the term. Nu Sass has successfully made a show that feels Real, with honest emotional moments and a chaotic ride that is a blast to attend. Snowzilla unfairly stomped on this fine show's unfortunately short run, so you only have one more weekend to take advantage of your invite to this wild party. And this party is some serious fun.
———————–
Stone Tape Party: Remix by Danny Rovin . Directed by Angela Pirko . Featuring Briana Manente, Ariana Almajan, Jill Tighe, Renana Fox, Aubri L. O'Connor, Casey Leffue, and Morgan Meadows . Set Design: Eric McMorris . Costume Design: Angela Pirko & Aubri O'Connor . Lighting Design: E. Hui Woo . Sound Design: Hope Villanueva . Movement: Angela Pirko . Media Design: Aubri O'Connor . Produced by Nu Sass Productions . Review by Alan Katz.