The most fun you can have at a three-hour epic about slavery.  A huge, sprawling play (with six more parts still coming!) that boils down to a few simple conversations.  A story that illuminates the African-American experience by way of Greek tragedy.  Verse on the plantation, prose on the battlefield, and blues guitar in between.  Father Comes Home From the Wars (Parts 1, 2 & 3), receiving its regional premiere at Round House, is a miracle of contradictions and contrasts.
Pulitzer-winning playwright Suzan-Lori Parks has the kind of grand vision that does not require technical fireworks, soap opera revelations, or any of that usual big-ticket stuff to fill the stage to bursting with meaning.  Everything is wrapped up tightly and purposefully, with Hero, the Civil War-era slave on a Homeric hero's journey, at the center.  The result is something that's easy to describe, but hard to talk about.  (Although the more I talk about it, the more I like it.)
It all starts with a question: who is Hero?  A chorus of his fellow slaves (Jefferson A. Russell, Jon Hudson Odom, Stori Ayers, and Ian Anthony Coleman, altogether excellent) place bets among themselves as to whether he is the kind of person – the kind of slave, the kind of friend, the kind of lover and son and dreamer – to go off with his master to fight in the Civil War, or to stay home.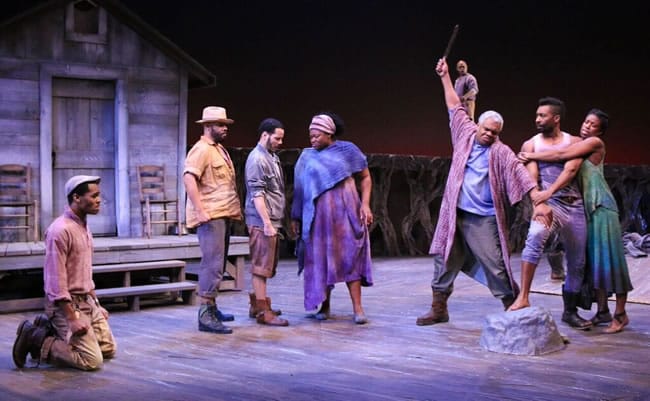 Others join the debate – The Oldest Old Man (Craig Wallace), Hero's paramour Penny (Valeka J. Holt), Hero's friend/rival Homer (KenYatta Rogers), and eventually Hero himself (JaBen Early).
And that's all the entire first part is – a dramatic argument, delivered with a mix of comic verve, theatrical gesture, and genuine feeling.  That's all it is, and yet, of course, it's much much more; Parks and the able cast, under Timothy Douglas' masterfully light and uncluttered direction, luxuriate in that question, delve into it, tear at it and soak in it and seek out all its edges and insides.  As it turns out, the question of which choice Hero will make resonates with everyone around him – and all the way from 1862 to today.
The other two parts are similar in their miles-deep laser focus.  In part 2, we meet Hero's master, the Colonel (Tim Getman), who has captured a Union Captain (Michael Kevin Darnall) while lost in the wilderness.  What is it for Hero to be a black man working for the Confederate Army?  What is his value, to himself and others – and others' value to him?  Finally, Part 3 brings us back to the plantation, where Hero's return is awaited by those he left, wondering if he is alive or dead, and what his return means.  (And so as not to lose sight of the play's entertainment quality, it should also be noted part 3 is the one with the talking dog.)
Between these bold, straightforward strokes of plot, there is a rainbow of subtleties, beyond the scope of this review to fully bring to light.  Instead, I'll focus on what is clear: the consistently high level of quality by all the artists in this production.
A sort of passionate restraint and clarity of purpose unite everyone.  Scenic designer Tony Cisek supplies little more than a compact slaves' cabin, some tree trunks, and a gnarled, wooden ramp, but they all – especially that gargantuan ramp – reveal more to themselves the longer you look at them (like the play itself).  Helen Huang's costumes reveal hidden schemes as well, and Andrew R. Cissna's lights abandon obvious spotlighting tricks in favor of slow, careful shifts that work on your subconscious.
All the players (including those of the previously-mentioned chorus) are just as committed.  If Wallace takes the silliness of his role as Odyssey Dog in the third act a little too far at moments, and if Holt occasionally plays Penny in a bit more inwardly-focused a manner than the other actors, these are but small distractions, and both they and the other leads are continually absorbing.

FATHER COMES HOME FROM THE WARS
(Parts 1, 2 & 3)



January 27 – February 28, 2016
Round House Theatre
4545 East-West Highway
Bethesda, MD 20814
3 hours, 15 minutes with 2 intermissions
Tuesdays thru Sundays
Tickets: $56 – %66
Details
Website
Check for Discounts

———————
Rogers looses Parks' words with vigor and a full sense of their moral weight as underdog Homer.  Darnall finds an array of hopeful and quietly defiant shades as the captured Union soldier, while Getman locates enough of what is decent, needy, and human in the Colonel to make the bad in him all the more menacing and despicable.
Local bluesman Memphis Gold supplies live songs before and between the acts in a voice honest and knowing.  And finally there's Early, oft seen on DC stages, doing breakout work in the anchor role.  He lets us see how his Hero is imperfect and changing while still maintaining an essential charismatic nobility, so we never doubt that all these characters around him are so drawn to the continuing question of just who he is.
I admit, the idea of there being six more parts to this epic work feels daunting.  If each of the three parts showing at Round House were produced as separate plays, it would already feel like a complete trilogy; the fact that Parks has twice as much still in store makes the experience of seeing these three like the experience of being introduced to geometry only to discover there's trigonometry and fluid dynamics and quantum physics still to come.  There's so much to learn, about Hero, and the world he lives in, and our world; the journey's just begun.

————–
Father Comes Home From the Wars (Parts 1, 2 & 3) by Suzan Lori-Parks . Directed by Timothy Douglas . Featuring Stori Ayers, Ian Anthony Coleman, Michael Kevin Darnall, JaBen Early, Tim Getman, Valeka J. Holt, Jon Hudson Odom, Jefferson A. Russell, KenYatta Rogers, Craig Wallace . Musician: Memphis Gold . Scenic Design: Tony Cisek . Costume Design: Helen Huang . Lighting Design: Andrew R. Cissna . Sound Design: Eric Shimelonis . Props Master: Kasey Hendricks.  Stage Manager: Che Wernsman . Produced by Round House Theatre . Reviewed by Brett Steven Abelman.