If ever you feel that local talent can never be as good as what you'll see and hear in New York or LA, consider this: sometimes people come here to see new stuff. 'Local' is relative.
So it is with the talented Thomas W. Jones II and his two collaborators, William Hubbard and William Knowles: lucky you, their stuff's in town, and you don't have to travel far to see their work. Shake Loose: A Musical Night of Blues, Moods and Icons, is an evening of some of the best of the over 300+ songs these gentlemen have written for a variety of different shows.
Four fine performers round out the cast: Rayshun LaMarr, Anthony Manough, Roz White, and Lori Williams, all working together as a good solid ensemble, each having many a chance to shine throughout te evening with gutbusting solos scattered alongside the company numbers.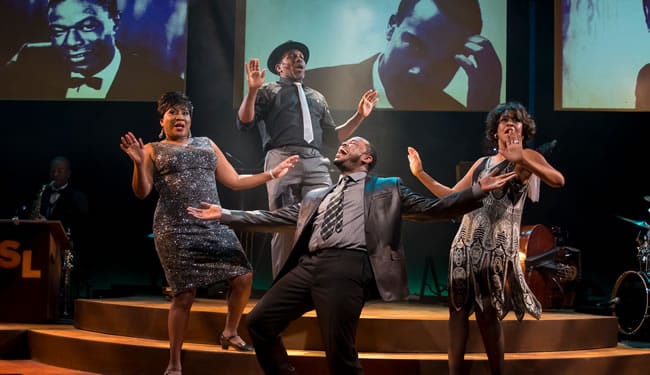 A special mention should go out to director/choreographer Thomas W. Jones II, who, in addition to being one of the show's songwriters, seems to be a triple threat: movement and choreography for this show was endlessly varied and intriguing, a difficult and impressive feat given the lack of square footage onstage. Who knew four performers with a couple of tables and stools could be staged so well? Good job, Mr Jones.
There's a fine vein of humor throughout the show, and the best work is also the funniest: "A Basement Kind of Love" with the whole cast, celebrates the funk of house parties of the 1970s; and Act 2's "Barely Breathing" as sung by Roz White, is, quite frankly, worth the cost of admission alone. Ever hear an audience scream with laughter? You will when you see this one. Wish she'd sung it twice, and two days later, I sure wish I'd thought to buy the CD just to hear that number again. (note to future patrons: don't make my mistake. Buy the CD as you exit the lobby.)
Though the songs are themselves pulled from other shows, Shake Loose itself is a new entity, with a skeleton framework: in Act I, it's Migration Blues, Riot and Rebellion, Blue Basement Sweat, In The House Of My Father; Act 2 consists of Icons, After Midnight Moods, and Shake Loose. Where the show loses its locomotion is in how the songs are strung together- there's just no arc to speak of, no journey for the audience save for a few spoken bridges and poetry, and it isn't really enough. There are some real disconnects; in Act 1, for example, there's a fine comedic song about Soul Train which is immediately followed by a somber piece about Selma, Alabama. It isn't that these two dissimilar topics couldn't be connected in some way- they could- it's just that the audience isn't given any dramatic segue between the two.
Projection design by Robbie Hayes was overall well done, with some wonderful historical images rarely seen, including an ebullient still of Sammy Davis Jr, cigarette in hand, in a dancer's midair leap at the height of his Rat Pack years. Mention must be made, though, that some of the images chosen were needlessly graphic and not at all in tune with the overall joyous mood of the evening. Especially disturbing were the photos of Dr. Martin Luther King, Jr. and Robert Kennedy's assassinations, with images of the hole in RKK's throat moments after he died and a photo of MLK as he writhed in agony in his last moments on that balcony. Hard to watch a live person onstage while that's floating above them.

SHAKE LOOSE



January 28 – March 6, 2016
MetroStage
1201 North Royal Street
Alexandria, VA 22314
2 hours, 15 minutes with 1 intermission
Wednesdays thru Sundays
Tickets: $55 – $60
Details
Website
———————
As it is now, Shake Loose is a rough assemblage of very good parts. And that's a great disservice: there is some serious talent on stage, from the stellar performers to the music itself. In short, this show could use a book- a more cohesive point of view for the songs to highlight, not simply favorite songs pulled from the artists' songbook and arranged rather randomly under chapter headings. This is something which few cabaret show producers ever need to consider, but which Shake Loose richly deserves.
Shake Loose has the potential to be so much more than a cabaret evening. There is some truly fine songwriting going on here, and a chance for an evening of some serious reflection on African American experiences of the last century:  It's a good show now, and with a bit more work could be a great one.
———————
Shake Loose . Music & Lyrics: Thomas W. Jones II, William Hubbard and William Knowles . Director/Choreographer: Thomas W Jones II . Music Director: William Knowles . Co-Music Director: William Hubbard . Ensemble: Anthony Manough, Lori Williams, Rayshun Lamarr, Roz White . Band: William Knowles, Yusuf Chisholm, Alvin Trask, Greg Holloway, DeAndre Shaifer, Grant Langford . Costumes: Janine Sunday . Set Design: Carl Gudenius & Shuxing Fan . Lighting Design: Alexander Keen . Sound Design: Gordon Nimmo-Smith . Projection Design: Robbie Hayes . Technical Director: William Woodward . Stage Manager: David Elias . Produced by MetroStage . Reviewed by Jill Kyle-Keith.
——————–
PS:  If you've never been to MetroStage, you're in for a surprise: from the outside, it looks more like a warehouse than a theatre. Hidden in the heart of Alexandria, Va, it's bordered by townhomes and a small garden center, and the exterior is, well, unprepossessing. Step inside, though, and it's got a snazzy little venue, with room for a six piece band and more on its small thrust stage. A big plus is the sharply staggered seating: with the row in front of you lower than in most small theatres, even the shortest of theatre patrons (it should be mentioned your reviewer is 4'11") will have no difficulty seeing everything. Tech is up-to-the minute here: prior to show's start, three large screens at the back of the stage showed a revolving palette of quite good professional portraits of the performers  (artist photographer not credited).