Two actors on an austere stage plus director John Vreeke equal nirvana in Woolly Mammoth's revelatory production of Rajiv Joseph's tough, funny, poetic play Guards at the Taj.
This is one of those shows that makes you feel lucky to be in D.C. and privy to such gorgeous new plays and productions as this. It's a hard experience to shake and like one of the characters, you feel as those you've fallen into a trance.
The play begins on the eve of the unveiling of the Taj Mahal, purported to be the most beautiful building on earth. Two low-level imperial guards Humayun (Ethan Hova) and Babur (Kenneth De Abrew) stand at the marble entrance with their backs to the edifice—forbidden to look until sunrise.
But really, wouldn't you want to sneak a peek? Humayun, the pedant of the pair, tries to follow orders but is cajoled by the more jovial and loose Babur to disobey orders. In the comic, clown-like exchanges that remind you of a South Asian version of Waiting for Godot, the two swap secrets and gossip about the construction of the Taj Mahal and you are lulled by the easygoing banter that you find between lifelong friends.
Alan Katz talks with The Guards
Humayun is the duty-bound rule-follower, all tied up with trying to prove his worth to his career military father and almost absurd in his loyalty to the ruler Shah Jahan. Babur is the philosopher and dreamer, seemingly a goof-off but someone whose imaginary inventions include the flying machine equipped with seat belts.
You really cannot find a more potent and true pairing as Hova and De Abrew, who portray the realist and the idealist, the straight man and the comic foil, with such openness and poise you feel like you are eavesdropping undetected on a private conversation.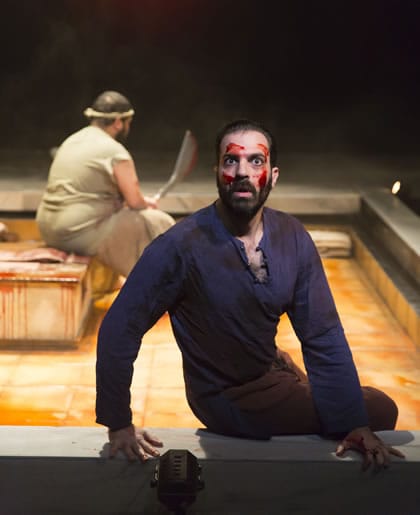 Their glimpse of the Taj Mahal dazzles both them and us. This look at unparalleled beauty gives the second part of the play a searing brutality as they are commanded to defend this beauty from any possible rivals through unspeakable acts.
From the dream-like quiet of the first part, we move to an intense interior scene, an abattoir of sorts set up in the shadows of the Taj Mahal, which was built as a mausoleum and tribute to the Shah's favorite wife, the late Empress Mumtaz Mahal.
As they stumble around the filthy room, disheveled and disoriented, they try to piece together what they just did.  Humayun insists they just did their job and tries to convince the increasingly undone Babur to cope. Babur, true to his metaphysical nature, is convinced they ruined something pure and nothing will ever be right again. Where Humayun sees rigid obeisance to duty, Babur envisions rebellion.
"Stop thinking. Stop talking." Humayun soothes, washing and dressing the dazed Babur like he's a baby.  The placid loveliness of the earlier scene has turned into a chamber of horrors as we watch Humayun and Babur become the latest victims of the Shah's cruel caprices.


GUARDS AT THE TAJ



February 1 – 28, 2016
Woolly Mammoth Theatre Company
641 D St NW
Washington, DC 20004
1 hour, 30 minutes, no intermission
Wednesdays thru Sundays
Tickets: $53 – $73
Website and Tickets
Check for Discounts

——————— 
The play delves into how the push and pull of good friends can be both sustaining and a prison. It also speaks to the high human toll paid throughout history (think the pyramids, the Parthenon, Great Wall of China and other majestic structures) for the wonders of the world—that were built by the wealthy but ultimately enjoyed by all.
What price beauty? What price friendship? These timeless questions are explored—but not answered—in Joseph's devastating play about two lowly men passing the time who get caught up in something much bigger than themselves—and more tragic.
—————-
Guards at the Taj by Rajiv Joseph . Director: John Vreeke . Cast: Ethan Hova and Kenneth De Abrew . Set Designer: Misha Kachman . Costume Designer: Frank Labovitz . Lighting Designer: Jen Schriever . Sound Designer: Palmer Hefferan . Fight Director: Casey Kaleba . Production Dramaturg: Kirsten Bowen . Production Stage Manager: Madison Bahr . Produced by Woolly Mammoth Theatre Company . Reviewed by Jayne Blanchard.