When the Rain Stops Falling, the startlingly complex multi-generational family drama now getting its regional premiere at 1st Stage Tysons, shows the inextricable ties between even estranged family over nearly a century and thousands of miles of distance through the curious transmission of memes (think idiosyncratic turns of phrase, repeated gestures, and even tendencies toward personality traits or relationship dynamics).
When the Rain Stops Falling is full to bursting with examples of these phenomena, and playwright Andrew Bovell uses them (from the repetition of "there are people drowning in Bangladesh" to parents' emotional distance from their children) like a composer uses themes: giving the same meme different contexts to show subtle shades of meaning and dramatically shifting tones, accompanied by a sense of inescapability from the cyclical nature of the ways we hurt and love each other.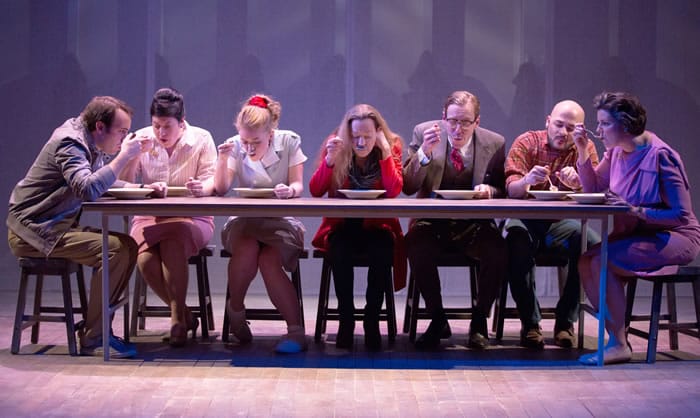 This studied approach creates a play that feels symphonic, contemplative and intellectual, while balancing the realism of domestic scenes with the fantasy of their overlap.
The aspect of complexity, both in plotting and in execution, separates When the Rain Stops Falling from the average grindy and talky family drama in the tradition of August Wilson or Tennessee Williams. In fact, the plot is so complex it takes a genealogical diagram and two and a half paragraphs in the program to explain it (definitely check it out before you watch). But Director Michael Dove has made clarity his clarion call in this staging. So despite multiple characters sharing a name, two characters being portrayed by two actors each at different ages, and coinciding instances of different times and places or even the same character appearing onstage at once, there was no moment in which I did not know what was going on or who was who.
The production feels unified under this focus, the classically spare production design, and Dove's inexorable pace. But these elements come at a cost. Dove's steady pace contributes to the symphony of pieces being woven together like a drumbeat, but that beat feels unchanging throughout the two hour run of the play. To put it another way, the time signature of the symphony never shifts, which may be fine for orchestral music, but weighs down a play.
Similarly, the production design is a two-edged sword. There are no distractions from the complex plotting, but, then again, there are no distractions from the complex plotting. (That said, there are some nice connective touches in color from Kelsey Hunt's costumes and Brittany Diliberto's lights.) Which means that when you pick up your tickets to When the Rain Stops Falling you had better bring your mental A-game as an audience member to concentrate on the intricate piece set before you.
Fortunately, this cast mostly makes that concentration worth the effort with nuanced interactions and lovely present stillness. Seattle import Scott Ward Abernethy not only works the only double casting of this play with alacrity, he has a sharpness and confidence that exudes psychological gravity and, even in this very ensemble-oriented piece, makes his Gabriel Law feel like the protagonist. His bullishness is matched with quality restraint by his scene partners Teresa Castacane (playing his stiffly British alcoholic mother Elizabeth Law) and Sara Dabney Tisdale (playing his fresh-faced Australian fling Gabrielle). Both of them draw Abernethy's character in, Castracane with mature frigidity and Tisdale with youthful fragility, but both of these women have flint in their souls that makes them fun to watch.
Four local stalwarts are dishing out their bread-and-butter in worlds different from Gabriel Law's 1988 England and Australia.
In 1950's and 60's England, Kari Ginsburg rocks the abandoned, yet relentlessly supportive housewife driven to the brink (and to drink) by her husband's (Dylan Myers) equally relentless inattention/fussiness/sinister mystery.
In 2013 Australia, Amy McWilliams (as the older version of Tisdale's character) charms with curmudgeonly attitude and graceful gracelessness in the face of her husband's (Frank Britton) stoic support that blossoms into emotional catharsis.
The one element that held the cast back as a whole was dialect. With few exceptions, the actors' facsimiles of Australian and English dialects lent more distraction than purpose to the play. Place is somewhat integral to the play, given the connections over space and time that the Australian playwright is trying to convey, but the dialect served to remind me more that I was in Tyson's Corner than in southern England or South Australia.
WHEN THE RAIN STOPS FALLING
February 4 – 28, 2016



1st Stage
1524 Spring Hill Road
McLean, VA 22102
2 hours, no intermission
Fridays thru Sundays
Tickets: $30
Details
Website
Check for discounts


———————
Some audience members are persnickety about dialect, so warning's fair, but I don't care very much. As an audience member, I'd much rather be impressed by the authenticity of an actor's emotion than the exact locality of their dialect.
Which brings up the eternal question of, "What kind of audience member is this play for?" I'd recommend this play for people who are quiet but crazy smart, the kind of person who isn't impressed by spectacle and wants their entertainment to challenge them, both emotionally and intellectually. This play is like a fine port, a peaty scotch or a long-form piece of music; it's meant to be taken in slowly and considered long after it is first enjoyed. And for me, that's great value in a good play.
—————
When the Rain Stops Falling by Andrew Bovell . Directed by Michael Dove . Featuring Scott Ward Abernethy, Mark Lee Adams, Frank Britton, Teresa Castracane, Kari Ginsburg, Amy McWilliams, Dylan Myers, and Sara Dabney Tisdale . Set Design: Luciana Stecconi . Lighting Design: Brittany Diliberto . Costume Design: Kelsey Hunt . Sound Design: Sarah O'Halloran . Props Design: Kevin Laughon . Stage Manager: Laura Schlachtmeyer . Produced by 1st Stage . Reviewed by Alan Katz.