"It's really raw and really real."
That is the quick summation offered by Johanna Day, one of the actresses helping tell the story of what happened in Reading, Pennsylvania when the economic downturn took a nosedive in 2008 leaving a community devastated by layoffs. But not just then, said Day. "This exact stuff is happening right now."
The story is filtered through the imagination of Pulitzer Prize-winning playwright Lynn Nottage in Sweat, now onstage at Arena Stage. After interviewing former workers and community members in Reading – once ranked the poorest city in the U.S. – Nottage fashioned her new play about the very personal struggles of people facing the harsh realities of de-industrialization, as she called it.
Actress Kimberly Scott described the play as a "micro view of what is happening broadly across the nation as we are experiencing the de-industrialization of America. The play shows this situation on an emotional and individual level."
Scott garnered praise for her role as Molly in Joe Turner's Come and Gone at Arena Stage and followed the play to Broadway. In Sweat, she plays Cynthia, a longtime employee in a Union-based factory in Reading.
"Cynthia is moral, she's ambitious, and she's like most women who are middle class and work hard," explained Scott. "She is trying to make sure the next generation ends up better than she's doing.  There's a string of events that happen in the play that are not simple or easy. Their workplace changes because of Wall Street and the unions."
Day, another Arena Stage veteran last seen as Marg in Good People, plays one of Cynthia's co-workers and friends, Tracey. "She is one of the three ladies who have been friends for many, many years – Cynthia, Tracey and Jessie – who became friends at work, in the factory." b
"They are solidly middle class, union members, and they are going through general fortunes at the factory are changing. They go through the experience of having to deal with one of them getting promoted."
Nottage's script shows the high stakes situation this group of co-workers face, explained Day.
These women were all on the same page, very much a community. They started working in these plants when they were 18 and 19 years old. And in the play, some of them are now in their 50s, close to retirement, when their bodies are shot, and they can barely hang on until they are 55 or 60."
"The changes they go through tears apart the community, and it tears apart friendships because everybody's in a panic. I mean what if you had been making a very decent living, and you were nearly 50 years old and counting on a retirement, and then someone just took everything away from you?"
The impact of the story is personal, but speaks to a larger problem, according to Scott. "The demise of the middle class in this country is a problem we cannot stick our head in the sand over. We must address what is happening to our middle class. We're talking about the American dream: we're talking life, liberty and the pursuit of happiness and a huge swath of our nation."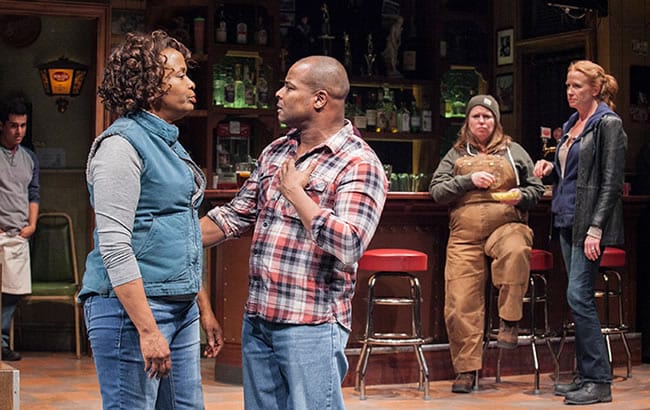 Scott feels Nottage's play may strike a nerve much like another play about the working class did many decades ago. "I hope it will resonate with this audience in the same way during the 1940s and 50s that Death of a Salesman resonated with that generation. Whether we want to admit it or not, no matter what side of the aisle you sit on, attention must be paid."
Both actresses are struck with how familiar the characters seem. When I first read it, I thought "Hi! I recognize you," offered Day. "I think the audience will recognize people in the play, I mean, it's happening right now. "
Scott added, "It is beautiful how absolutely recognizable these people are. Lynn writes these people onstage you absolutely know – that is her gift, to make them complex and recognizable, and be able to speak to the wider story through their individual voices."
Being part of Sweat is a different experience for Scott and Day. A co-commission between Arena Stage and the Oregon Shakespeare Festival (OSF), Scott has been associated with OSF for many years and was in the original cast of Sweat in the fall of 2015. In fact, five other actors traveled to DC with the show: Kevin Kenerly, Stephen Michael Spencer, Tramell Tillman, Jack Willis and Tyrone Wilson.
Three new actors joined the company for the Arena Stage mounting. Along with Day, Tara Mallen and Reza Salazar dove into Sweat and a relatively short rehearsal period. Day mentioned, "It was scary to come in to it because these people [from the OSF production] are a team, and the three of us new cast members only had two weeks of rehearsal. It was sort of a fast track, strange and bizarre. But they are so welcoming and wonderful, and it's going well.

SWEAT  


January 15 – February 21, 2016
Arena Stage at the Mead Center for American Theater
1101 Sixth Street, SW
Washington, DC 20024
Tuesdays thru Sundays
Tickets: $80 – $110
Details
Website


———————
Regarding the new actors, Scott holds nothing but praise for their tenacity and talent. "They are heroic and amazing. If you're going to have three people step in to new roles, you couldn't ask for more good natured and talented people – Tara Mallen, Reza Salazar , and Johanna Day. It is lovely to rediscover the play with the three of them."
Moving from Ashland to Washington DC also offered the production opportunities to grow, according to the actresses. Day offered, "Everybody is excited to explore it more. Here, everyone is fine tuning it, making more of Lynn's vision of what went on in Reading and the humans involved just more clearer."
"Director Kate Whoriskey and Lynn Nottage have a long-standing, artistic relationship," explained Scott, "they have a shorthand together, develop plays together and they are very good at it, to say the least." Many of the changes since moving to Arena Stage have been precise, she said. "Lynn is surgical in the way she develops her own language. It's a gift and it's really exciting to be in the room to watch and to experience."
Day agreed with Scott and added, "It's such a brilliant play. I was able to watch a little of the end the other day and was just falling off my chair, it was so good."
Scott thinks the secret to the power of Nottage's writing is in the details. "She writes something other than simple good guys and bad guys; she really lets you see the complexities of these normal, everyday people who could be your family members or your friends going through this economic upheaval. Lynn gives specific voice to the experiences of the 99 percent. As actors, it's a gift to us for sure."
But Scott said her first reaction to Sweat evolved into a different reaction. "When I first read this play, I didn't really get it, I couldn't see the punches it packed. When we started runs at OSF and people saw the whole play, I began to understand what a wallop it packs."
Both actresses also agree that doing this play in Washington, DC is particularly important, if not for one simple reason: "We really want President Obama to come see it," chuckled Day.
A presidential visit aside, Scott addressed the fact that DC is the perfect town to take in this important new work. "It's particularly exciting to do this show in DC, especially because there are people in the audience who can do something about it. Awareness of this can definitely affect change."
Such change, if it could come, may begin as simply as intermission or after-show talk, Scott said.
"I believe that is exactly what's going to happen. This is going to be the beginning of a conversation, not just in DC but nationally. Lynn Nottage started a conversation with Ruined about rape as a weapon of war."
"Sweat began life as part of American Revolutions: The United States History Cycle at the Oregon Shakespeare Festival, where artistic director Bill Rauch asks playwrights to write about a pivotal moment in American history.  Most definitely Lynn is about to start a conversation about the socio-economic health of our country and of the middle class, education, and race."
To be part of such a conversation is a gift, Scott concluded. "It's a lovely mission for an actor to be able to give voice to something that we all know is happening but I don't think we know what to do about."