The critics are buzzing about Father Comes Home from the Wars (Parts 1, 2, and 3) at Round House Theatre. Deemed "challenging and beautiful" (Jonelle Walker, DCist), the play is "Verse on the plantation, prose on the battlefield, and blues guitar in between…. a miracle of contradictions and contrasts" (Brett Steven Abelman, DC Theatre Scene). And audience response has earned the play a week's extension, with closing set for Sunday, February 28.
Pulitzer Prize-winning playwright Suzan-Lori Parks (Topdog/Underdog)has taken inspiration from Homer's epic poem The Odyssey, placing the story of Hero in a West Texas setting during the American Civil War. The first trilogy in a planned nine-part series, Parks explores questions of freedom and the costs of war.
To gain insight into the the play, Jeffrey Walker talked to Timothy Douglas, the director of the Round House Theatre production. Douglas is no stranger to plays about the African-American experience, having helmed such productions as King Hedley II at Arena Stage, Two Trains Running and A Trip to Bountiful – both at Round House – among dozens of others.
Jeffrey Walker:  A modern age, Greek style trilogy is a pretty unusual production to get to work on, wouldn't you say?
Timothy Douglas:  What is amazing is we are doing parts one, two and three of nine; there are six more parts of Father Comes Home from the Wars coming, some aren't even composed yet. We have three, completely stand-alone plays that thematically relate to one another and we're just setting up the six plays to come.
How would describe this play to someone who has not yet seen it?
TD: New American epic – that would be a standard response for Suzan-Lori Parks piece. And then on top of it, she's tackling aspects of American slavery and she has structured this piece with an homage to ancient Greek theatre.
What drew you to this piece?
TD:  I have been a great fan of Suzan-Lori Parks. Earlier in both our careers, we were kind of hang out buddies. Her career has certainly gone off to become far more distinguished than mine. But I would direct anything by her. Father Comes Home from the Wars (Parts 1, 2, and 3) was a very big hit in New York last year, on top of being a Pulitzer Prize finalist. So, you know, I'd have to have a head injury to have any hesitation to work on it. Along with all of that, I always love working at Round House and, also, I love DC audiences.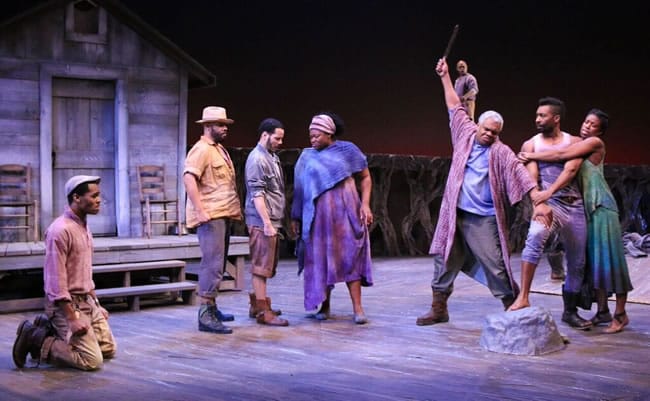 Because of the subject matter, is DC a particularly fertile place to mount this play?
TD: America is. By that I mean, one of the brilliances of Ms. Parks' writing is that even though theatrical and classic in its structure, the subject matter and the text that she writes speaks directly to what's happening in America right now, specifically the black American male as an endangered species. And then, [questions such as] 'What is freedom as defined by the white master?' – that's one definition – and that's what this play wrestles with. 'Is that truly freedom?' or does every individual, no matter what race or gender or background, determine what freedom is for them? So that's timely for any audience and, yes, specifically for DC.
What questions did you pose to the actors about these big issues?
The play is fine, it kept us busy, I didn't have to raise questions. But the request that I had to constantly keep coming back to is how much each actor was allowing themselves to be vulnerable to the given circumstances – to the atrocity that was African-American slavery and all that has happened since the Emancipation Proclamation. [And consider] in terms of the Constitution definition of 'we're free' compared to each of them, on an individual level, as a black person (and we have one white actor as well), asking the question, 'Do I feel free?' And 'What does that mean to me?' And as many actors as we have in the play, we have had that many variations on the answers to that question. So we let the play address and answer the questions and allowing our own individual vulnerability to be the fuel or the drive attempting to answer that question, what is freedom? And because actors are living, breathing, malleable beings, and they achieve a lot in a rehearsal every day, each achievement is quite powerful [in terms of]the journey isn't done. Daily I would ask are you willing to be even more vulnerable to this exploration of this question.
Tell us about the actors.
TD: I feel like I have the DC A-listers of black talent. I think I have worked with more than half of them in previous productions and the other half are new to me.
Cast members: JaBen Early, Valeka J. Holt, KenYatta Rogers, Craig Wallace, Jefferson A. Russell, Jon Hudson Odom, Stori Ayers, Ian Anthony Coleman, Tim Getman, and Michael Kevin Darnall
TD: They all make me feel that of all the productions they have done this season, this is the one they really wanted to do. This is truly an ensemble piece, so I have ten fantastic actors on individual levels ; we're taking their individual strengths and allowing themselves to be melded into an ensemble. It is dynamite.
I see the production incorporates choral hymns and music.
Suzan-Lori Parks has written songs for the production, songs are peppered throughout the play. She composed the music for the original production in New York but she leaves it to each production to come to that on their own. We've hired a wonderful musician, Memphis Gold, he's an amazing blues musician. Memphis Gold, along with our sound designer and composer Eric Shimelonis, has composed a score to the lyrics Ms. Parks has written. So you have this dynamite cast as individuals creating this explosive ensemble underscored by one of the most blues guitarists I have ever experienced.

FATHER COMES HOME FROM THE WARS
(Parts 1, 2 & 3)



EXTENDED! January 27 – February 28, 2016
Round House Theatre
4545 East-West Highway
Bethesda, MD 20814
Tuesdays thru Sundays
Tickets: $56 – %66
Details
Website
Check for Discounts

———————
What is one thing that might surprise audiences about this play?
TD:  Suzan-Lori Parks, at once evokes a classic Greek style and frame, within it, her language is peppered with rhythms and recognizable hip-hop terminology. Not only did this pose a challenge for the actors, it challenged our costume designer Helen Huang to give us both the authenticity of being on a slave farm in West Texas but not betray the formality of Greek drama and also that the sassy, contemporary text being spoken doesn't seem anachronistic to what they are wearing. Helen and all of our designers had their work cut out for them – scenic designer Tony Cisek, lighting designer Andrew Cissna – and they have done an amazing job.
Earlier you mentioned how impactful this piece is from the perspective of the lives of the African-American male. How important is it for this story to be heard right now?
TD: It's always important. Speaking as a director and an African-American, this is the stuff I deal with throughout my career, it's not new territory for me. It's hard for me to be objective about answering that question. What is remarkable is – if there is any sort of light in terms of our collective over-awareness of events such as unarmed black men being gunned down in the street by white cops – now even the most resistant, in denial, white American is actually acknowledging that this is actually happening and is a problem. Because of that – and that it is on the collective, zeitgeist, awareness level unlike at any time in my lifetime – it's possible for this play to have a much deeper impact. The play is great on its own, but I sense it's going to have a much greater impact on this audience than it would have it had been written even five years ago.
Clearly, you think the play will have resonance to audiences.
TD: A fair amount of the events in Father Comes Home from the Wars is happening to the audience. We all – no matter what our racial background – bring our pre-conceptions. There is also the acknowledgement even though the institution of slavery has ended, in terms of black and white relations, we really haven't come as far as we think we should have, having come through Martin Luther King, having come through nearly eight years of Obama. I think any thinking individual in America would think 'yeah, we probably should be further along by now.' And what is all of our individual part in that?
DCTS review of Father Comes Home from the Wars (Parts 1, 2 and 3)
How do you think the play will land on the members of the audience?
So you sit down in this theatre, and if you don't know what you are about to see, as soon as the play begins, it's like 'oh, my God, it's slavery!' And wherever each individual sits with that, it releases an enormous amount of energy and that is going to fuel the evening. So even though the actors are working their butts off and even though the designers have done an amazing job, this production of Father Comes Home from the Wars is not complete until this audience is there to experience it. And, I'm going to venture to guess, if the pattern remains true, it's going to be a mostly white audience. So what is that going to be like – to sit together and watch a play that pulls in the history of slavery and Greek drama, that rings the bell about slavery (it's not just about slavery), ringing loudly because it's still happening.
It's quite an accomplishment for Suzan-Lori Parks to pull in the history and the modern experience all at the same time.
TD: That's what Ms. Parks has tapped into in her writing, that's part of her genius – she knows where she is heading. And because I know a fair amount of the experience of the production is going to happen in the audience, that's the only reason the play hasn't overwhelmed me by its brilliance.