What's changed in the thirty-five years since Beth Henley wrote Crimes of the Heart that makes it feel outdated?  It's hard to pinpoint any obvious factors, since the story is a very personal, observational one about three sisters, with its politics subtle and non-dogmatic.  Yet one cannot help but leave the theatre feeling that – although NextStop Theatre Company's production is warm and vivacious – Crimes of the Heart has become a historical document.
Henley's tragicomedy won the Pulitzer in 1981, and it's not hard to see why.  The characters are deep and unvarnished – Lenny (Anna Fagan), the oldest Magrath sister, who takes care of the their unseen Granddaddy alone in their childhood home in smalltown Mississippi; Meg (Carolyn Kashner), the middle sister, who left broken hearts in her wake to jet off to Hollywood for a singing career; and Babe (Rebecca Hausman), the youngest, who kicks off the drama by committing the one actual "crime" of the title.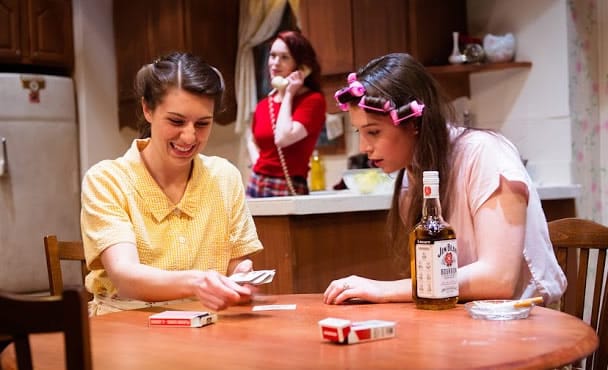 The plot is dense but fluid, as the sisters gather to confront a painful pile-up of tragedies, and the dialogue is funny (when the jokes still land), sharp and rife with arch Southernisms.
There's something very period-specific about the immediate post-second-wave-feminism infused in the tale – it premiered in 1980, and is set in 1974, a time when a "liberal" and a "Democrat" were different types of people, at least in Mississippi, and interracial relationships were potentially scandalous.  One gets the sense that when Henley wrote it, it was supposed to be surprising to see this kind of update of Chekhov's Three Sisters archetypes: one that allows Lenny a sex drive despite her spinster-y position, Meg to be conflicted and insightful despite her social butterfly flightiness, and Babe to have decidedly not found the husband of her dreams despite her golden-girl qualities.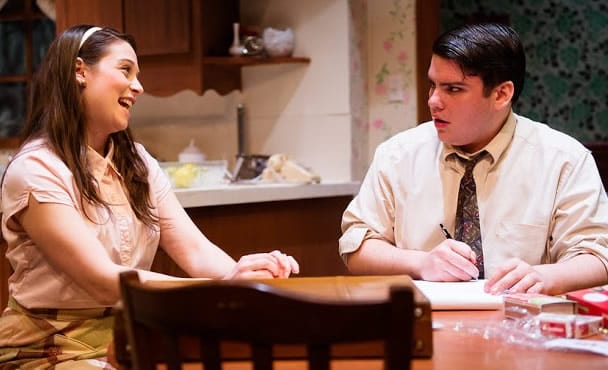 Storytelling of this nature has been surpassed by (women) playwrights in the intervening decades, making Crimes of the Heart seem closer to sitcoms or Lifetime movies-of the-week than would have been conceivable in its own era.

CRIMES OF THE HEART



February 25 – March 20
NextStop Theatre
269 Sunset Business Park
Herndon, VA 20170
Thursdays thru Sundays
Tickets: $35
Website 


———————  
That said, we've certainly not reached a time where great, complex roles for women, that are not (entirely) focused on their relationships with men, abound.  It's therefore unquestionably wonderful to see Fagan, Kashner, and Hausman delve into these characters.  A few Southern accents and Southern mannerism issues aside, the trio is superb under the deft direction of Suzanne Maloney: consistently funny without sacrificing the sisters' bruised hearts or losing sight of their shared, sometimes strained history, totally believable as a family.
They're ably supported by Jaclyn Young in the more stereotyped role of their society-woman cousin, as well as Matt Baughman as Meg's former beau, carrying the weight of everything he's learned in her absence, and Robert Pike as Babe's young lawyer, striding the line between youthful passion and convincing legal aptitude.
They also get Jack Golden's smart set to inhabit, detail-perfect down to the cabinet doors, under AnnMarie Castrigno's lighting design, which provides a carefully unobtrusive sense of drama.  Sound designer/composer Jonathan Powers' music exemplifies Maloney and her company's approach to this tale – gentle, sad yet lively, reminiscent of a certain kind of homey, honest Hollywood character-driven drama not seen much today outside of the occasional Diane Keaton vehicle.
Ultimately, if this play is still worth seeing, it's for its open, unburdened attitude towards death, regret, and loss.  These sisters take suicide and injury seriously, sure, but not so seriously they can't still laugh and squabble over birthday presents.  Their story ends on a high note not because it's been falsely resolved –we don't even know for certain that Babe won't still end up in jail – but because they're at least grown wise enough to appreciate the good things even as the bad things accumulate.
Crimes of the Heart, like its three central characters, keeps plugging forward, making up for what it loses in relevance as best it can by continuing to be essentially human.

——————————
Crimes of the Heart by Beth Henley . Directed by Suzanne Maloney . Featuring Matt Baughman, Anna Fagan, Rebecca Hausman, Carolyn Kashner, Robert Pike, Jaclyn Young . Scenic Design: Jack Golden . Costume Design: Kristina Martin . Lighting Design: AnnMarie Castrigno . Sound Design/Original Music: Jonathan Powers . Props Designer: Amanda Srok.  Stage Manager: Laura Moody . Produced by NextStop Theatre Company . Reviewed by Brett Steven Abelman