Danai Gurira is best known for slicing off the heads of zombies in The Walking Dead,  but that is about to change. Her play Eclipsed is opening on Broadway March 6, starring Oscar-winner Lupita Nyong'o.  Three days earlier, Familiar, her funny, insightful play about a Zimbabwe family living in Minnesota, has opened Off-Broadway.
From one angle, the members of the Chinyaramwira family, who are preparing on the day of the play for the marriage of their eldest daughter, appear fully assimilated. Their spacious suburban home (impressively designed by Clint Ramos) could not be more American. The mother, with the marvelous name of Marvelous  (Tamara Tunie) is a successful biochemist, an elegant dresser, and a churchgoing Lutheran, who shops at Nordstrom and cooks salmon croquettes, lasagna and American baked goods for her family.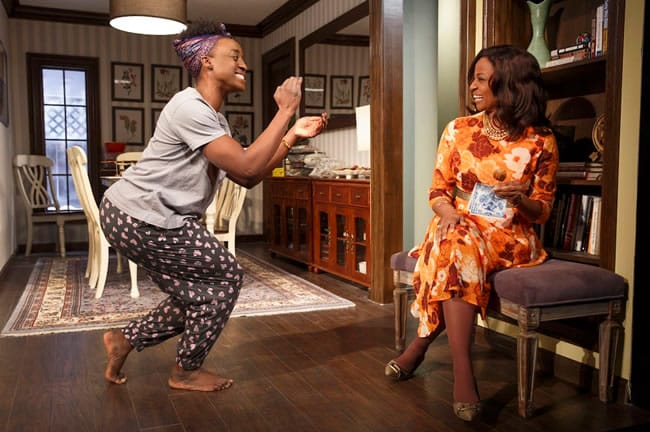 More production photos at NewYorkTheater.me
Her husband Donald (Harold Surratt) is a partner in a law firm, consumed with watching American college football and Rachel Maddow on his flat-screen TV. Their older daughter Tendi (Roslyn Ruff), a lawyer and a devout Christian, is set to marry Chris, a native Minnesotan, a white man, albeit one who has traveled in Africa and co-founded an international human rights non-profit agency.
Nyasha (Ito Aghayere), the youngest daughter, has moved to New York. A musician who tries to make a living as a feng shui consultant she is the most truly Americanized of the family – so much so that she has just returned from a trip to Zimbabwe complaining to her parents that they hadn't taught her Shona, the language of her ancestors.
But what seems to be the family's successful transition to an American way of life is exposed as a surface appearance masking the subterranean truths, when the family gets paid a visit by Anne (Myra Lucretia Taylor), Marvelous' older sister, who still lives in Zimbabwe. She is here to preside over the roora, the brideprice, a traditional Zimbabwean ritual that occurs before every marriage. Marvelous is outraged and resentful, but this is what Tendi wants. There is much humor in Anne's insistence on strict adherence to the ceremony, which would normally call for the groom's family to donate a cow. But it is also the catalyst to reveal surprising family secrets, unearth the tensions within the family, and offer a spot-on glimpse into the price paid by people astride two cultures.
In some ways, Familiar is a familiar immigrant story, but Gurira, who was born in Iowa, raised in Zimbabwe, and attended college in Minnesota, has a precise grasp of the particulars of her characters. The playwright's knowledge of the culture of Zimbabwe is sprinkled throughout the play: They sometimes speak in Shona, the language they spoke back in Zimbabwe, and Nyasha plays a Zimbabwe musical instrument that looks like a drum but sounds like a guitar, called a mbira.
But Gurira's perceptions go far deeper. Her unfolding of the family dynamics feels like genuine insight, and it is not limited to the issues facing immigrants. In order to fulfill the ceremony, Chris needs to supply a relative, and so he asks his younger brother Brad, a recent veteran, to serve the role. In one way Brad (Joe Tippett) is comic relief, but his interaction with his brother, and his identification with the younger sister of the Chinyaramwira family, has the feel of real understanding.
Not every moment works in Familiar. For example, Donald is constantly putting up on the wall a framed map of Zimbabwe that Marvelous is constantly taking down, which seems a sacrifice of realism for the sake of an unneeded foreshadowing. But on the whole, as directed by Rebecca Taichman with a uniformly able cast, Familiar presents the story of these specific immigrants as a familiar stew flavored with some sharp and special spices.
————————–
Familiar is on stage at Playwrights Horizons (416 W 42nd St, New York, NY 10036, between Ninth and Tenth Ave.) through March 27, 2016. Tickets and details
Familiar, written by Danai Gurira, directed by Rebecca Taichman, featuring Ito Aghayere as Nyasha, Joby Earle as Chris, Melanie Nicholls-King as Margaret, Roslyn Ruff as Tendi, Harold Surratt as Donald, Myra Lucretia Taylor as Anne, Joe Tippett as Brad, Tamara Tunie as Marvelous. Scenic design by Clint Ramos; costume design by Susan Hilferty; lighting design by Tyler Micoleau; sound design by Darron L. West; production stage manager, Cole P. Bonenberger. Reviewed by Jonathan Mandell