In a Presidential campaign year that includes headlines like CNN's recent "Donald Trump defends size of his penis,"  one welcomes the premise behind Richard Nelson's new three-play cycle, The Gabriels: Election Year In The Life Of One Family, which will unfold in real time at the Public Theater.
The first play, Hungry, opened March 4, which is the date in which it is set.  People related one way or another to Thomas Gabriel, a novelist and playwright who has died four months earlier, have gathered in his hometown of Rhinebeck, New York – a one-hour drive from Manhattan —  to spread Thomas's ashes. The audience joins them later in the day as they prepare a meal together in Thomas's kitchen, and talk – briefly – about politics.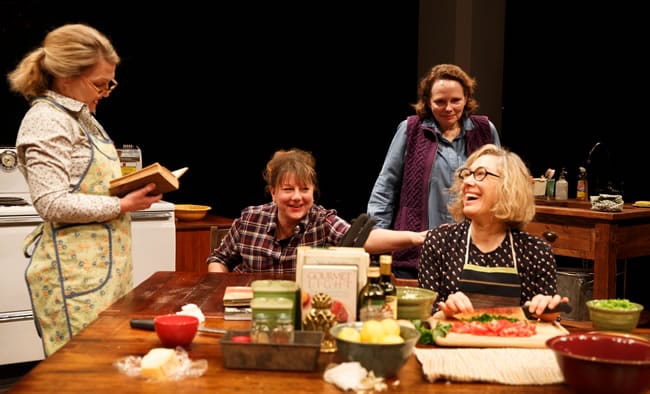 More production photos at NewYorkTheater.me
Hungry is realistically acted, with a subtle craft that invests the characters' seemingly random comments and everyday activities with thematic weight. If it requires a degree of tolerance for works of theater that emphasize texture over drama, it helps to assume that Hungry sets up characters and relationships that will pay off in more compelling plays to come. The cycle will culminate with the third play, Women of a Certain Age, which will be both set and open – and which the playwright will finish writing – on Election Day, November 8, 2016.
The Gabriels  carries the promise of Nelson's previous series, The Apple Family Plays: Scenes from Life in the Country, a quartet of plays about one family that both opened and were set on significant days over a three year period: That Hopey Changey Thing was set – and opened – on the night of the midterm elections in 2010; Sweet and Sad on the 10th anniversary of 9/11; Sorry on the day of the re-election of President Barack Obama in 2012;  Regular Singing on the 50th Anniversary of John F. Kennedy's assassination.
All four plays also took place in a house in Rhinebeck, New York, and in all four, both written and directed by Richard Nelson, the Apple family eventually discussed the political significance of the day.
Nelson has now created a different, albeit similar family in Rhinebeck, the Gabriels, using some of the same actors (Maryann Plunkett is now Mary Gabriel, Thomas's third wife and widow; Jay O. Sanders is Thomas's brother.) As with Nelson's Apple plays, the characters in Hungry bring up politics casually, in-between idle chatter about more personal matters, as might an actual family. There is no more than 10 minutes of conversation about the election in a play that lasts 100 minutes without an intermission — no discernible mention of Super Tuesday, and one brief, oblique conversation among three of the women about the surreal 11th Republican debate:
Mary (Thomas's widow) : After last night, I'd vote for Megyn Kelly.
Hannah (Thomas's sister-in-law): If she wasn't a Republican.
Joyce (Thomas's sister): You watched that? How could you watch that?
There is only one indirect mention of Donald Trump in Hungry. There are surely families in America who gathered for a dinner on March 4th and discussed electoral politics without talking about Donald Trump or Super Tuesday or the crude turn that the campaign has taken, but I'll admit to some disappointment that the Gabriel family turns out to be one of them. There is only one reference to Bernie Sanders ("Our son keeps saying, 'feel the Bern, Mom.'") and a familiar debate over Hillary Clinton that includes this exchange: 
Karin (Thomas's first wife): I really would like to see a woman president in my lifetime. And see what that feels like. See if it would make any difference whatsoever. Someone who looked like us.
Joyce: But is she that woman?
Karin: I understand. Fair question.
 But the comment in Hungry that may reflect the mood of the country more than any other is one made by Hannah: "God, it's going to be a very long eight months."
Hungry is on stage at the Public Theater (425 Lafayette Street , New York, N.Y. 10003, at Astor Place) through March 27, 2016. Tickets and details
————————–
Hungry . Written and Directed by Richard Nelson . Featuring Meg Gibson (Karin Gabriel), Lynn Hawley (Hannah Gabriel), Roberta Maxwell (Patricia Gabriel), Maryann Plunkett (Mary Gabriel), Jay O. Sanders (George Gabriel), and Amy Warren (Joyce Gabriel). Scenic design by Susan Hilferty and Jason Ardizzone-West; costume design by Susan Hilferty; lighting design by Jennifer Tipton; and sound design by Scott Lehrer and Will Pickens. Reviewed by Jonathan Mandell.