Chaos, confusion, mystery and excitement will reign supreme in the 2016-2017 season which Woolly Mammoth Theatre Company announced yesterday, including Clare Barron's controversial Baby Screams Miracle, the American debut of a new play by Chilean master Guillermo Calderon, the gender-mashing Hir, originally scheduled last year at Studio, and a Relentless Award semifinalist, Collective Rage: A Play in Five Boops.
Boops, by Lynn Nottage protégé Jen Silverman, whose Phoebe in Winter at last year's Women's Voices Festival drew raves, will lead off the Woolly year on  September 14. Woolly calls it "five different women named Betty collid[ing] at the intersection of anger, sex, and the 'thea-tah.'" Boops was a semifinalist for the American Playwriting Foundation's Relentless Award, which it conceived in honor of Phillip Seymour Hoffman, and will run through October 9.
Woolly follows this production with Kiss, Calderon's story which may be about an ill-timed offer of love, a murder or the effort of a western theater company attempting to interpret a Syrian play in light of its own limited understanding. An oppressive, and ever-present, regime oversees all. Kiss runs from October 10 to November 6.
Barron's Baby Screams Miracle kicks off the new year, with a story about a deeply religious family — two members of which are about to give birth — in the midst of a storm which turns apocalyptic. Miracle, though, is not a simple attack on simple-minded religiosity, according to Time Out New York's Helen Shaw. "Miracle plays on several strings at once so while Barron does mock magical thinking…she also writes searching scenes about the  terror underlying our little lives. Wry about religion, the play is nonetheless in contact with it, a hymn to the great god Accident." Miracle runs from January 30 to February 26, 2017; Howard Shalwitz directs.
Nilaja Sun, whose Obie award-winning one-actor play No Child played at Woolly in 2008, is back with Pike Street, which will run from March 27 to April 23 of next year. Bad weather plays a role in this play too; Evelyn has a daughter on a respirator and the City of New York is about to be hit with a major hurricane. New York Times critic Charles Isherwood calls the play "terrific"; as with No Child, Sun will play all the roels here. "Such is Ms. Sun's ability to transmit the strong personalities of her characters that I had to keep stopping myself, as I wrote this review, from checking the program to look up the names of the actors playing Manny and the rest," Isherwood observes.
The Woolly season will close with a production of Hir, Taylor Mac's story of a woman who, liberated by her daughter's gender transformation, exacts a revenge against her abusive husband, now a stroke victim. Vulture's Jesse Green calls Hir "smart but deliberately disorienting." Studio had originally scheduled Hir for its 2ndstage this season, but a dispute over the director — Studio wanted Holly Twyford, and Mac wanted Niegel Smith — caused the show to be cancelled. Hir, which will run between May 22 and June 18, will be directed by Shana Cooper.
In addition to Woolly's regularly-scheduled season, the company will feature Second City's Black Side of the Moon, a sketch comedy show about what it means to be black in the future, running from November 12, 2016 to January 1, 2017.
.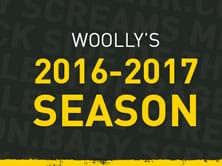 Tickets now available. Click to subscribe.